What's in a name? Some people agonize over the name of their restaurant, while others choose something that has always meant something deeper to them. Whatever the approach is, it makes for some pretty amusing, and sometimes confusing, names. Here are the reasons behind 20 popular restaurants from across the country.
Ayden Kitchen and Bar (Saskatoon, SK)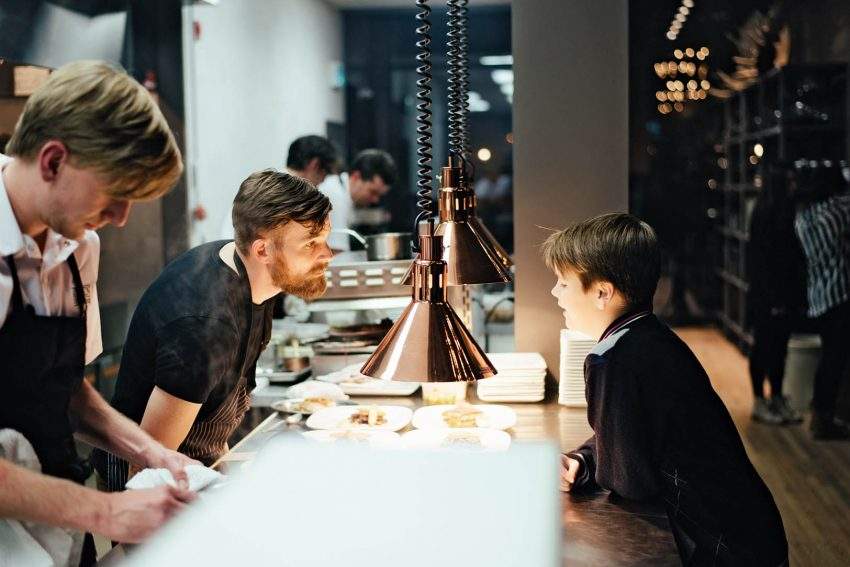 Saskatchewan's top restaurant finds its name in chef/owner Dale Mackay's son, Ayden (pictured above on the right). Who knows. Maybe one day he'll follow in his father's footsteps and end up behind that line too.
CHARCUT (Calgary, AB)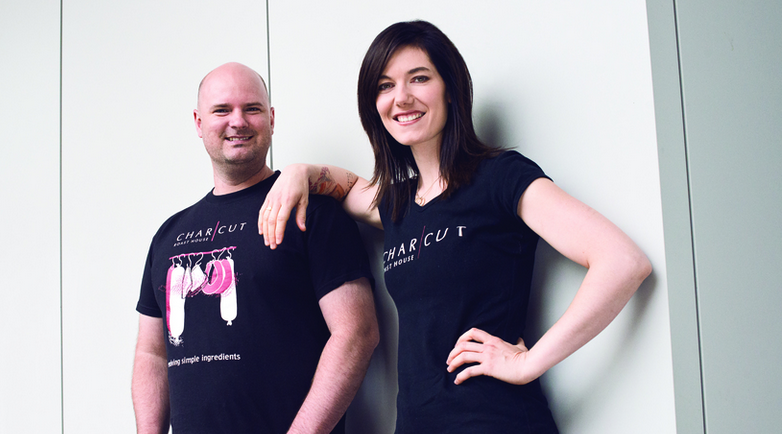 A lot of people think that this popular restaurant's title is the first two syllables of the word "charcuterie". While it is true that the meat-centric spot puts a strong focus on all sorts of cured meats made in-house, CHARCUT is two words spliced together. First, there's "charbroil", an ode to the focal point rotisserie in the centre of the kitchen; then there's "cut", that comes from their hand-cranked meat slicer in the corner that shaves things like salami and their signature pig's head mortadella.
If we hear one more person pronounce it Charcooot, we're gonna flip a table!
DaiLo (Toronto, ON)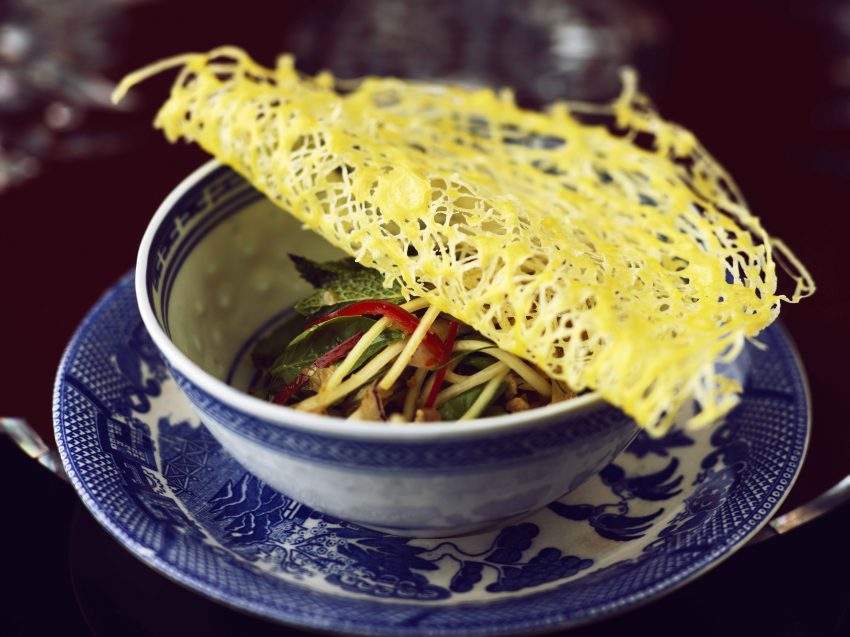 Chef Nick Liu is not one to be timid, considering his previous working name for the restaurant was GwaiLo, the transcription of the Cantonese slang term for white people. So, his bold choice for the name at DaiLo should come as no surprise for his followers. To dissect the name, dai means big, and lo is the slang term for a man, like dude. So together, DaiLo means big brother, and also boss. We think he's pretty boss for coming up with that, and serving modern Chinese food that fuses bold Hakka flavours with French techniques.
Fable Kitchen (Vancouver, BC)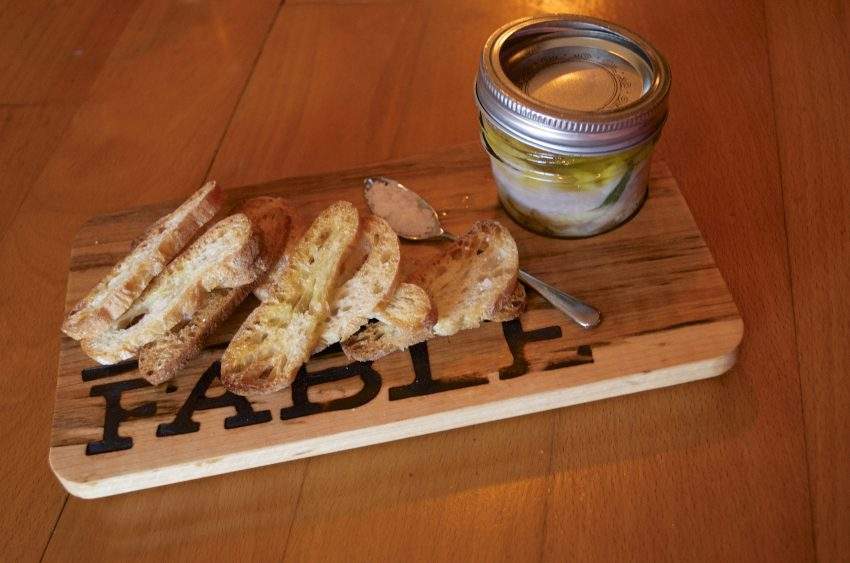 When Trevor Bird was partaking in the restaurant wars episode in season two of Top Chef Canada, he decided that his team's temporary restaurant name would be Fable. After the show concluded, he stuck with the name when he opened up his popular restaurant in the Kitsilano neighbourhood of Vancouver in 2012.
Fable is also the term "farm-to-table" merged into one word. Get it?
Joe Beef (Montreal, QC)
Please do not walk into the restaurant looking for Mr. Joe Beef. The name was inspired by Charles McKiernan, an Irish Montrealer with the British Army, who was known for his ability to find meat and provisions. Owners David McMillan and Fred Morin, who serve unapologetically luxurious, big, and rich dishes like foie gras, horse steak and lobster spaghetti, made the name recognizable as the best restaurant in Canada.
Krafty Kitchen and Bar (Kelowna, BC)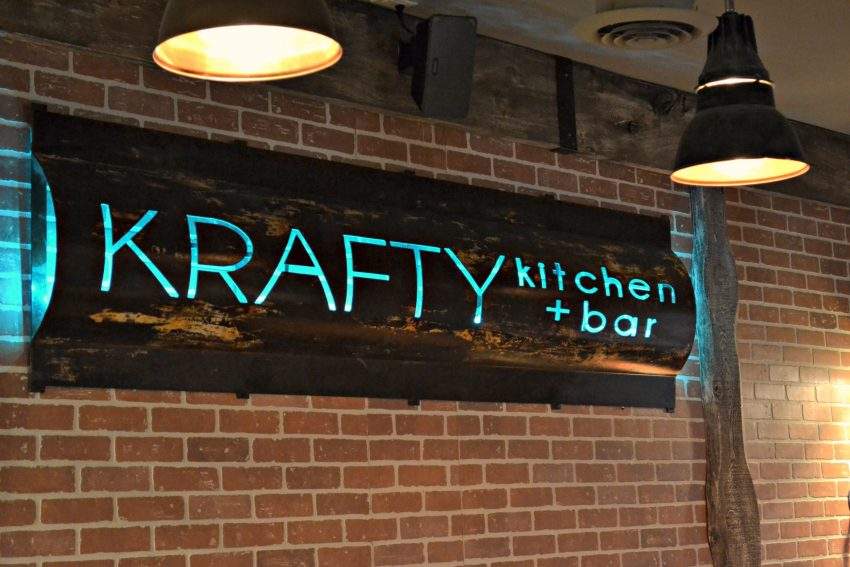 Although they are certainly no longer an item, Top Chef Canada alum, Chris Shaften and MasterChef Canada alum, Kaila Klassen originally decided on Krafty when combining Shaften's nickname (Shafty) and Klassen's first name. We're not sure how the "r" got in there, though.
Leyda's (Saskatoon, SK)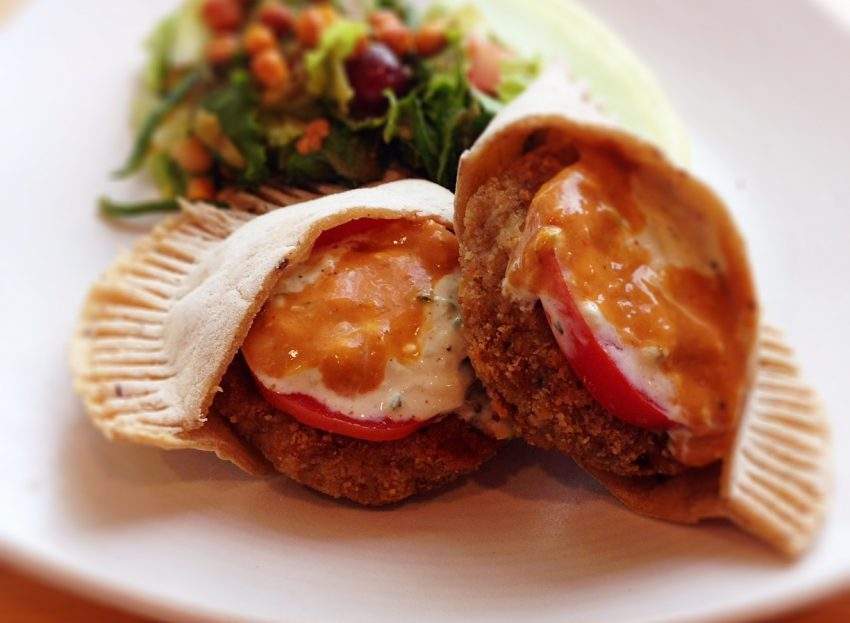 This popular spot in Saskatoon is all about being 100 per cent organic, gluten- and nut-free. That may sound a little limiting to some, but you'd be very surprised with the quality of food they are pumping out within those parameters. Anyway, Leyda is the owner's youngest daughter's middle name, which is a combination of her grandmas' first names, Shirley and Freda.
Saskatoon likes to keep it in the family!
Model Milk (Calgary, AB)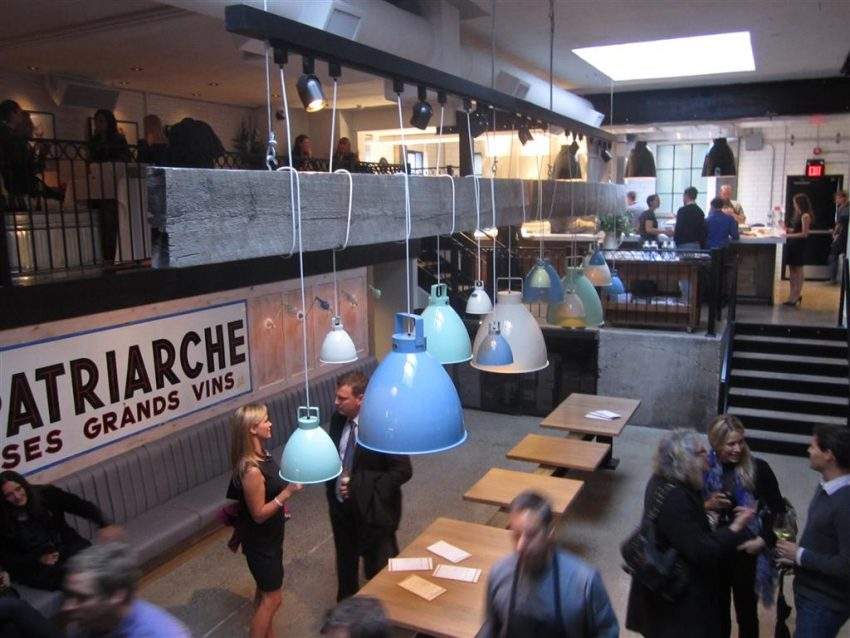 The heritage building that houses one of Calgary's busiest restaurants was a dairy production facility in the early 1900s called Model Milk Company. By the mid 20th century, it was the largest dairy producer in Alberta, but now it's a slick-looking restaurant with tasty food. So, we're A-OK with that upgrade!
RGE RD (Edmonton, AB)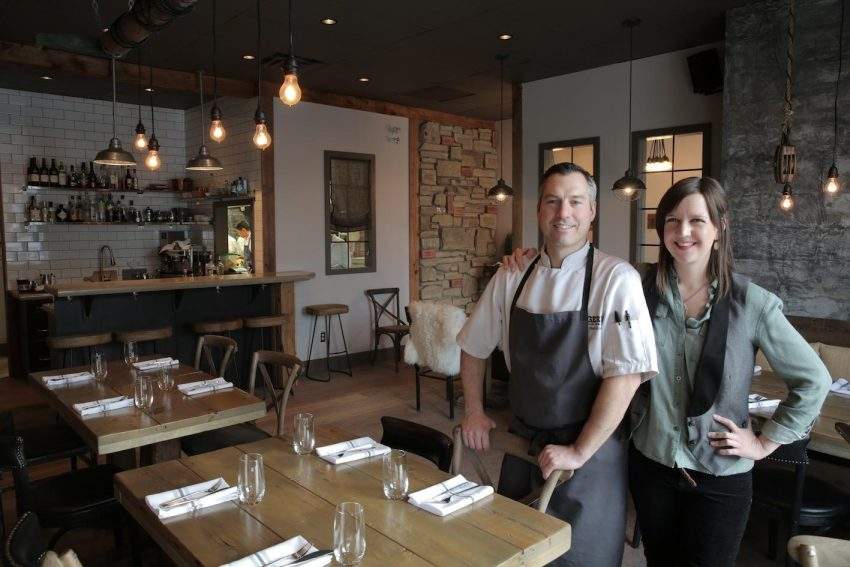 RGE RD is short for "range road". For those of you who didn't grow up in Alberta or Saskatchewan, these are the roads that run north-south through (generally) rural areas of the provinces. It's also an homage to the farmers and producers out there in the fields that the roads run through, where this hyper local eatery gets the majority of their ingredients from.
Segovia (Winnipeg, MB)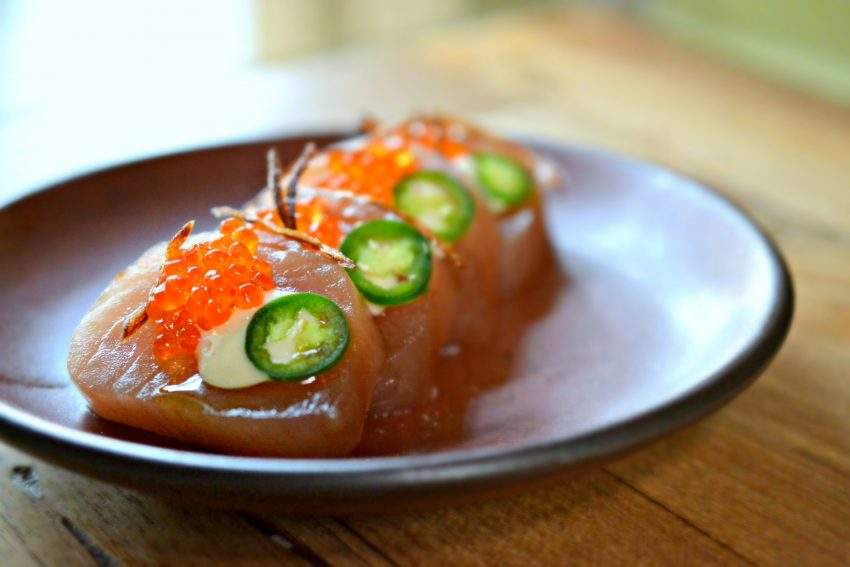 Near the centre of Spain is Segovia. With a small population of around 60,000, it's by no means a large Spanish city, but like most spots in the country, it's a beautiful one. Owners of Segovia (the one in Winnipeg we mean, built into a character home) travelled in Spain for some time before returning back to Manitoba to open their restaurant. They loved the city overseas, so the name stuck with them.
The name also roughly translates to "city of victory", which is extra fitting, seeing as this tapas restaurant is one of the best places to eat in the city.
L'abattoir (Vancouver, BC)
For those in the restaurant industry, this is pretty obvious: an abattoir is a slaughterhouse. Located in Gastown, L'abattoir is a tribute to the neighbourhood's history, where the site was Vancouver's first jail, main butchery and meat packing district.
Corso 32 (Edmonton, AB)
Though this is a small Italian restaurant, the 32 in the name is not a reference to the number of tables. Rather, the name of the restaurant refers to where chef Daniel Costa's father grew up in Italy.
Two Doors Down (Halifax, NS)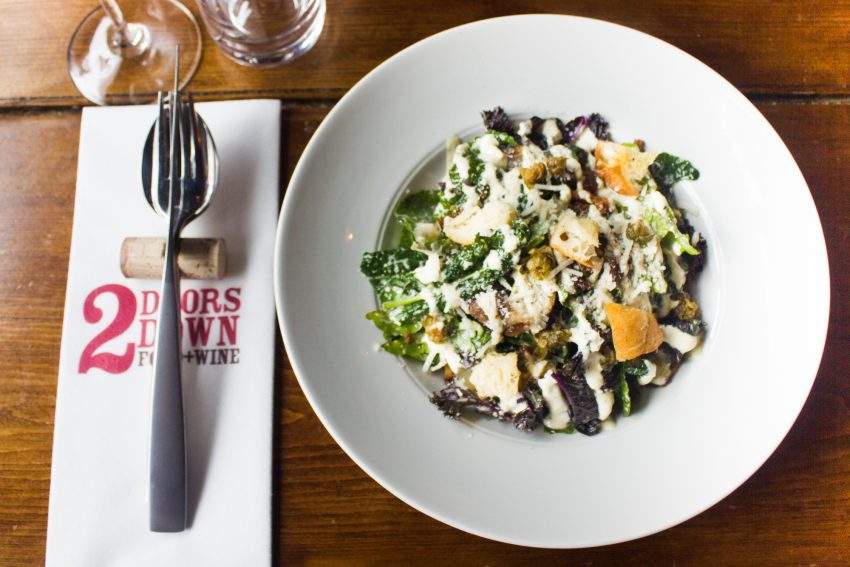 If you head two doors down the street, you'll find Chives, the older sister restaurant to this cozy establishment that serves good, casual food and some quality cocktails.
PARK (Montreal, QC)
Not only does the word "park" conjure up a feeling of leisure, but it's also the name of chef Antonio Park, who also owns Lavenderia, and took the name of his second restaurant from his parents' business in South America.
Richmond Station (Toronto, ON)
If you're familiar with Toronto and its transit system, you'll notice that there isn't a Richmond Station on the TTC. But if you've been to the restaurant and have seen the art on the walls and little postcard they give you at the end of the meal, you'll notice that it was an old streetcar station in the city. Today, the restaurant takes the theme and is decorated in white subway tiles and black and white historic photos.
Anju (Calgary, AB)
Pronounced an-joo, the name of this Calgary restaurant refers to Korean dishes that are typically served with alcoholic drinks, sort of like tapas or pub food. While there are many dishes under this category, chef Roy Oh's modern takes like oxtail tortellini, fried chicken wings, lemongrass Brussels sprouts and green onion and seafood pancake are not to be missed, accompanied by soju.
Fresh Off the Boat (Toronto, ON)
Not the most PC term, it's the kind of saying -- mostly used to describe new immigrants that have not yet assimilated to a country -- that would probably offend immigrants and make non-immigrants uncomfortable, but Quinten Tran embraces the oh-so-cheeky saying as the name for his Asian seafood sandwich shop on Queen West. I mean, when a restaurant's specialty is its fried catfish sandwich with kimchi, not calling it Fresh Off the Boat just seems like a missed opportunity.
NOtaBLE (Calgary, AB)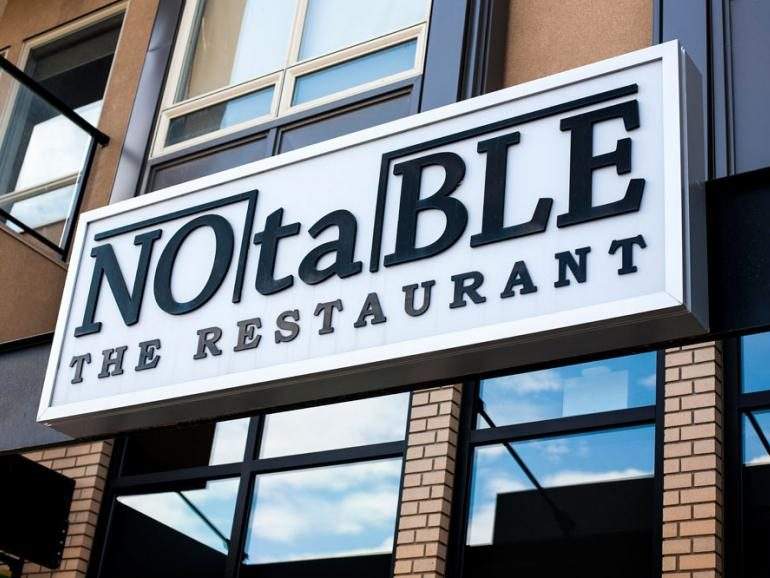 "Is it NOtaBLE or 'No-table'?"
It's a flattering reflection of how busy this relaxed and subtly sophisticated restaurant is. Jokes aside, the restaurant takes its name from renowned chef Michael Noble, who has been pivotal in mentoring some of Canada's finest chefs, has been on Iron Chef (Japanese version) and has participated in the World Culinary Olympics on behalf of Team Canada, just to name a few of his many achievements.
deer + almond (Winnipeg, MB)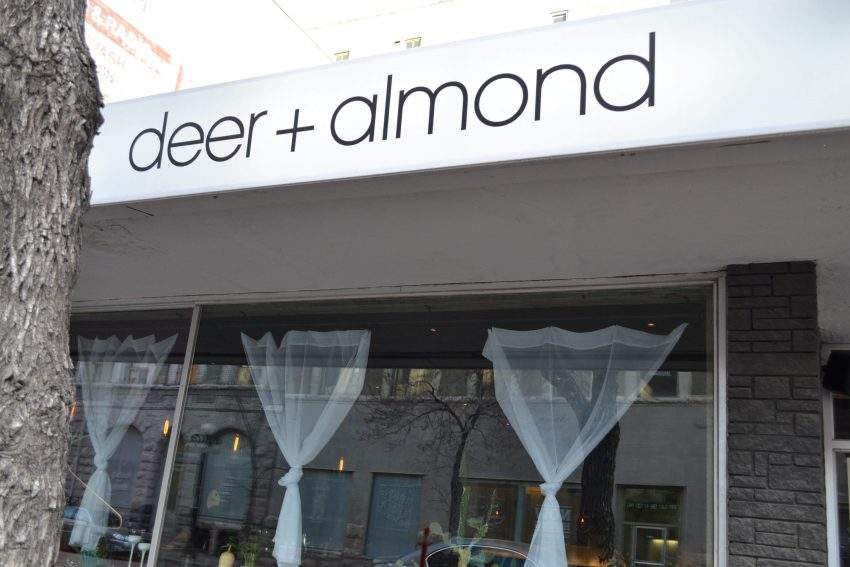 If you can even remotely guess correctly why this place is so titled, we'd high-five you immediately. Any guesses? No? Alright!
Owner Mandel Hitzer spent many summers out in rural Manitoba at his grandparents' cabin, where he'd see whitetail deer out in the fields. That sight stuck with him all the way through to the restaurant's decor where you'll find deer antlers on window sills throughout the space.
Now for the second part, Hitzer's first name is German for almond. Thus, deer + almond was born.
Sidedoor Contemporary Kitchen + Bar (Ottawa, ON)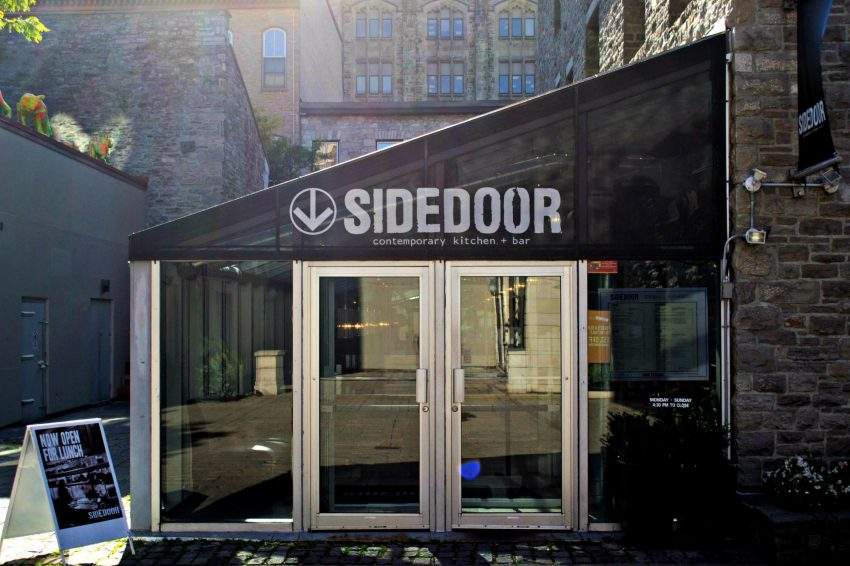 The heritage space in the famed Byward Market area of Ottawa was redone to raise the atrium, and the door, tucked next to the brick building, is the perfect reference for the restaurant name.