Yes, you guys. We know that tomato sauce pairs perfectly with pasta and works wonderfully as a sweet foundation to any homemade pizza, but getting a little more creative in the kitchen is always extra rewarding. Thus, these slightly indulgent, but comforting Sloppy-Joe-meets-garlic-toast creations were born.
Use the traditional Famoso Campania Tomato Sauce as a base for a rich meaty sauce and then slop it (so to speak) on top of thick, crispy slices of ciabatta that have been brushed with garlic butter and dusted with Parmesan for a simple meal for the family or your grown-up friends who are kids at heart. Who are we kidding? Basically, anyone who loves meat sauce, cheese and garlic will totally get behind this.
So, where do you find the seasonal Campania Tomato Sauce? Toss $8 in your pocket and head to any Famoso location in Canada--there's 29 and counting, with the newest location just opened in Regina on December 6--before December 31st. What's even cooler about this house-made tomato sauce--made with tomatoes from Naples, Italy--is that it's being sold in parternship with Mealshare. That means with every jar sold, a person in need gets a meal. The holidays in large part about giving back, so it feels pretty good when you can make a meal for loved ones at home and know that someone else out there is being fed too.
This saucy parternship has $52,000 raised since 2013 with the sale of 16,000 jars, which does not include this current holiday season. As a result, Mealshare has been able to provide the same number of meals to 16,000 people in many communities across the country.
Anyway, let's get cooking for the cause!
The Italian Joe open-faced sandwich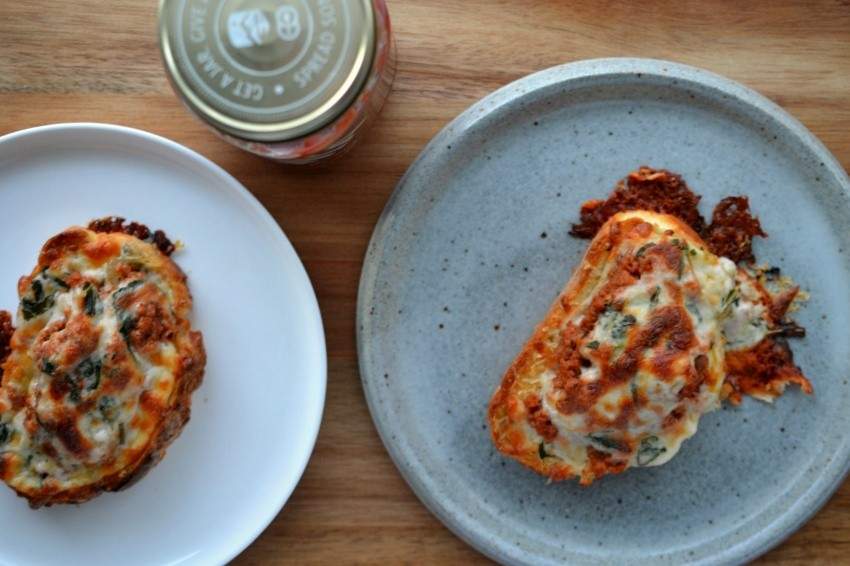 1 tbsp canola oil
1 yellow onion, halved and thinly sliced
350 g ground pork
350 g ground mild Italian sausage
1 490mL jar Famoso Campania Tomato Sauce
1 tsp dried basil
1/2 tsp chili flakes
salt and pepper, to taste
1/4 cup unsalted butter
1 whole garlic clove
8 slices ciabatta, cut to 3/4" thick
1/4 cup finely grated Parmesan
1 1/2 cup grated mozzarella
1/3 cup finely chopped fresh basil
2 tbsp half and half cream
Heat canola oil in a large pan on medium-high heat.
Add onions and cook until softened, about 5 minutes. Next, add ground pork and Italian sausage and cook until browned, approximately another 5 minutes.
Pour in entire jar of Campania Tomato Sauce as well as dried basil and chili flakes. Once sauce comes to a simmer, reduce heat to medium and continue to cook for 30 minutes, stirring occasionally. Season to taste with salt and pepper.
Next, preheat oven to 400 F and place butter and garlic clove in a small pot and reduce heat to low. Cook until butter is melted. Remove from heat and let sit for a few minutes to allow garlic flavour to infuse.
Put ciabatta slices on a large baking sheet and brush the top of each piece liberally with melted garlic butter. Sprinkle Parmesan evenly onto each and bake in oven until edges of toast begins to brown, about 10 minutes.
In a small bowl, stir together grated mozzarella, basil and cream.
Remove toast from oven and turn to low broil.
Top each piece of toast with two generous spoonfuls of meat sauce and cover with mozzarella-basil mixture.
Return to oven and cook on low broil until cheese is bubbly and browned, about 4-5 minutes.
Enjoy!
Yield:

Prep Time:

Cook Time: