No shade to chocolate chip cookies, but we get especially excited about cookie recipes that think outside of the box when it comes to its ingredients. Thus, we'll give two thumbs up to chef Cory Vitiello for his satiating tahini honey cookie recipe from his new cookbook Dad in the Kitchen: Over 100 Delicious Family Recipes You'll Love to Make and They'll Love to Eat (officially out on May 16, 2023).
Co-authored with award-winning writer Chris Johns, Dad in the Kitchen may have a fatherly-type lean initially within its first chunk of pages, though after flipping through its recipe sections, you'll find it's simply a family-friendly cookbook aiming to make mealtime easier. Thanks to the culinary skills of Vitiello, the recipes are kept simple, sure, though they are anything but boring.
His recipe for tahini honey cookies is a perfect example of that.
"These are delicate and not super sweet, they're a dead-easy freezer cookie, and they highlight the Mediterranean flavours I love so much. The rich honey and tahini are offset beautifully by the delicate shell-like texture from the sesame seeds. This is also a fun dish to make with kids, who love rolling the dough up into ping-pong-sized balls and then flattening them out with the bottom of a mug," writes Cory Vitiello in the introduction to the recipe in his new cookbook.
Tahini honey cookies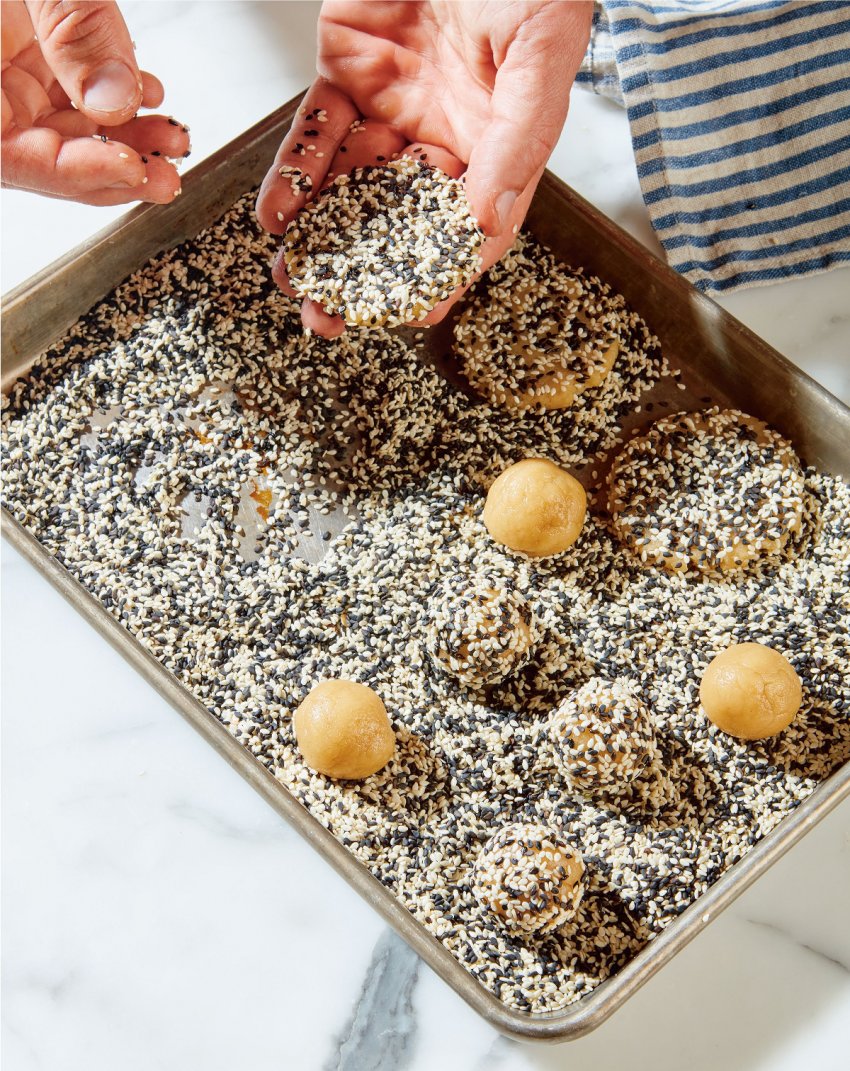 1 cup tahini
2/3 cup honey
1 tsp good quality vanilla extract
1/2 tsp baking soda
1/2 cup white sesame seeds
1/3 cup black sesame seeds
Line a baking sheet with parchment paper.
In a bowl and using a wooden spoon, mix together all the ingredients except the sesame seeds.
In a separate small bowl, combine the white and black sesame seeds.
Shape 1½ Tbsp of dough into a ball, roll it in the sesame seed mixture, and place it onto the lined baking sheet. Using the flat bottom of a glass or measuring cup, gently press the cookie ball until it's about ⅓ inch thick. Repeat with the remaining cookie dough and refrigerate for about 15 minutes.
While the cookies are chilling, preheat the oven to 350°F.
Bake the cookies for 8–10 minutes, until slightly spread out and light golden brown on top.
Immediately out of the oven, the cookies will be very soft. Allow them to cool on the baking sheet for about 10 minutes before transferring them to a cooling rack to cool completely. They keep well in a cool dry place in a closed container for about 1 week.
Yield:

Prep Time:

Cook Time:

8-10 minutes, plus cooling time