A holiday dinner is nothing without a good gravy. While many of us are eager to make a traditional rich gravy with the drippings at the bottom of the roasting pan, others go for a different approach. Vegan chef, Lauren Marshall impressed us last week with her vegan "eggnog" and holiday cooking tips, and now she's making us hungry again with a unique vegan gravy recipe.
Marshall's gravy shows how much flavour you can get out of vegetables when you take the time. The trick here is to really make sure those onions are caramelized. It will add so much flavour and smoothness when you purée the mixture.
Vegan gravy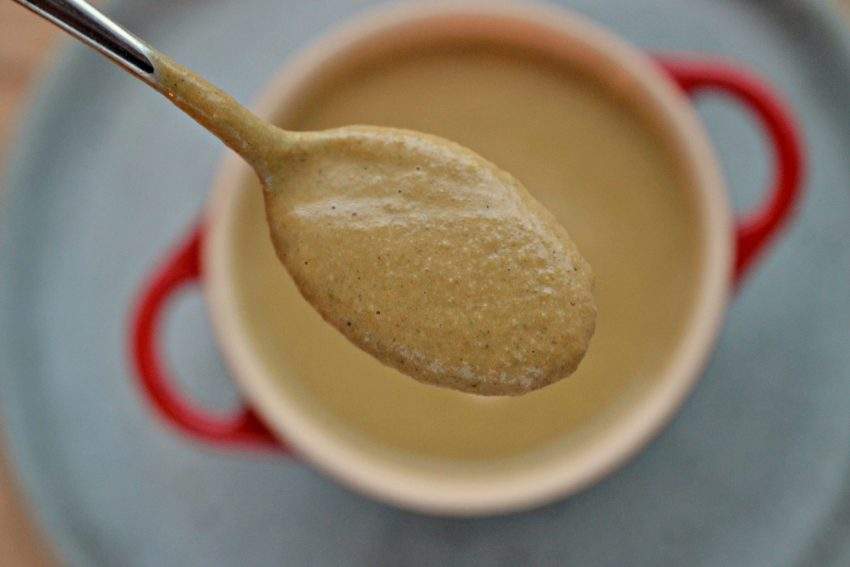 1 large yellow onion, halved and 1/2" sliced
2 cloves garlic, roughly chopped
1 cup chopped leeks
1/4 cup diced celery
1/4 cup diced carrots
1/4 cup raw cashews, roughly chopped
1/4 cup diced crimini mushrooms
1 tsp dried rosemary
1 tsp dried thyme
1/2 pack Yves original ground round
1/4 cup nutritional yeast
water, enough to cover
1 tbsp balsamic vinegar
1 tbsp tamari
salt and pepper, to taste
Preheat oven to 400F.
Place onion and garlic in a baking dish, drizzle with olive oil and roast for 30 minutes or until onion is well caramelized.
Place leeks, celery, carrots, cashews, mushrooms and dry herbs in a medium pot with a generous amount of olive oil. Cook on medium-high heat for about 20 minutes until the vegetables have become tender and begin to caramelize slightly.
Add roasted onion and garlic to the pot, along with Yves ground round and nutritional yeast. Stir to incorporate.
Add just enough water to cover the contents and simmer for 20 minutes.
Blend in blender on high until smooth and creamy, about 1 minute. Add vinegar and tamari.
Return to pot, season to taste with salt and pepper and keep warm on stove until ready to serve.
Yield:

Prep Time:

Cook Time: