Back for a limited time only, Quesada's Drunken Chicken taco and burrito filling is one of the most popular seasonal options from the Mexican fast-casual eatery from coast to coast.
While ordering delivery or picking up from one of their many locations across Canada is always easy to do, Quesada knows many of their patrons love a home-cooked meal too.
Canada's winter temps can be beyond chilly, and everyone needs craveable, comfort-food recipes to help stay cozy at home. Quesada's Drunken Chicken–made with adobo spices and infused with gold tequila–hits that perfect balance of sweet, smokey and savoury...and lucky for you, they've shared the recipe with us.
This Drunken Chicken recipe is loaded with flavour thanks to adobo spices and a little tequila. It's a recipe that hits that perfect balance of sweet, smokey and savoury. Quesada makes its own adobo paste, using dried Mexican ancho and pasilla peppers, garlic, and spices, so this at-home recipe calls for prepared adobo sauce, to keep things a tad simpler.
You can eat this tasty chicken creation as you'd like, but we prefer to load up tacos, burritos or nachos with it.
Here's a simplified version of Quesada's famed filling by their recipe developer Ilona Spudas that you can easily make at home. It's sure to become a staple!
Quesada's Drunken Chicken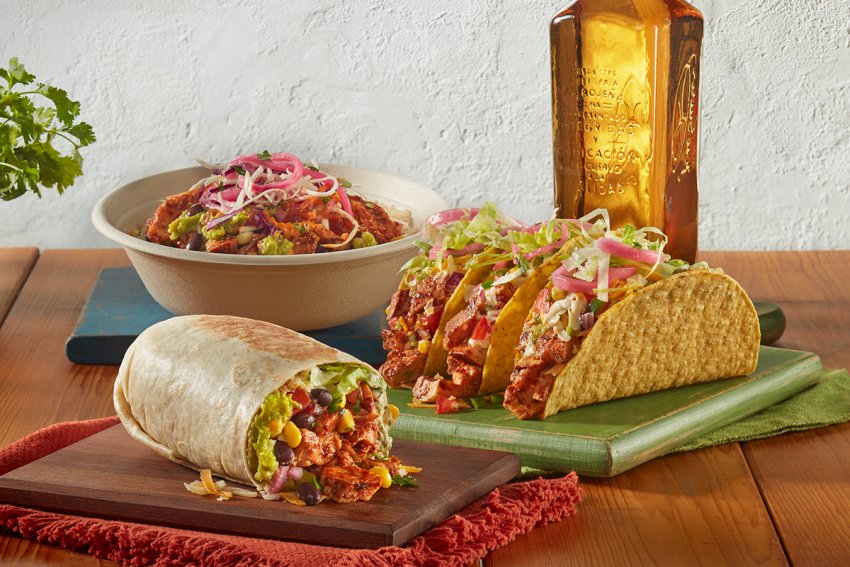 1/2 cup adobo sauce
2 tbsp gold tequila
1/4 cup water
1 tsp Mexican hot sauce of choice, or more to taste
1 tbsp tomato paste
1 1/2 tsp garlic powder
1 tbsp sugar
1/2 tsp salt
1 lb cooked chicken meat, diced or pulled
Place all ingredients except chicken in a medium pot, and stir to combine.
Bring sauce to boil on high heat. Once boiling, reduce heat to medium and stir constantly with a rubber spatula for 3 minutes.
Next, add chicken and reduce heat to medium-low. Continue to cook until chicken is warmed through, about 2-3 minutes.
Serve warm and enjoy!
Yield:

Prep Time:

Cook Time: