With the holidays fast approaching and winter in full swing, it's always good to have a new recipe to whip up in the kitchen when you're craving something comforting. This simple and delicious recipe was created Calgary's JP Pedhirney, executive chef of one of Alberta's hottest restuarants, Bridgette Bar uses smoky Alberta bacon, Montecillo red wine and smoked paprika for a Spanish-inspired tomato sauce that works perfectly with anything from grilled sausages to baked brie and potato dumplings.
The most important thing about cooking with wine is using a wine that you'll want to drink too, and Montecillo's quality tempranillos are always a perfect fit. A little splash for the sauce, a little splash for you. It is the holidays, after all!
Tempranillo tomato and bacon sauce
1 cup Alberta bacon, cut into lardons
1 tbsp grapeseed oil
1 Spanish onion, finely diced
1/2 cup Montecillo Reserva
3 cups crushed or diced canned tomatoes
1 tsp chili flakes
1 1/2 tbsp smoked paprika
1 bay leaf
1 tbsp kosher salt
In a large heavy bottom sauce pot, sweat the bacon in grapeseed oil until crispy and all the fat is rendered.
Next, add diced onion and garlic and cook on low heat until tender.
Add red wine and simmer for one minute.
Add canned tomatoes, red chili, smoked paprika, bay leaf and salt. Simmer on low for 20 minutes.
Season to taste and remove bay leaf before serving.
Potato and pork dumplings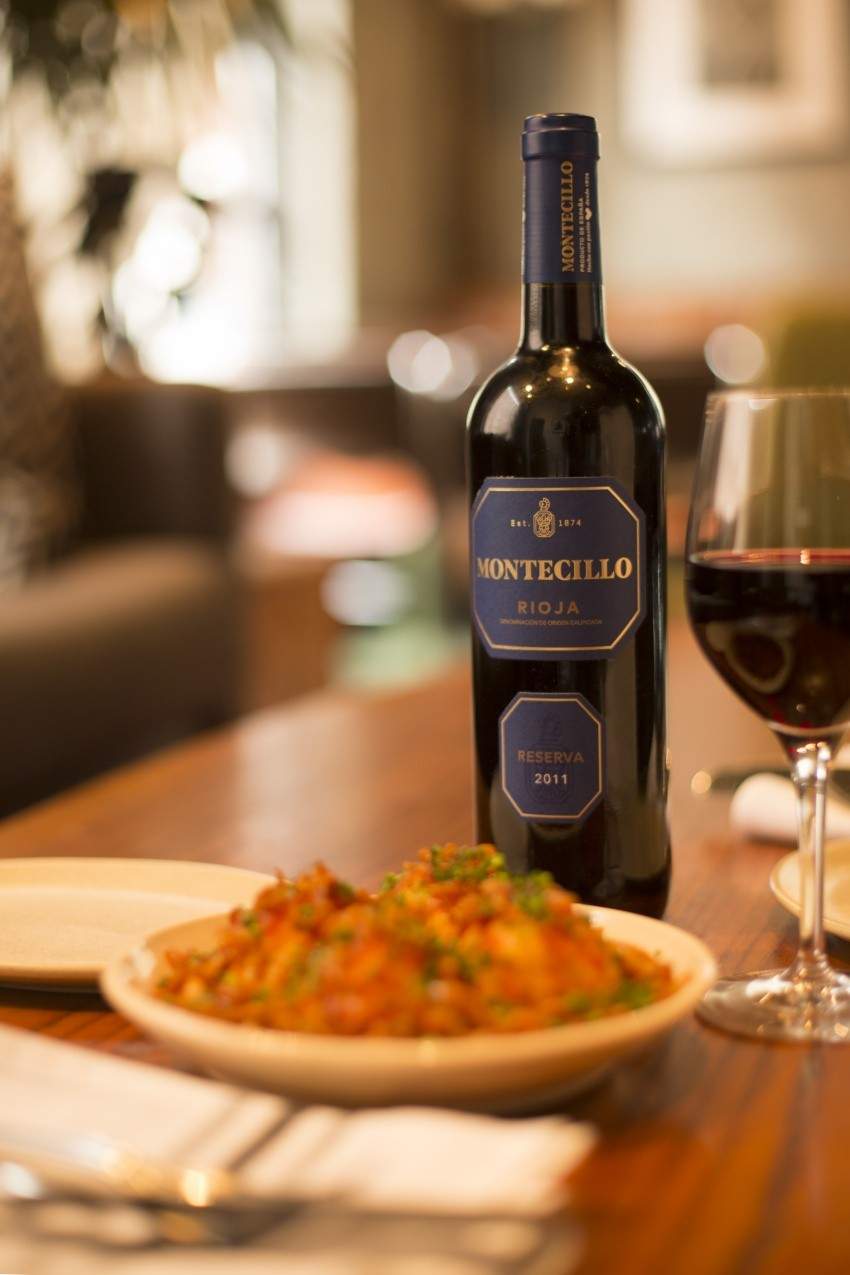 1 cup Alberta bacon, diced
1 lb ground pork shoulder
1 tbsp kosher salt
1 tsp smoked paprika
1 tsp freshly ground black pepper
1 tbsp cold water
2 lb yellow fleshed potatoes, peeled and cut into thirds
12 cups cold water
3 tbsp kosher salt
1 and 1/2 cups all-purpose flour, divided
Place the first 6 ingredients in a mixing bowl and mix well. Keep cool in fridge until ready to fill dumplings.
Next, peel potatoes and place in a 4L pot of water, add salt and boil potatoes until tender.
Once potatoes are fully cooked, strain the water and allow potatoes to cool for 5 minutes. Put potatoes through a potato ricer.
While potatoes are still warm, add egg yolks and 1 ¼ cup flour. Fully incorporate ingredients to form a dough, being careful not to overwork it.
Take 2 tbsp of dough and roll in hands to form a ball. Press the ball into a flat disc, about ½ cm thick.
Take 1 tbsp of meat mixture and place in the centre of the dough disc.
Fold the dough up and over the meat mixture, making sure the dough completely covers all of the meat. Gently roll into balls.
Place balls onto a light layer of the remaining ¼ cup of flour on a baking sheet. Cover with a towel and refrigerate until you are ready to cook them.
(note: these dumplings can be made one day in advance)
When ready to cook, bring a large pot of water to a boil, add pre-rolled dumplings and cook for seven minutes.
Yield:

Prep Time:

Cook Time: