How is Christmas almost here? We know, we're a little scared too. If you have some holiday entertaining to do before we bid adieu to 2017, it's always good to know that some appetizers aren't going to take forever and a day to make.
The great thing about using phyllo or puff pastry when whipping up simple small bites is that you can fill and bake them in advance. With a couple of finishing touches, you'll be feeding your eager friends in no time. Here are two no-fail recipes to help make your next party even more tasty than it was already going to be.
Avocado toast pockets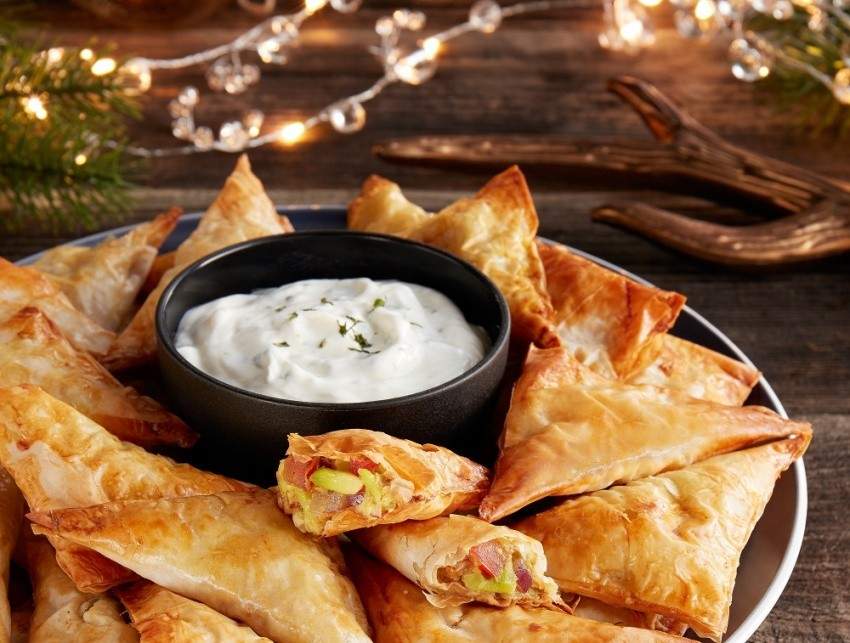 2 avocados, diced
2 medium tomato, seeded and diced
1/2 cup frozen corn, thawed
1/4 cup red onion, minced
2 tbsp lime juice, divided
2 tsp chili powder
1 garlic clove, minced
1/2 tsp salt
6 sheets phyllo pastry
2 tbsp salted butter, melted
1 egg, lightly beaten
2/3 cup sour cream
1/2 cup cilantro, finely minced
The popular brunch staple gets a holiday appetizer makeover in this phyllo-crusted pocket version. The avocado toast is a delicious combo of creamy avocado, fresh tomato, onion and tart lime, and is beautifully paired with a cilantro-sour cream for dipping.
Heat oven to 375F (190C). Line two rimmed baking sheets with parchment.
Stir together avocado, tomato, corn, red onion, 2 tsp (10 mL) lime juice, chili powder, half the garlic and 1/4 tsp (1 mL) salt in a medium bowl.
On clean counter top, place one sheet of pastry. Brush evenly with butter and top with another sheet, smoothing to flatten. Brush second sheet with butter and top with a third sheet. Cut sheet along the long edge into 5 even strips. Cut each strip in half crosswise and in half again to make 4, 3-inch (8 cm) squares. Repeat with remaining strips.
Fill one half of each square with 1 tbsp. (15 mL) filling, leaving a 1/2 inch (1 cm) border. Brush border with egg wash. Fold pointed edge of unfilled half over to create a triangle and press firmly to adhere to egg-washed edges. Place on prepared sheet and brush triangles with egg wash. Bake until golden; about 10 minutes. Repeat with remaining pastry sheets and filling.
Meanwhile, mix sour cream, cilantro, remaining lime juice, garlic and salt in a small bowl. Serve with pockets.
Puff Pastry Canapes
1 450 gram package frozen puff pastry
1 egg, lightly beaten
1 cup ricotta
1/2 pear, thinly sliced
1/4 cup toasted walnuts, chopped
3 tbsp honey
1 cup arugula
8 slices prosciutto, sliced in half lengthwise
1/4 cup sundried tomatoes, chopped
Tender puff pastry is prepared with two different toppings to whet the appetites of your Christmas party guests. In one hand, they'll have tart pears topped with walnuts and sweet honey, and in the other, a salty prosciutto and sundried tomato with bitter arugula. Both are layered on a creamy ricotta cheese base. Everything needed to make this budget-friendly, delicious decadence can be found at Walmart for less than $1.70 a serving.
Heat oven to 400F (200C). Line two rimmed baking sheets with parchment.
Unroll one sheet of puff pastry. Cut pastry evenly into 4 strips. Cut each strip evenly into 4 parts to make 16 squares. Place on prepared pan, score 2 or 3 times with a fork and brush with egg wash. Bake until golden and puffed; about 14 minutes. Repeat with remaining sheet. Cool 5 minutes.
Spread each square with 1 1/2 tsp (7 mL) ricotta cheese. Top 16 squares with pear slices, walnuts and a drizzle of honey. Top remaining 16 squares with arugula, prosciutto and sundried tomatoes.
Yield:

Prep Time:

Cook Time: