Being based in Calgary, we here at Eat North HQ affectionately call the end of June to mid-July "pancake season".
Canadians know well of the Calgary Stampede's annual tradition of pancake breakfasts. 2023 marks the 100th anniversary of said tradition, and these days, locals and tourists alike can have their pick between hundreds and hundreds of (typically free) pancake breakfast options between now and mid-July.
With that in mind, we're always looking for an interesting pancake recipe to try out, and this clever spin on chicken and waffles from Valentine Thomas has caught our eyes and captured our taste buds.
In Thomas' brand-new cookbook Good Catch: A Guide to Sustainable Fish and Seafood with Recipes from the World's Oceans, the inspiring spearfisherwoman and ocean conservationist has come up with a ton of creative recipes for home cooks to whip up, all the while helping readers appreciate different types of sustainable seafood.
"Waffles and fried chicken are Southern comfort-food classics, so it felt crucial for me to come with a fishified version. Crispy, golden fried fish is the perfect stand-in for chicken, while buttermilk pancakes offer an easier alternative to waffles—as in, no waffle maker required. It's just the right amount of salty greasiness paired with sweet and spicy jalapeño honey that makes this dish an instant brunch favourite," explains Valentine Thomas in the introduction to this recipe in her cookbook.
Jalapeño-infused honey
1 cup honey
1 jalapeño, stemmed, seeded, thinly sliced
Place the honey and sliced jalapeño in a saucepan set over medium-high heat. Stir to combine and let the honey come to a boil.
Once the honey starts to boil, reduce the heat to a very low simmer and let the honey simmer for about 15 minutes.
Remove the pan from the heat and set aside.
Pancakes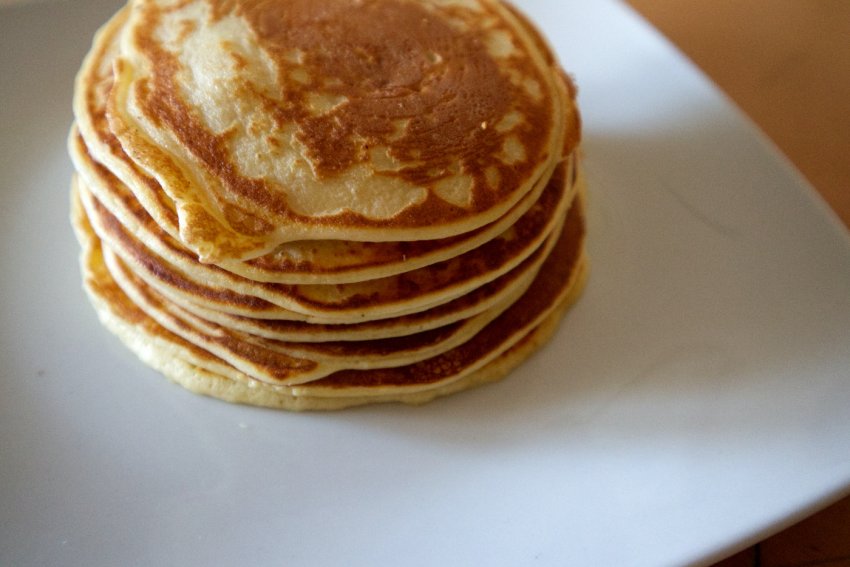 1 1/2 cups all-purpose flour, sifted
3 1/2 tsp baking powder
1/2 tsp kosher salt
1 tbsp granulated sugar
1 1/4 cups milk
2 large eggs
3 tbsp unsalted butter, melted
2 tbsp canola oil
In a large bowl, combine the flour, baking powder, salt, sugar, milk, eggs, and butter. Whisk until just combined. (Make sure not to overmix the batter; there should be small lumps.)
Heat a large skillet over medium heat, then add the oil to the skillet. Once the skillet is hot and the oil is shimmering, add 1/4-cup portions of the batter to the pan, being careful not to overcrowd the pan.
Cook on each side for about 3 minutes, or until golden brown and cooked through.
Repeat with the remaining batter. Transfer the pancakes to a baking sheet and keep them warm in the oven while you fry the fish.
Buttermilk fried fish and assembly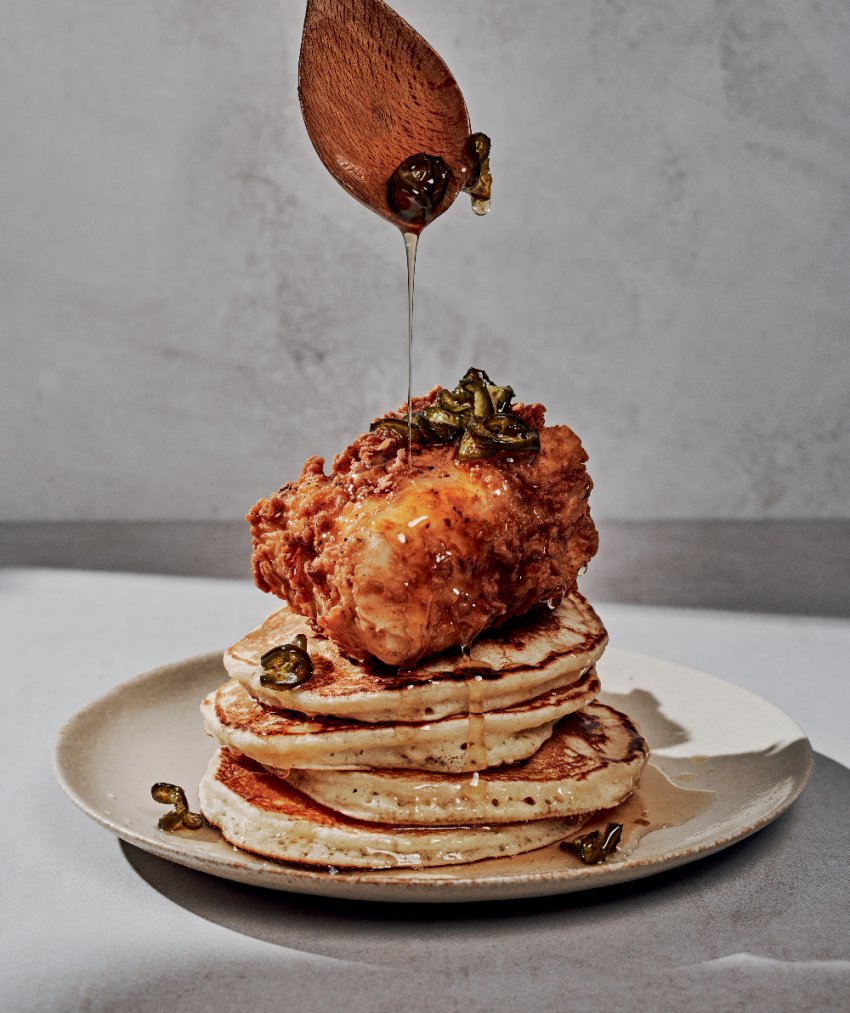 2 cup buttermilk
1 cup all-purpose flour
1 tsp baking powder
2 tsp kosher salt
1 tsp ground cumin
1 tsp onion powder
1 tsp garlic powder
1 tsp ground black pepper
1 cup canola oil
4 thick and firm white fish fillets such as halibut, halved cross-wise
Prepare the fish
In a large, wide metal bowl, combine the buttermilk, flour, baking powder, salt, cumin, onion powder, garlic powder, and black pepper. Whisk all the ingredients together until the batter is smooth.
In a large cast-iron skillet set over medium-high, heat the oil to 350°F. (If you don't have a thermometer, look to the point when the oil has just barely started to smoke.) Once the oil is to temp, reduce the heat to medium-high, dredge 1 fish fillet in the batter so that it is fully coated, and transfer the fillet to the hot oil. Fry on each side until golden brown and cooked through, about 3 minutes per side, 5 to 6 minutes total. Transfer to a paper-towel-lined plate and repeat with the remaining fillets.
To serve
Divide the pancakes among 4 plates, then top each with a fried fish fillet, drizzle with the warm jalapeño honey, and serve immediately.