Like many Canadian cities, the cocktail scene in Halifax is ripe with bartenders proving that the dining experience is as much about the drink as it is the food. As the wine and beverage director at the city's intimate wood-fired pizza joint, Morris East, Katrina Roberts curates a seasonal cocktail menu that is small, focused and unique. Each cocktail designed to not only be paired with the creative menu but to elevate the experience entirely.
Take The Grand Tour, for example. Designed to compliment its incredible duck confit pizza, it mirrors the same sweet, spicy, savoury and acidic flavours. The subtle smoke and gentle sweetness make it appealing to almost any palate, from the seasoned Scotch connoisseur to the vodka-cran die-hard. The complex drink is a beautiful balancing act of masculine and feminine. It's almost romantic.
The Grand Tour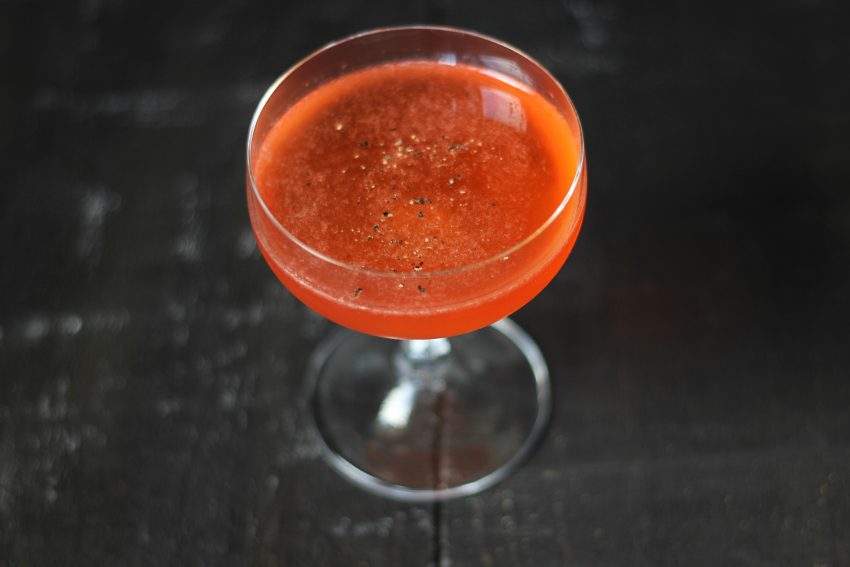 1 oz lemon juice
1 oz strawberry black pepper syrup
1/2 oz rosemary syrup
1 oz Bowmore 12 Yr Single Malt Scotch
1/2 oz Aperol Italian aperitif
black pepper, to garnish
To assemble the cocktail, add lemon juice, both kinds of simple syrup, Scotch and Aperol into a cocktail shaker. Fill with ice. Shake until the tin frosts over. Double strain into a chilled glass. If desired, garnish with fresh cracked black pepper.
Note
To make flavoured simple syrups (of any kind), heat or shake equal parts sugar and water until the sugar dissolves, and infuse with herbs, spices, fruits, even vegetables.
For this cocktail, infuse simple syrup with a few sliced strawberries and a teaspoon of black peppercorns for the first syrup, and a few sprigs of rosemary for the other. Infuse the syrup as long as desired. Strain and let cool.