Sea buckthorn berries. They sound like something you might find attached to a big, scary, thorny bush, and that would likely result in immediate death if you eat them. In reality, these tiny, orange berries are really awesome in many ways (though they do grow on thorny, terrifying bushes).
Packed with nutrients and phytochemicals, vitamin C, vitamin E, amino acids, and all sorts of goodness, these berries are used for everything from treating asthma and ulcers, to fixing nasty skin rashes and treating sunburn. When they're not off saving the world, these tart little guys are most often made in to jellies, jams, dressings and sauces. They'd also be damn good in a cocktail (miracle-inducing sea buckthorn berry sazerac, anyone?).
In this recipe, they're the star of protein-packed, nutritious and delicious muffins that are substantial enough for a quick breakfast on the go, or more likely, a healthy bite to eat when your stomach starts violently growling at you in the middle of the afternoon.
Have you ever cooked with sea buckthorn berries?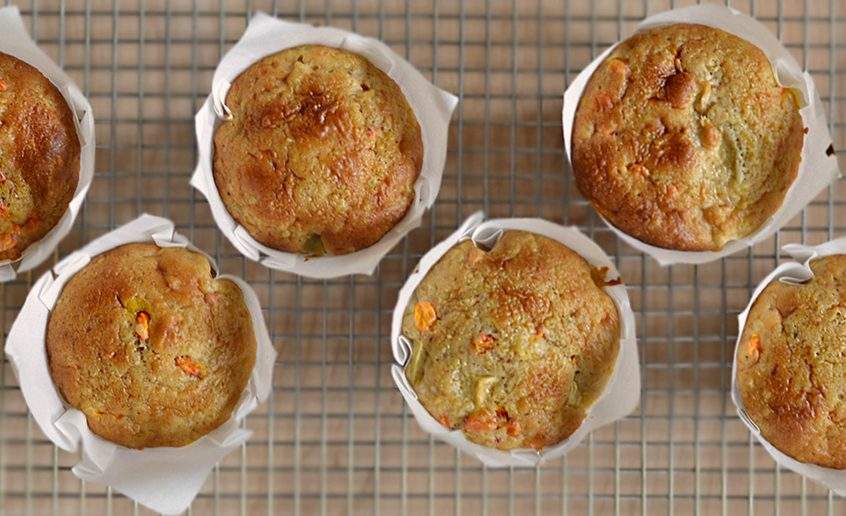 1 tbsp lemon juice or white vinegar
1 cup milk
1 cup all-purpose flour
1/4 cup whole wheat flour
1/2 cup granulated sugar
2 tsp baking powder
1 tsp baking soda
1/2 tsp salt
2 tbsp vegetable oil
2 tbsp maple syrup
1 large egg
2 tsp vanilla extract
1 cup quinoa, cooked and cooled
1 cup sea buckthorn berries (fresh or frozen)
1 Granny Smith apple, cored and cut into 1/2 inch cubes
Preheat oven to 400 F and line a 12-cup muffin tin with paper liners.
Add lemon juice or white vinegar to milk.
In a large bowl, whisk together flours, sugar, baking powder, baking soda and salt. In a separate large bowl, whisk together milk mixture, oil, maple syrup, egg, vanilla and quinoa.
Make a well in the centre of the dry ingredients, and pour in the wet mixture; mix until just incorporated (do not over work the mixture). Stir in sea buckthorn berries and apple.
Divide the batter evenly among the paper-lined muffin tin, and bake for 18-20 minutes, or until the tops of the muffins are light golden brown in colour, and a toothpick inserted into the centre of a muffin comes out clean.
Cool muffins for 5-10 minutes in the pan, and then transfer to a wire rack to cool completely.
Store in an airtight container at room temperature for up to three days.
Yield:

Prep Time:

Cook Time: