When it comes to making pies and tarts, pumpkin gets more than its fair share of applications and recipes. Halloween and Thanksgiving are dominated by a pumpkin mania that few other produce items get to enjoy. But with so many delicious squashes out there, why are we committing ourselves to just one gourd?
Butternut squash is naturally sweet, which makes it fabulous for baked goods. This shortbread tart's smooth cinnamon-laced filling lets butternut squash step out of the shadows and into the spotlight that it so rightfully deserves. Shine on, you crazy squash. Shine on.
Shortbread crust
3/4 cup unsalted butter, warmed to room temperature
1/2 cup icing sugar
1 tsp vanilla extract
1 1/2 cups all-purpose flour
1/4 tsp salt
Preheat oven to 375 F.
In a large mixing bowl, cream the butter and sugar together until completely smooth. Stir in the vanilla, flour and salt until a soft dough forms.
Place the dough in a 9-1/2-inch tart pan with a removable bottom. Use your fingers to press the dough into the bottom and all the way up the sides of the pan. Once the dough is roughly in place you can use a measuring cup or glass with straight sides to push the dough into the edges of the tart pan and flatten out the bottom. Put the tart shell in the freezer for 10 to 15 minutes to firm up.
Bake the tart shell for 8 to 12 minutes, or until lightly golden. Remove from heat and allow to cool on a wire rack while you prepare the filling.
Filling
1 2/3 cups butternut squash puree
1/4 cup sweetened condensed milk
1 egg
1 egg yolk
2 tsp vanilla extract
1 1/2 tsp cinnamon
1/8 tsp ground allspice
1 pinch ground cloves
1 pinch salt
Lower the oven temperature to 325 F.
Stir together the squash puree, condensed milk, egg, egg yolk, vanilla, spices, and salt until completely smooth. Pour the filling into the shortbread tart shell and bake for 35 to 40, or minutes until the filling is set and shiny around the edges and the tart shell edge is golden. Cool tart on a wire rack.
Bourbon whipped cream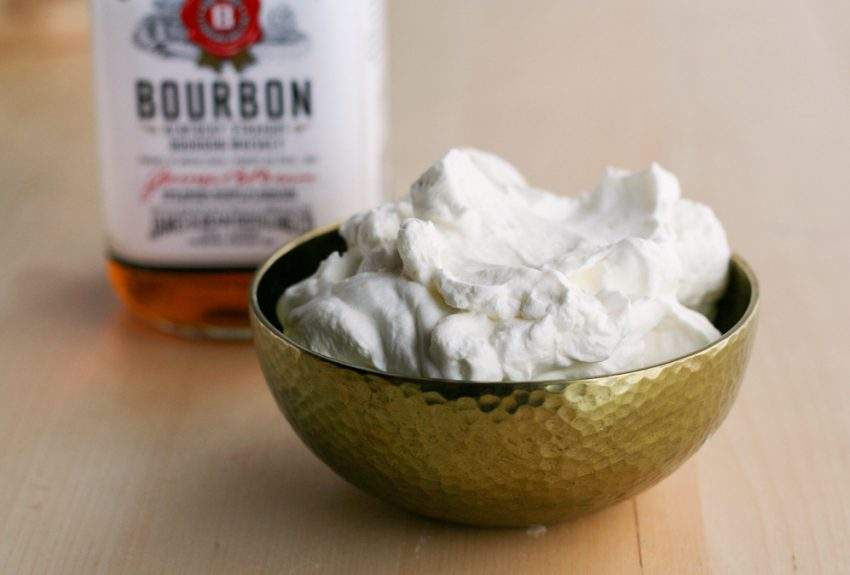 1 cup whipping cream, chilled
1 tbsp bourbon whisky
3 tbsp icing sugar
In a large mixing bowl, whip cream on high until it starts to get foamy. Pour in bourbon and add icing sugar, one tablespoon at a time. Continue to whip until the cream doubles in volume. Serve on top of the tart.