Super simple to make, and absolutely a must-have for the holidays, sugar cookies are tasty to eat and beautiful to look at.
Sugar Cookies
1 cup unsalted butter
1 cup sugar
1 egg
2 tsp vanilla extract
2 1/4 cups all-purpose flour, plus a little more dusting
1/2 tsp baking powder
1/2 tsp baking soda
1/8 tsp salt
Cream together the butter and sugar until fluffy. Scrape down the side of the bowl, then beat in egg and vanilla until completely combined.
In a separate bowl, stir together the flour, baking powder, baking soda and salt. Turn your mixer on low and mix flour mixture into the butter mixture slowly (in a few additions) until a soft dough forms.
Divide the dough in half, wrap each half in plastic wrap and shape each into a disc. Chill in the fridge until firm enough to roll out, about an hour.
Line cookie sheets with parchment paper and preheat oven to 350 F.
Remove dough from fridge and let sit to almost room temperature. Dust countertop with flour and roll the dough out to 1/ 4-inch thickness (keep the other disc in the fridge until ready to use). Using cookie cutters dipped in flour, cut shapes out and transfer to prepared cookie sheets with a spatula. Repeat with remaining dough.
Chill cookie shapes in the freezer for 5 to 10 minutes until firm, this will help them keep their shape during baking. Bake for 6 to 10 minutes, depending on the size and thickness of the cookie, until light golden on the bottom and along the bottom edge. Cool the cookies on a wire rack before icing.
Royal Icing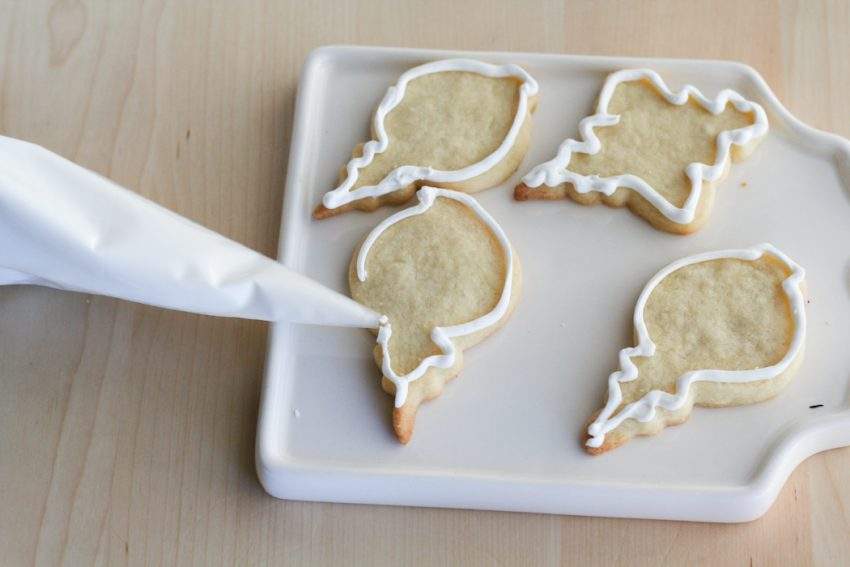 4 cups icing sugar
3 tbsp meringue powder ((available at most cake decorating supply stores)
1/2 tsp lemon juice
1/2 cup warm water, plus extra for flooding
Stir together the icing sugar and meringue powder until completely combined. Pour in the lemon juice and water, then beat on high until stiff peaks form. The icing should be shiny and thick.
To edge cookies: fill a piping bag or a large freezer bag with royal icing. If using a freezer bag, snip off a tiny corner to pipe out of after filling. Hold the piping tip a few centimetres above the cookie to give you better control over the flow of icing. Keep any remaining royal icing covered with a damp paper towel to prevent it from forming a crust.
While the edges are drying, stir a few teaspoons of water into the icing to thin it out. Spoon it onto the cookies and shake the cookie to help spread the icing to the edges. Allow the cookies to dry completely before serving (approximately 4 hours to overnight).