You've probably heard the news that the WWE Hall of Fame legend Bret "Hitman" Hart will be opening a sports bar inside Cowboys Casino in the former Zen 8 space. Hitman's Bar is a partnership between Hart and the owners of The Back Alley and promises to be a wrestling-themed sports bar unlike any other.
The east corner of Calgary's downtown core is a part of the city that the wrestling icon says holds a great deal of sentiment to him.
Decades ago, Bret Hart got his start in wrestling working for his father Stu Hart's promotion Stampede Wrestling. Located at the Pavilion in Stampede Park with a history dating back to 1948, Stampede Wrestling rose significantly in popularity in the 1960s. Two decades later, it helped launch the careers of professional wrestlers like himself and Owen Hart, of course, as well as Davey Boy.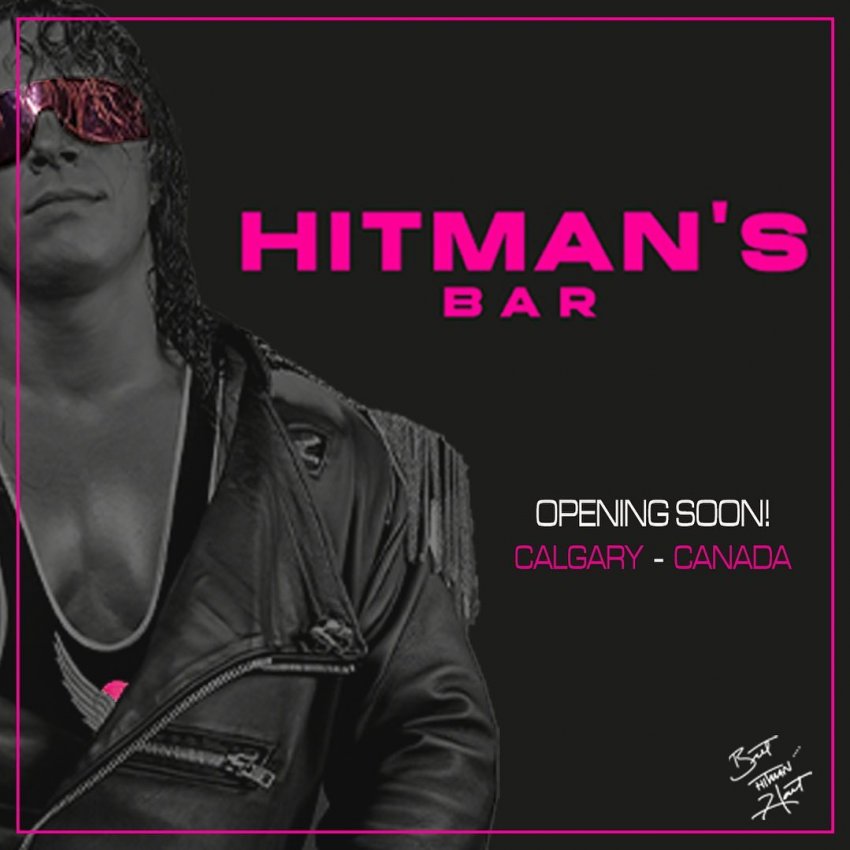 Slated to open some time in Februrary, Hitman's Bar will be blocks from the former Stampede Wrestling space, what he fondly refers to as his "playground" growing up.
The 200-ish seat restaurant and bar will be brimming with memorabilia from the Hitman's own personal collection, including title belts and photographs he has collected over his career. To add to the nostalgia factor, old wrestling matches featuring Bret "Hitman" Hart will play on screens throughout the space. There are no details regarding food and drink offerings as of yet, but seeing as the wrestler partnered with Romero Distilling Co. back in 2021, we can likely expect their rums to grace the menu here.
The idea for Hitman's came up while at a wrestling show put on by Bret's son Dallas through his promotion Dungeon Wrestling. Seeing so many old familiar faces from Stampede Wrestling mixing with the new generation of fans reminded him that there is no place for these old wrestlers to go and connect with one-another over the sport they have loved for so many years.
"I like the idea that wrestlers from this city like The Great Gama, Cuban Assassin or my brother Bruce Hart might stop in and familiarize themselves with fans who may have forgotten about them," says Bret Hart.
The hope is that this new venture will provide a space for fans of professional wrestling to come and enjoy a beer and a bite to eat while taking in the nostalgia of Calgary during its wrestling heyday.
"When wrestling fans come to Calgary, they want to visit the Hart House where we grew up," he adds. "[We no longer own the home]. The new owners have had to block off the property to stop people from coming by and taking pictures."
Hitman's bar will now serve as the perfect place to make that Hart connection in Calgary and take a picture or two.
A family man through-and-through, Bret Hart wants everyone to be able to visit Hitman's Bar. An 18+ venue from Mondays to Saturdays, the retired wrestler says that people of all ages will be welcome in the venue on Sundays.
"It will be great to be able to sit down, have a beer and see some of my old matches on the screen…and have wrestling fans know that they might bump into me at Hitman's Bar."
Hitman's Bar is located at 421 12 Ave S.E. and for future updates on Bret Hart's bar, including opening date, hours, and more, follow @hitmansbar on Instagram.
The business is also holding a hiring fair on Saturday, January 28 from 12 p.m. - 3 p.m.
Watch: Bret Hart discusses his rum partnership with Calgary's Romero Distilling Co.