Born and raised on an apple orchard in East Kelowna, Jennifer Schell's passion for British Columbia's food and wine culture runs deep. From founding the internationally acclaimed Garagiste North Wine Festival to her time with BC Food and Wine Trails Magazine, to her three bestselling cookbooks, Schell has been a passionate supporter of B.C.'s vibrant farming, food and wine industry for more than 15 years.
Schell's previous cookbooks contained recipes from B.C.'s top chefs, but her newest release focuses on the families that run the wineries and their personal family recipes and stories. Schell loved the idea of shining a spotlight on the people behind the scenes and gives readers a glimpse into how they feed their families and guests.
In The BC Wine Lover's Cookbook, you'll find more than just the Coles Notes on the chosen wineries. Schell gives us a glimpse at the personalities that are involved in the winery, whether they be the winemakers, or the owners themselves.
"I made a list and just kept narrowing it down trying to create a snapshot with a diverse spectrum of families - some old and some new - as well as representing the international roots that we have in our B.C. wine country," Schell explains. "I have so many treasured family recipes in my recipe box and the older I get, the more valuable they are as a memory of not just the dish but of the person that created that recipe - my granny, oma, or special aunties."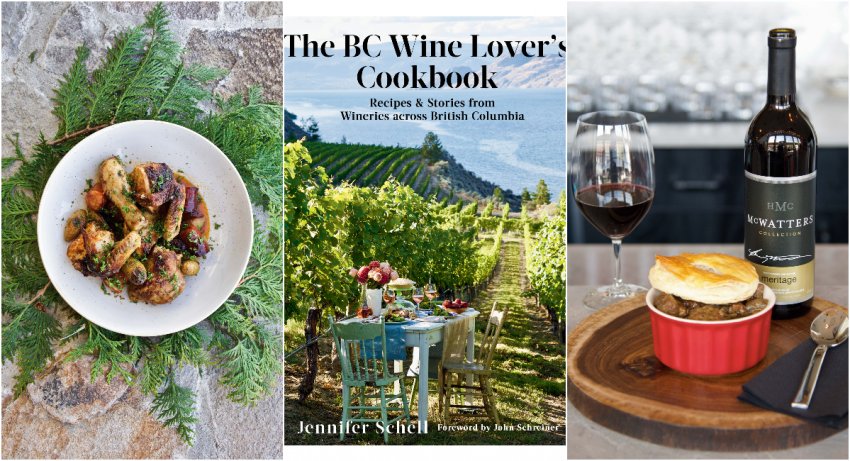 Schell provides perspective into the lives of winery families, and offers insights into what drove them to venture into, and stay in wine country. The recipes that follow each of the 53 winery stories vary from extremely simple to those that will take a bit of planning, or perhaps require specialty produce. Like any recipe, you should always read ahead before attempting, and as you do so with this cookbook, you will receive both a cooking and history lesson.
"I loved the idea of sharing the spotlight on some of these wonderful women in our families that cooked with love to feed their families," Schell adds. "This culinary history is essentially the core of each family's own story and culture and the concept added another layer to the food and wine theme."
This is a time that I do recommend skipping ahead to the back, especially if you are planning a tour, as here you will find Schell's handy Wine Adventures section. She's not only suggested plans for those who may be drawn to a certain region of the province, but also laid out routes for those particularly fond of Pinot Noir, Riesling, Rose or Chardonnay, with all sorts of insider tips along the way. There is also a brief description of other B.C. Wineries that she recommends.
Brava to Jennifer Schell for this deep dive into wine country..