Spending a solid portion of my life in Saskatchewan, it may come as some surprise that I'm much--perhaps even leaps and bounds--more well-acquainted with Australian fare than the average Canadian. So, why is that? No, sadly I did not make the trek Down Under after high school to travel and work abroad, like many of my comrades did. No, I did not have an unhealthy obsession with Crocodile Dundee.
When I was younger, my parents had (and still have) very demanding jobs in the medical field. There's a lot of late nights, last minute emergency calls, not to mention (literally) blood, sweat and tears that goes along with working in a hospital. As such, they opted for a nanny to take care of my brother, sister and me while they did their jobs. When I got a little older and watched E.R. regularly, I regularly asked them if that's what the day-to-day at the hospital was like. They told me it was not.
Enter Deirdre Brown--a lovely woman fresh to the Saskatchewan landscape from Melbourne, Australia--into the Clapson family. Being two-and-a-half years old at the time, I couldn't quite grasp just how far away or how different that piece of the world was, but I would learn. I would learn while we ate. I would sit down for breakfast and try a salty, yeasty spread on crispy, buttered toast. I remember that bright yellow-labelled glass jar just sitting in the cupboard above the counter, waiting (and perhaps fermenting?) for one of us to get up the nerve to try it again and again, more for shock factor than anything else. As I got older, way older, and visited Australia in my late twenties, I discovered although the intense flavour and high levels of sodium may be off-putting for some, it certainly could serve as a reliable hangover breakfast. The tar-like Vegemite is undeniably unforgettable. Although 98 per cent of it is produced in, and stays in, Australia, the majority of the remaining 2 per cent is found in Canada, likely feeding the many Aussies we have exploring and working in our country from coast to coast.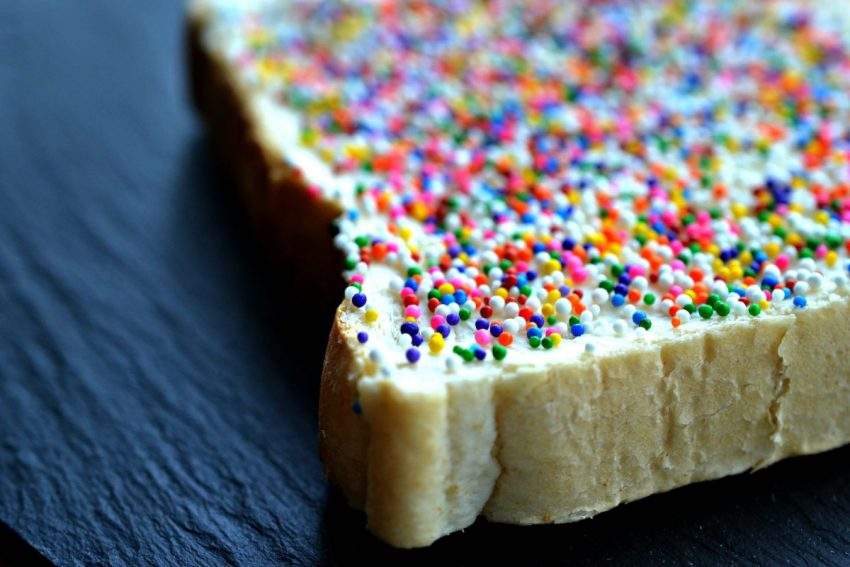 Then there was the fairy bread: a magical combination of lightly-toasted white bread, butter and rainbow sprinkles. In Australia, these sprinkles are refered to "hundreds and thousands" which makes them sound hundreds and thousands times cooler than just regular old "sprinkles". Nonetheless, the combination tastes the same and is equally appealing to a child's sweet tooth, regardless of geographical location.
Of course, pavlova would pop up every once in a while, mainly in the warmer months when it could be served up with fresh berries after a backyard barbecue. And meat pies? Well, most people know that those are an Australian staple, but the real showstopper to the Clapson kids, 25 years or so ago, were lamingtons; little squares of cakey, chocolatey, coconuty magic that I think everyone should be able to experience at least once or twice, even one thousand times in their lives.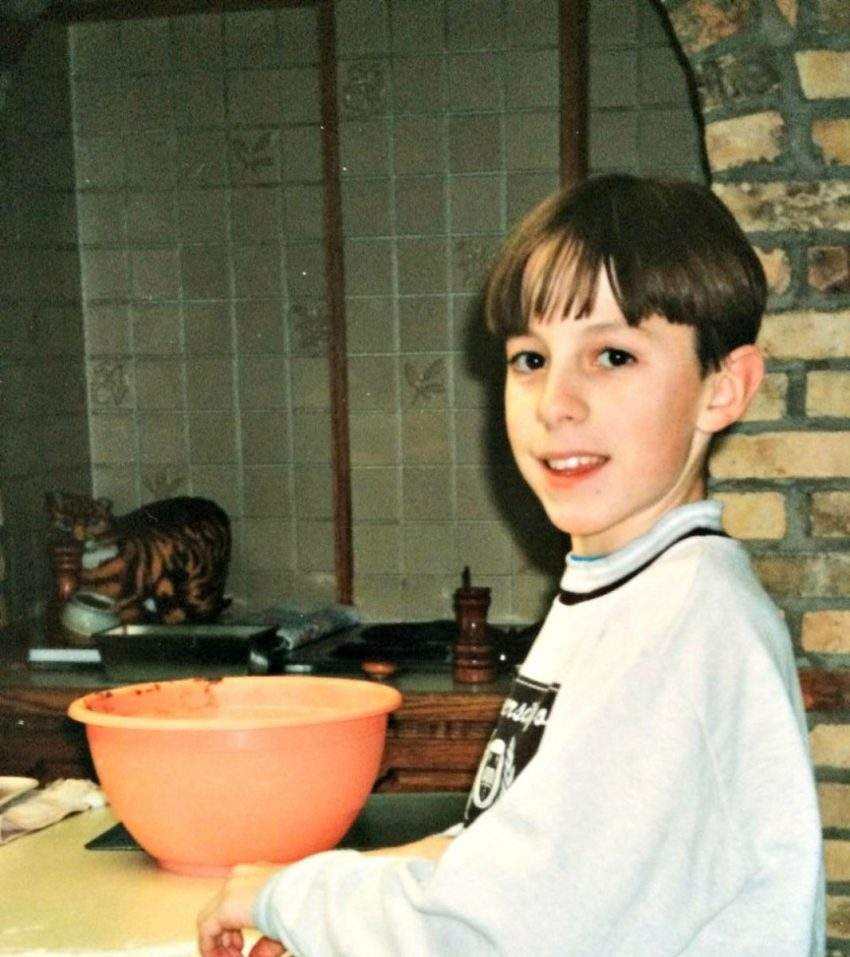 Looking back now, it's really interesting how a dessert that is a fairly simple trifecta of flavours (vanilla, chocolate and coconut) can seem so exotic to a young person, or a grown-up, for that matter. In Canada, you probably won't find lamingtons sitting in a bake shop in any city or town. A vanilla cupcake with chocolate frosting and a sprinkling of coconut though? Perhaps. But once you've taken a bite of a lamington, it's hard to even consider reaching for a cupcake hoping for a similar experience.
"This is my regular lamingtons recipe that I would have made for you in Canada," Deirdre told me, when I mentioned to her that I thought it was about goddamn time I made a batch of the cakes at home. "It's very reliable and has that Canadian connection because of the Canadian Living birthday cake recipe I used as the base. I prefer the slightly denser butter cake over a sponge, since it's easier to handle and it also adds that nice, buttery flavour!"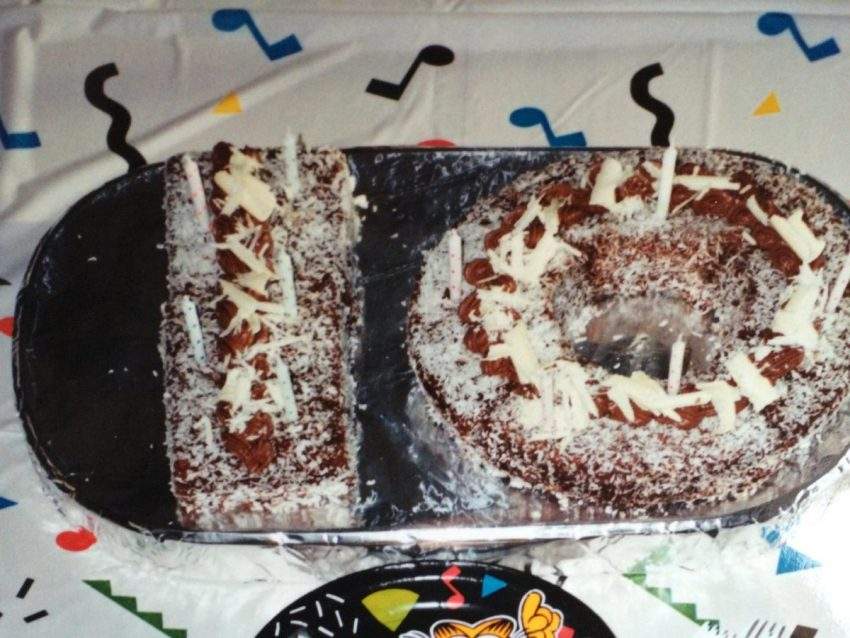 Here is the recipe for the dessert that I grew up eating (and requesting as birthday cakes like the one pictured above) year after year. Now if you'll excuse me, I have some lamingtons calling my name. And I can thank Deirdre for that.
Basic vanilla maple cake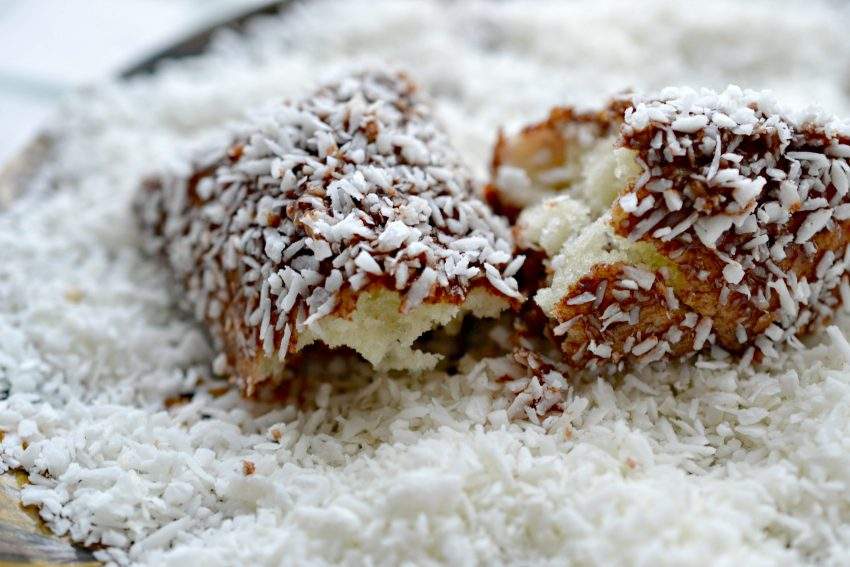 2½ cups sifted cake flour, or all-purpose flour if you don't have cake flour on hand
3½ tsp baking powder
1 tsp salt
1 1/4 cups granulated sugar
¾ cup soft butter
1 cup milk
1 tsp vanilla extract
3 tbsp maple syrup
2 eggs
Grease and flour a 9x13" rectangular cake pan. Line base with paper.
Preheat oven to 350 F.
In a large mixing bowl, sift together flour, baking powder, salt and sugar. Add butter, milk, vanilla and maple syrup. Mix to blend lightly then, using an electric mixer at medium speed or by hand, beat for 2 minutes. Scrape down sides and bottom of mixing bowl often. Add eggs and beat for 2 minutes at medium speed.
Spread batter evenly in prepared pan. Bake for 40 to 45 mins, or until top of cake springs back when lightly touched.
Let cake cool in pan for 5 minutes before turning onto cake rack to cool completely.
Chocolate butter icing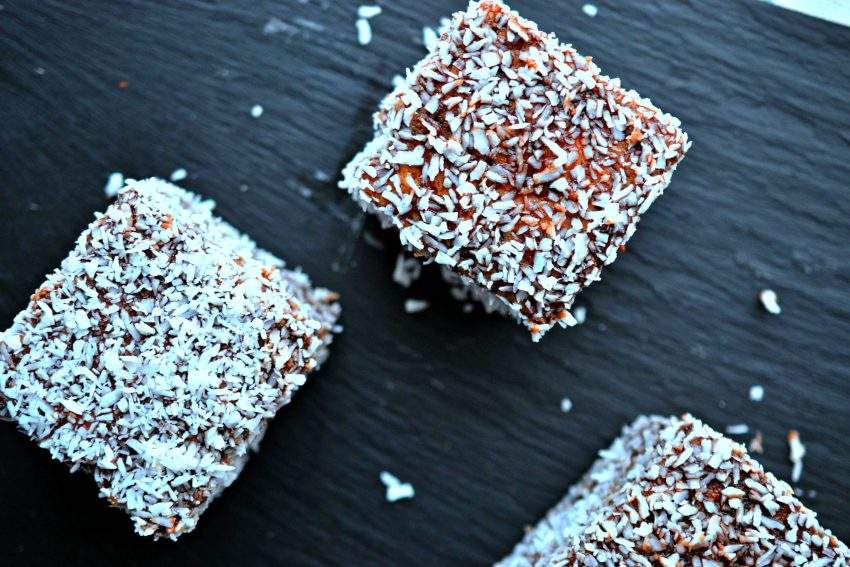 2 1/2 cups icing sugar
1/2 cups good quality cocoa powder, plus more for a richer cake
1 tbsp butter
2/3 cups very hot to boiling water
3 cups finely shredded unsweetened coconut, plus more if necessary
Sift icing sugar and cocoa together (or not) into a large bowl.
In a separate bowl or a mug, stir hot water and butter together until melted. Make a well in the middle of icing sugar and stir in as much butter and water mixture as needed, until well mixed and smooth. Icing should be the consistency of cream (drippy with a little body). Add more water if necessary. (You want it to soak in a little but not make cake soggy.)
Assembly
Cut day old cake into 24 cubes. Day old cake is easier to handle, but not essential.
Gently dip cake into icing, coating all sides, taking care not to break up the cake, and not allowing cake to sit too long in the icing or it will get soggy and difficult to handle.
Place on a cake rack, with waxed paper underneath, and allow to drip for a few minutes so icing gets slightly tacky. Dip half the cake cubes before rolling in coconut so icing has time to set.
Gently roll icing-covered cake pieces quickly in coconut spread onto a sheet of paper, then return to cake rack to dry.
You may need to make more icing, depending on how much of the icing gets soaked into the cake.
Dip half the cake cubes before rolling in coconut so icing has time to set Roll quickly in coconut spread onto a sheet of paper (don't over handle) then return to cake wire to dry.
Gluten-free vanilla cake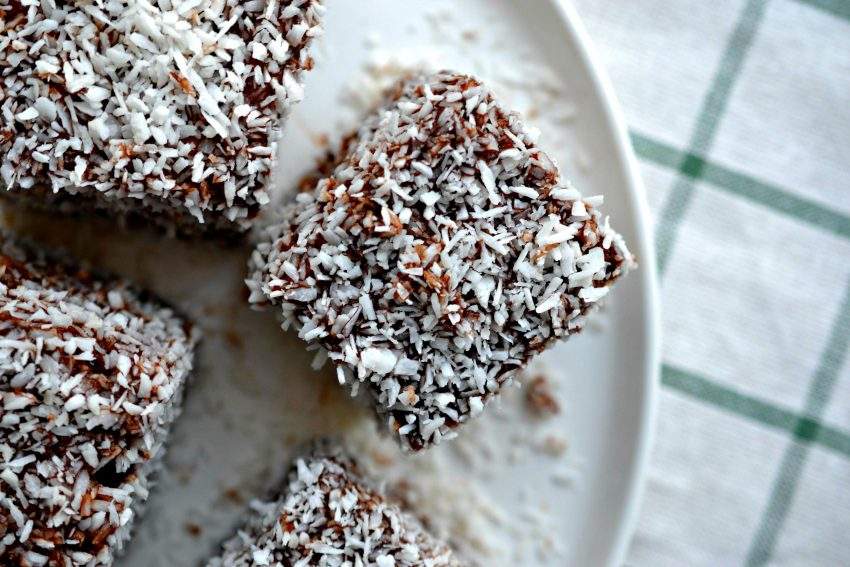 3 eggs
1/3 cup granulated sugar
3/4 cup gluten-free cornflour, or a combination of half cornflour, half amaranth
1/2 tsp baking powder
Here's a tried and true recipe for a tasty gluten-free cake that can be easily substitued for the above cake to make lamingtons.
Preheat oven to 350 F and line a lamington tray with baking paper, be sure to come high up the sides.
Sift together the flours and baking powder three times, set aside.
Whisk eggs for 7 to 10 minutes, or until light and fluffy.
Slowly add sugar, one dessert spoon at a time. You want the sugar to be completely incorporated before adding the next spoonful (a bit like making a pavlova). When all the sugar is dissolved and the eggs are lovely and fluffy and creamy, sift over the flours and gently fold in with a metal spoon.
Pour sponge mixture into prepared tin and bake for approximately 20 or 25minutes, until lightly golden. It should bounce back if you press it lightly
Allow to cool in tray, then turn over onto a cooling rack and gently remove baking paper.
For the icing, use the recipe above, but substitute the hot water for milk.
Yield:

Prep Time:

Cook Time: