Risotto is one of my favourite dishes to make regardless of the time of year. The fairly neutral rice and broth base acts as a blank canvas for whatever ingredients fit the current season or theme you're after.
For Halloween, I look to beets to help give this risotto a dramatic colour and earthy flavour. Radishes with the tops trimmed off and roots intact are meant to add further spook factor, resembling the—pun intended—tail ends of rodents.
It's not often that I draw inspiration from mice tails and gruesome carnage to cook up dinner, but it is Halloween after all.
This risotto recipe is vegan, but if you want to make it a bit more rich, add a couple tablespoons of butter or some cream towards the end of the cooking process. If you crumbled in some Boursin that would certainly do the trick too.
Happy Halloween!
Beet risotto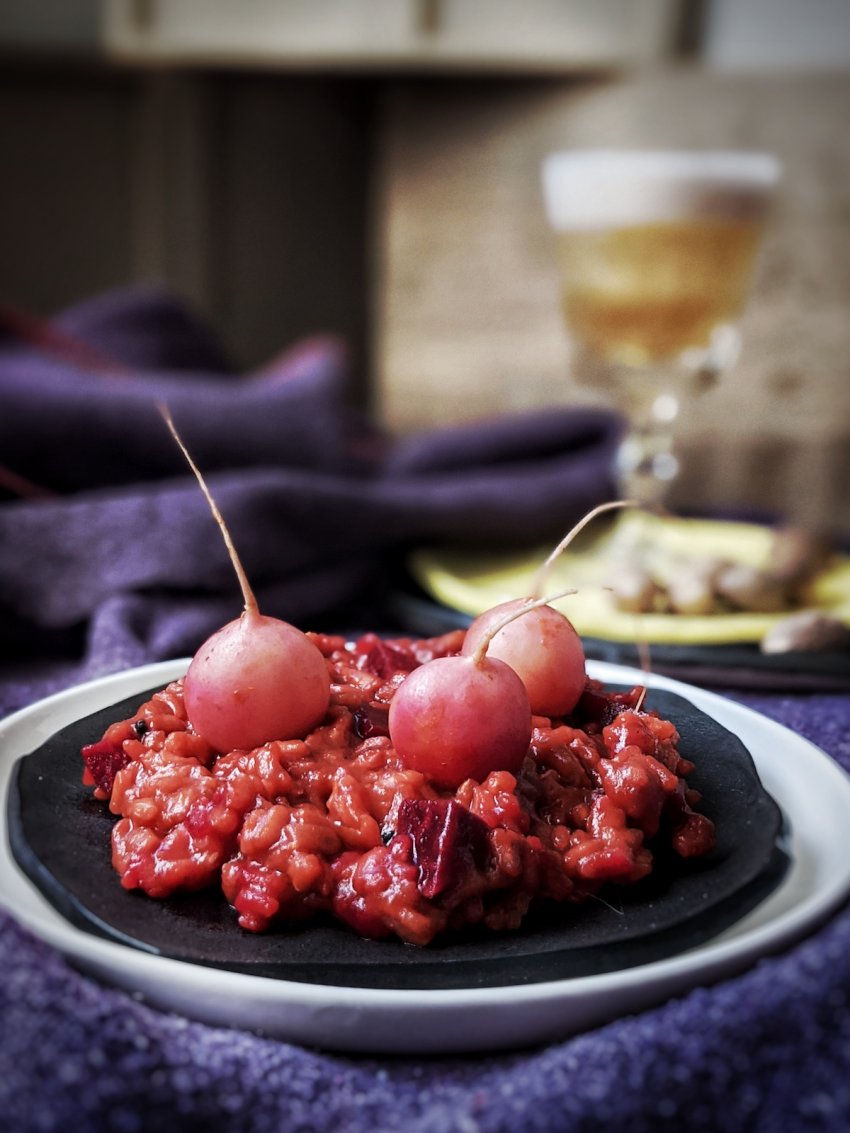 6 cups vegetable broth, or 5 cups broth and 1 cup beet juice if accessible
2 tbsp tomato paste
1 tsp garlic powder
1/4 tsp chili flakes
1 tbsp canola oil
1 yellow onion, diced
3 garlic cloves, minced
1 1/2 cups arborio rice
1 cup cooked and diced beets, can also be pureed for smoother texture
1 tbsp red wine vinegar
salt and pepper, to taste
Place vegetable broth, tomato paste and spices in a medium pot and bring to a simmer over medium-high heat. Reduce heat to low to keep broth hot, but not bubbling.
Heat oil in a large, pan on medium-high heat, add onion and garlic and cook until onions soften, approximately 4-5 minutes.
Add rice, stir well and let cook for 1 minute to allow rice to toast lightly.
Next, add 1 cup of hot broth into the pan. Reduce to medium heat and allow to cook until almost completely absorbed by rice.
Ladle more broth into the pan and continue to stir regularly. Continue this process for 20 minutes. Rice mixture should expand noticeably.
Add beets and vinegar as well as any remaining broth and allow to cook for 5 more minutes.
When rice is al dente, season to taste with salt and pepper and remove from heat. Cover and keep warm on stove until ready to assemble and serve.
Sautéed radishes
1 tbsp canola oil
12 radishes, washed and tops trimmed
1 1/2 tbsp black vinegar
2 tsp good quality soy sauce
Heat canola oil in a medium pan on medium-high heat. Once pan is hot, add radishes and cook—stirring occasionally—until radishes begin to fade in colour, approximately 3-4 minutes.
Next, reduce to medium heat, add remaining ingredients and continue to cook. Stir occasionally to help coat radishes in soy-vinegar mixture as it reduces.
Let cook for another 4-5 minutes or until radishes become opaque.
To serve
Portion risotto evenly onto 4 plates or shallow bowls. Stud each risotto with sautéed radishes, roots sticking up.
Enjoy!
Yield:

Prep Time:

Cook Time: