This salad truly embodies everything that is awesome about the tail end of summer: lighting up the barbecue and grilling up some great, and Canadian-grown ingredients to help bring your alfresco back deck dinner to life. It's nothing new to add grilled peaches or nectarines to a salad, but few people try tossing chard on the grill.
Though the edges of the leaves might be a little crispy, the wafer-like texture of the ends of the chard will add a little texture to your salad while the grill marks on the stems themselves help bolster the flavour. We added halloumi into the mix here because, well, we're hard-pressed to find a situation that grilled halloumi doesn't make better.
Grilled Swiss chard, stone fruit and halloumi salad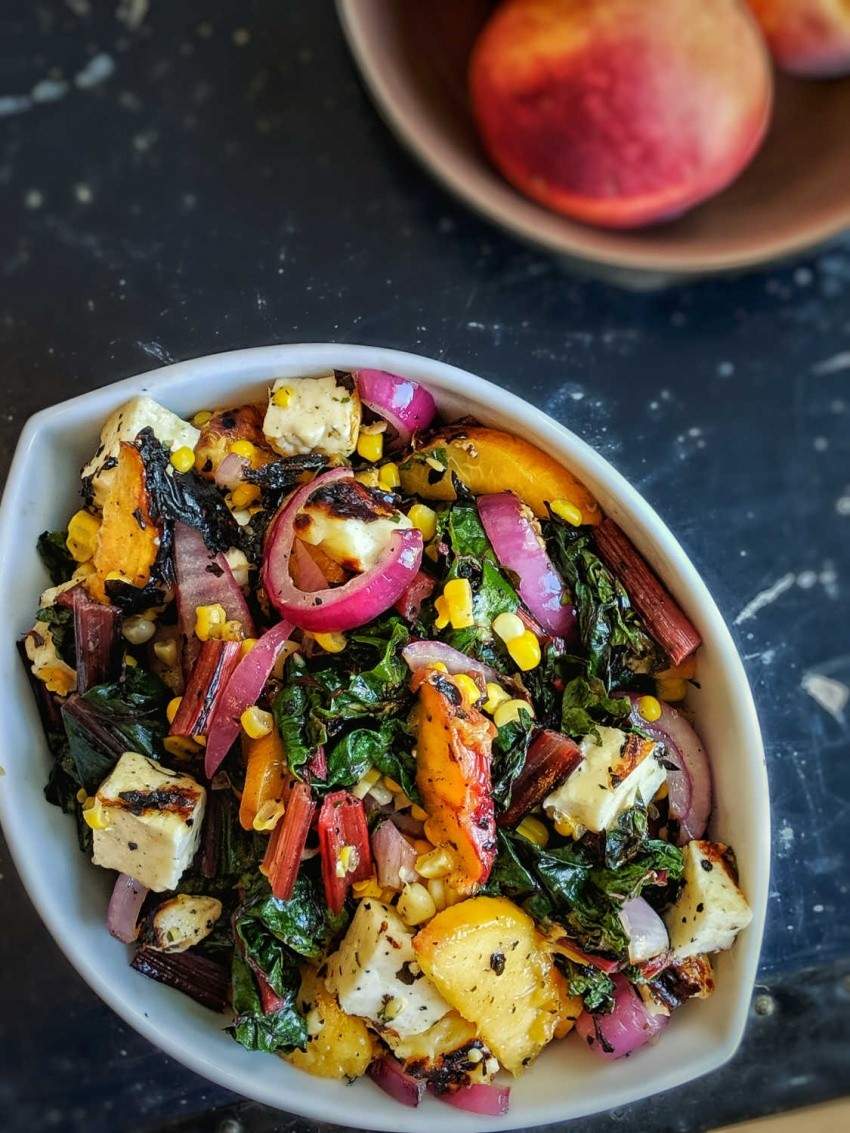 1 peach, halved and pitted
1 nectarine, halved and pitted
1 red onion, halved and outer layer removed
1 bunch swiss chard
canola oil, enough to coat fruits and vegetables
2 ears corn
1 block halloumi, (about 14 oz.)
1/3 cup canola oil
3 tbsp apple cider vinegar
1/4 tsp chili flakes
salt and pepper, to taste
Preheat barbecue to medium-high, about 500 F.
Drizzle peach, nectarine, onion and chard with canola oil and season lightly with salt.
Depending on the size of barbecue, work in batches, grilling salad ingredients until tender and dark grill marks are formed.
Approximate grilling times are as follows:
Corn - 10 minutes with husk on, followed by 5 minutes with husk off (turn corn regularly)
Red onion - 5 minutes per side.
Peach and nectarine - 4 minutes per side.
Swiss chard - 3 minutes per side (cook chard in small piles to slow leaves from charring too quickly).
Halloumi - 2 minutes per side.
Once all ingredients have been grilled, remove corn kernels from cob, and roughly chop all other ingredients.
Place in bowl, add oil, vinegar, chili flakes and toss until evenly coated.
Season to taste with taste and pepper and serve.
Yield:

Prep Time:

Cook Time: