When I was making a batch of mulled wine at a friend's house last year as a little pre-dinner sip and had minimal aromatics to work with, I had an epiphany: why not add fruit into the equation? Perfect for the summer months, sangria embraces all sorts of fruit to transform into a fruity, boozy chilled beverage. Warm wine should be no different in the wintertime.
Any quality grocery store in Canada will be well-stocked with Canadian-grown stone fruit like pears and apples. Pears that are a little on the firmer side (not quite ripe yet) are your best bet when making this mulled wine. Hit two birds with one stone by using the fruit to flavour your mulled wine and then use the poached portions in a simple puff pastry-topped dessert. For the dessert, you'll need six eight-ounce mason jars.
Efficiency has never tasted so good.
Basic mulled wine
1 750mL bottle good quality red wine
1/4 cup cane sugar
4 whole cloves
1 1-inch piece fresh ginger, peeled
1 bay leaf
1 cinnamon stick
4 Anjou pears, peeled, cored and halved
Place all ingredients except for pears in a medium pot and bring to a simmer over medium-high heat. Reduce heat to lowand let steep for 10 minutes.
Add in pear halves and let cook until pears are tender, about 20 to 25 minutes.
Remove pears, set aside to cool and discard other aromatics.
Keep warm on stove until ready to serve.
Wine-poached pear pot pies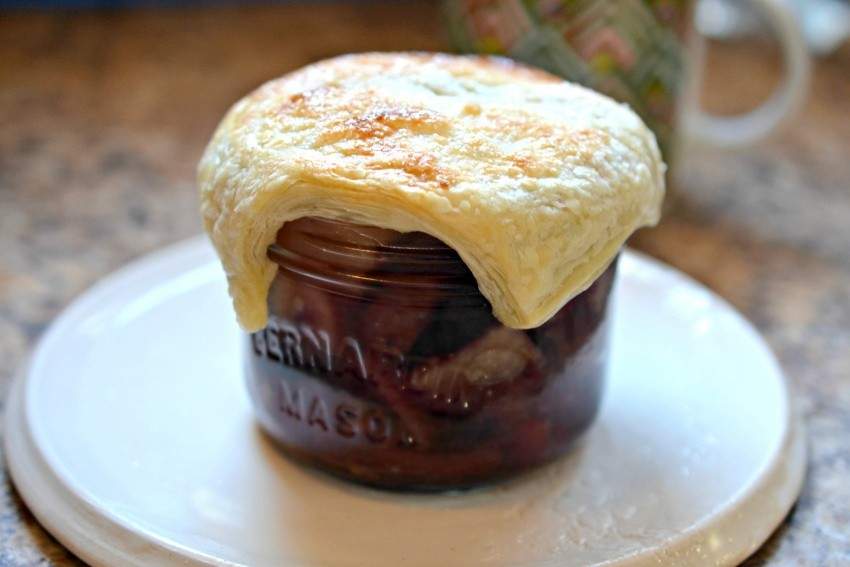 3 cups frozen blueberries, thawed
2 tbsp cane sugar
4 wine-poached Anjou pears, roughly cut into 1/2" pieces
3 tbsp mulled wine
1 sheet puff pastry, rolled out to 1/4" inch thickness and cut into 6 equal portions
1 egg, for egg wash
cane sugar, to garnish
Preheat oven to 400 F.
Place blueberries and sugar in a medium bowl and mash together with a large spoon.
Add pears to bowl along with the mulled wine. Stir well to combine.
Distribute mixture evenly between mason jars and top each with puff pastry, pressing firmly around outer edge of jar. Trim away any excess pastry.
Poke several holes through pastry with fork or paring knife to let steam out. Brush tops with egg wash, sprinkle with sugar and bake until top is golden brown, about 18 to 20 minutes.
(pro tip: drink the mulled wine while you wait for the desserts to finish baking!)
Yield:

Prep Time:

Cook Time: