This dish embodies so many of the things I love about Western Canada. You have Ocean Wise-certified scallops, fresh from the West Coast, sitting on top of a rich salad made with lentils and camelina oil from Saskatchewan, wine and apples from the Okanagan, as well as pork and mustard from Alberta. It's the perfect dish to have on a warm spring evening.
Seared scallops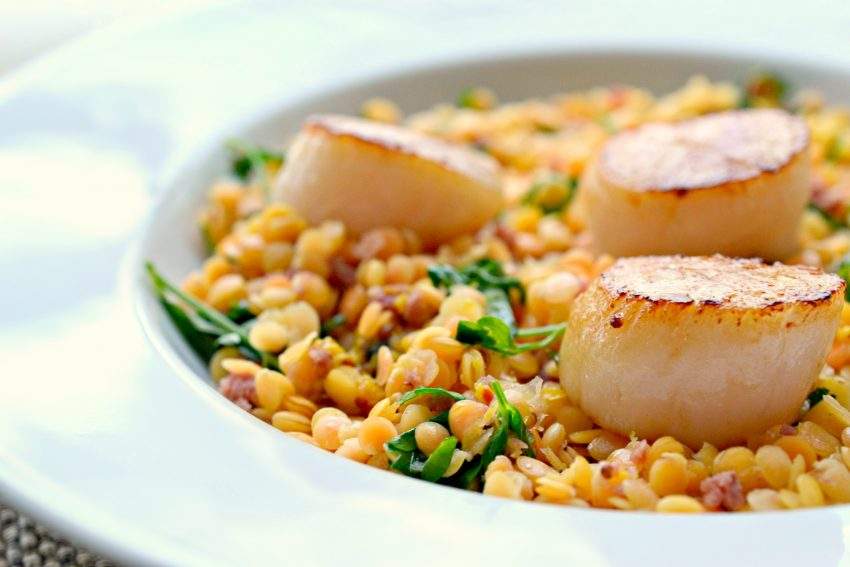 1 tbsp camelina oil
12 medium scallops, patted dry
Heat camelina oil in a large pan over medium-high heat.
Place scallops in pan and sear on both sides until well caramelized, approximately 2 minutes per side.
Transfer to a plate, cover to keep warm and reserve.
Lentil salad
2 tsp camelina oil
1 chorizo sausage, diced
4 tbsp dry white wine
1 tbsp unsalted butter
1 lemon, zested and juiced
4 cups par-cooked red lentils
1/4 cup fresh Italian parsley, finely chopped
1 small spartan apple, diced
1 tbsp grainy dijon mustard
salt and pepper, to taste
Heat camelina oil in a large pan over medium-high heat.
Add sausage and cook until crispy, about 3 to 4 minutes.
Add wine to pan to deglaze, then add butter. Once butter is melted, add in remaining ingredients and stir until well mixed.
Reduce heat to medium and let cook for 3 minutes to warm through.
Season to taste with salt and pepper.
Assembly:
Place warm lentil salad in a large serving dish, top with seared scallops and serve.
Yield:

Prep Time:

Cook Time: