Leonard Nimoy came to Calgary as a guest in 2010 for the Calgary Comic Expo. I never actually had the good fortune of meeting the man. Having said that, I heard nothing but good things about him from everyone who did, like the talented Julie Van Rosendaal, who got to cook for him during his stay in Calgary. Slightly jealous. How awesome is that?!
Growing up, I religiously watched Star Trek: The New Generation--both past my bedtime and past Leonard Nimoy's time with the genre--and I consider it an important part of my youth. I mean, I may not have learnt how to speak Klingon, but what better way to teach a young boy to reach for the stars.
Time travel to when I started up my Start From Scratch program in the late fall of 2010, I put a callout to students of the University of Calgary to tell me why they would be a good fit for a 10-week cooking program. One of the applications immediately caught my attention; a young woman referenced the Star Trek cookbook, which I had no idea even existed. Needless to say, she was in!
Delving deep into the Star Trek universe, you'll discover that Vulcans didn't require much in terms of sustenance. Their species' food was simple, mostly taken in only as a means to acquire the energy to get through the day and for battle against, you know, the typical alien fleet army sort of thing. Spock only knew the basics, both in social interactions and with his palate, before his time on the USS Enterprise, but as any avid fan with tell you, he evolved as the voyage progressed.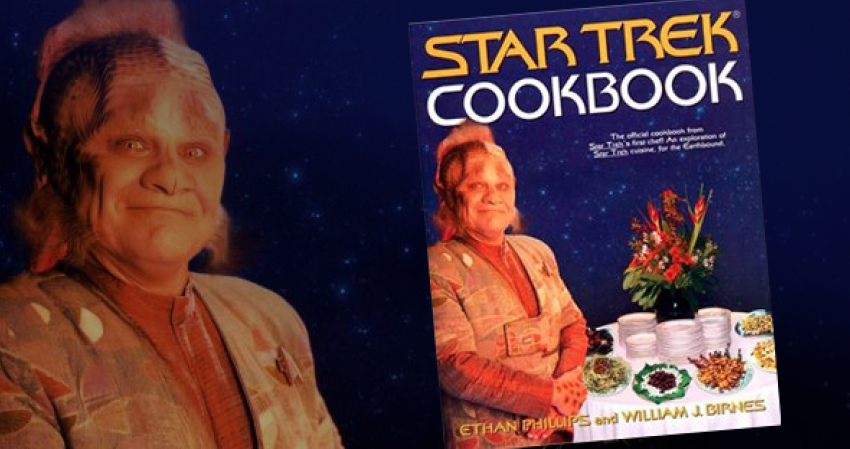 Plomeek Soup has been interpreted by Trekkies as a simple soup, fairly bland in flavour and vegetarian, to be consistent with the Vulcan diet. I'd like to think we could look at a dish like this--the Plomeek Soup--and see it as a way to get the maximum flavour out of only a few (inexpensive) ingredients. Just a thought.
So, here's my interpretation of the basic soup, to serve as our own little goodbye to a man who meant a hell of a lot more than just a little to millions of people across the world.
Live long and prosper, Mr. Spock! You shall be missed and always remembered.
Plomeek soup
1 yellow onion, diced
3 stalks celery, diced
3 medium carrots, diced
2 tbsp red wine vinegar, or water to stay more traditionally bland
3 cups water
3 cups canned diced tomatoes
2 tsp salt
2 tsp ground black pepper
Heat oil in a large pot over medium-high heat. Add vegetables and cook for 10 minutes, stirring regularly.
Deglaze pan with vinegar or water, add diced tomatoes and water and continue to cook for 20 minutes.
Remove from heat, and puree until smooth with an immersion blender (or let cool slightly, transfer to a blender to puree until smooth and return to pot) and season to taste with salt and pepper.
Keep warm on stove until ready to serve.
Yield:

Prep Time:

Cook Time: