They're small, bursting with flavour, chock full of health benefits, you can eaten them in countless ways and they're available in almost every grocery store around this time of year. That's right, B.C. blueberries are at the height of their season now, and there so much more to them than just smoothies and muffins.
As the third largest global producer of highbush blueberries, Canada exports them all over the world, from our neighbours in the U.S. to the far east. Behind these little indigo berries are 700 Western Canadian growers and more than 11,000 hectares of land dedicated to them.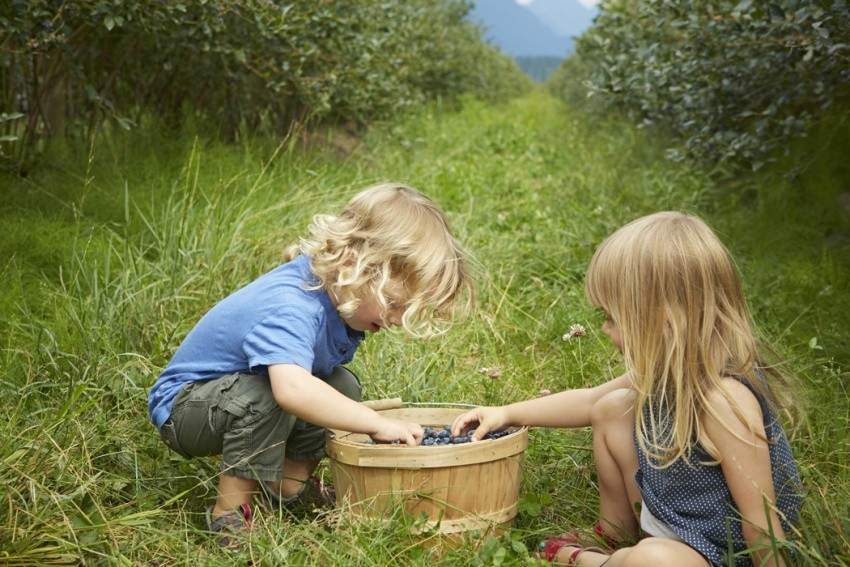 There are many ways to get your hands on these little gems. Farmers' markets like Trout Lake Farmers' Market are a great place to find the freshest produce from places like Gelderman Farms.
Andrea Carlson, owner of Harvest Community Foods, and chef and owner of Vancouver's Burdock & Co., works with Gelderman Farms on her harvest CSA boxes for consumers. Gelderman Farms also supplies her restaurant with blueberries, which she turns into desserts like her apricot kernel yogurt with almond meringue and fresh blueberries, and a goats cheese cheesecake with a blueberry and lemon verbena sorbet.
"I used to go blueberry picking with my grandmother when i was a kid, so you know, it's a big part of food culture in B.C.," says Carlson.
And if you can't make it out to farmers' markets, don't worry. B.C. blueberries can easily be found at your neighbourhood grocery store. South Alder Farms, located in the Fraser Valley, grows, harvests, packages and supplies fresh B.C. blueberries to store like Costco, Walmart and Metro. Like Gelderman Farms, South Alder Farms also offers frozen blueberries in the off season.
"We want consumers to know that B.C. blueberries are safe and of the highest quality in the world," says Jesse Brar, director of processing operations and sales.
If you prefer blueberries that are already created into works of art, head to Thomas Haas Chocolates, where Haas uses only the freshest blueberries in his desserts, chocolates and viennoiserie (breakfast pastries). Haas opts for bigger suppliers distributors to restaurants who keep the quality of B.C. blueberries consistent.
Haas takes full advantage of blueberry season and has an 80-20 approach to his desserts: 80 per cent signature desserts, and 20 per cent new creations.
"The galette and the blueberry tart with lemon is something which we do every season and people come for that and I'm looking forward to it," says Haas about the start of the blueberry season and the anticipation it brings.
"As soon as you bake something in the oven which has a lot water content like blueberries--you add a touch of lemon, and a touch of vanilla and a hint of sugar--and all of a sudden, the juices reduce and the flavour gets more intensified."
For the new creations, Haas gets their young chefs to come up with new ideas from scratch, which the team then work with the young chef to finesse. The resulting dessert is then offered for 10 days before another new dish is created.
Whether you pick them up from farmers' markets, groceries stores, or simply prefer enjoying in expert-made desserts, B.C. blueberries are a must-eat in the summer. And if you can't decide what you want to make with them, B.C. Blueberry Council has many recipes on their website for you to try.