Originally, this shao mai (or shu mai, in Cantonese) is made with sticky rice that's soaked for hours and steamed before being stir-fried with other ingredients for the filling. With brown rice, there's no soaking involved and it adds more nutrition. Just ensure that you don't use too much water when cooking the rice. You want to keep the grains chewy because you'll be cooking it more in the pan before stuffing it into the bite-sized dumplings to be steamed. If you have any unflavoured cooked brown rice leftover from another meal, it's great for this.
We've made this a vegetarian dish but you can go ahead and add minced pork, dried shrimp, or other firm crunchy vegetables.
The dish is especially good for dumpling beginners because you don't have to worry about danty pleats or overfilling the wrapper.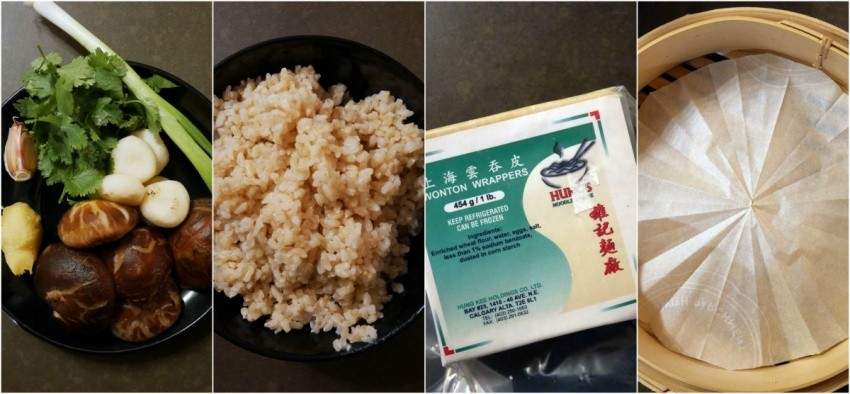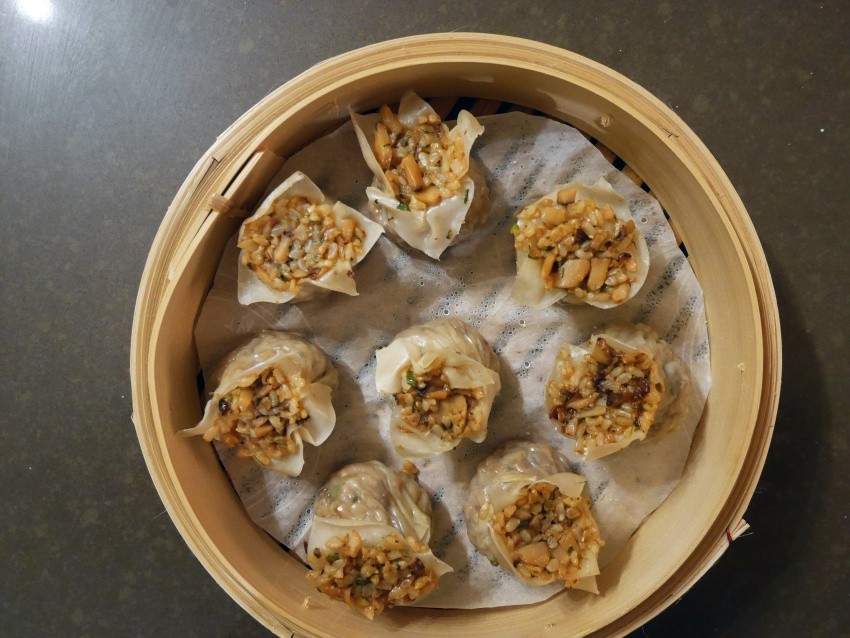 1 tbsp freshly grated ginger
2 cloves garlic
7 dried shiitake mushrooms, soaked to rehydrate, then finely chopped
8 water chestnuts, finely chopped
2 1/2 cups cooked short grain brown U.S. rice
2 tbsp Shaoxing cooking wine
2 to 3 tbsp light soy sauce
1 tbsp dark soy sauce
3 tbsp vegetarian oyster sauce
1/4 tsp ground white pepper
2 stalks scallion, thinly sliced
1 handful chopped cilantro, finely chopped
1 package dumpling wrappers
In a wok over medium high heat, add oil and let it heat up until it glistens. Add ginger and garlic, and fry until fragrant.
Add mushrooms and water chestnuts (and meat, if using). Stir fry until mixture is heated through (or cooked through, if using ground meat, about 3 mins).
Mix in cooked rice and cook for 2 mins. Stir in cooking wine, light and dark soy sauce, oyster sauce and white pepper.
Fold in scallions and cilantro and mix well. Adjust for seasoning and remove from heat to cool.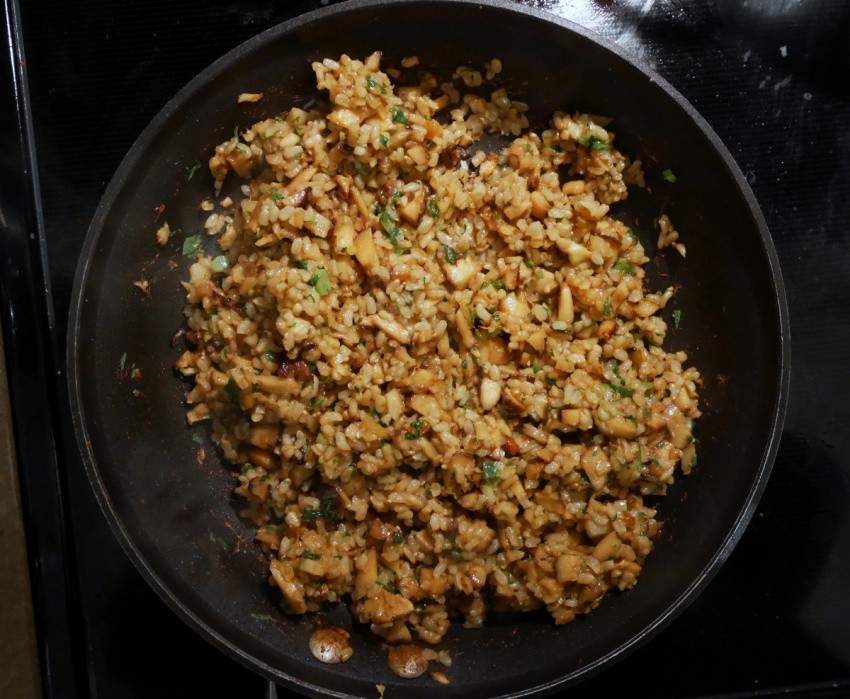 While filling is cooling, prepare steamer basket or plate by lining it with a sheet of parchment paper to keep the shao mai from sticking to the bottom. Heat a pan or wok with just enough water so that the bottom of the plate or steamer won't be touching the water directly when steaming.
To wrap the shao mai, lay a sheet of wonton wrapper in your hand, and put a big spoonful of filling in the middle.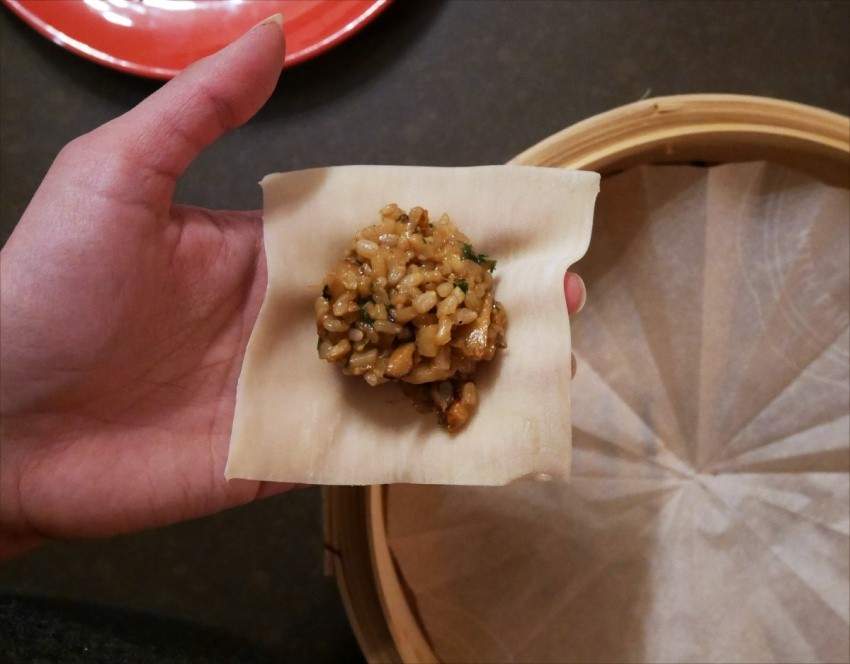 Gather the sides of the wrapper and pleat the wrapper as you wrap your fingers around the bottom firmly to create a well.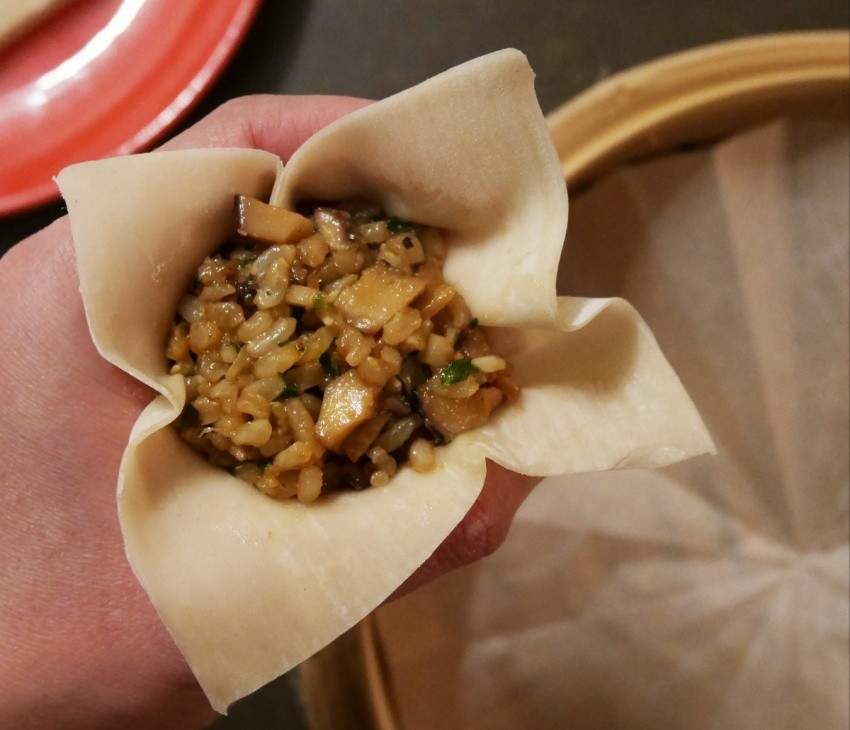 Using the back of a spoon, continue to fill and press in more filling, exposing the top. Squeeze around the dumpling near the top to give it a "waist".
Arrange filled dumplings in the steamer basket or on the plate with some room between them.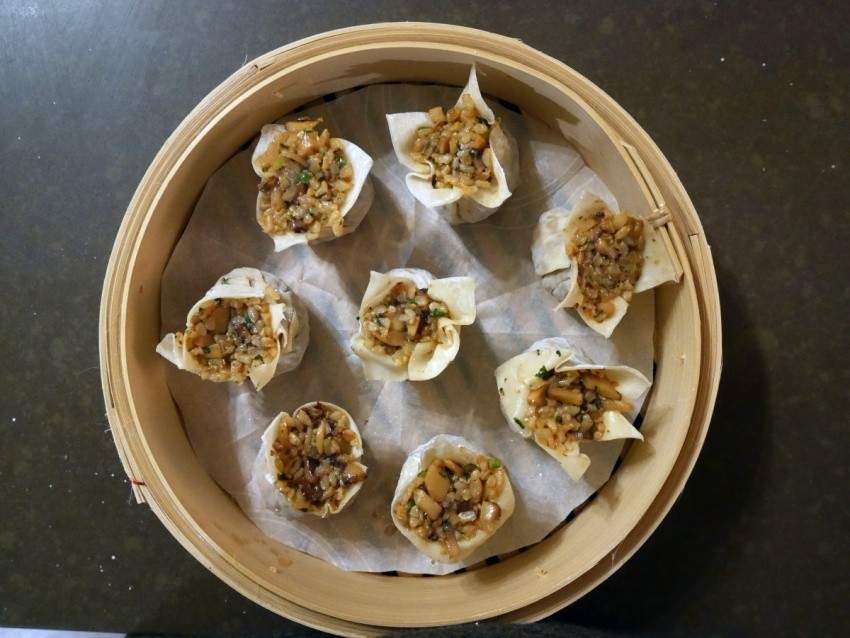 Adjust the heat to high and steam the dumplings over boiling water for 10 minutes.
Yield: