If you've ever felt like treating yourself to an elevated restaurant quality dining experience but would prefer to stay in the comfort of your own home, you're certainly not alone. Luckily, there are some fantastic cookbooks from renown restaurants offering up stunning seasonal recipes, and The Acorn Restaurant is no exception.
The award-winning Vancouver eatery has assembled an incredible array of chefs Shira Blustein and Brian Luptak's delicious vegetable-forward dishes, highlighting the endless possibilities that come when cooking with the seasonal and wild-crafted ingredients that nature provides.
For this recipe, Acorn pairs its charred and roasted cabbage with an addictive combination of old-world Bavarian mustard cream, black currant leaf oil, sautéed kalettes, pickled knotroot, and pickled turnips to create a beautiful balance of sweet and sour, while providing a unique and mouthwatering texture.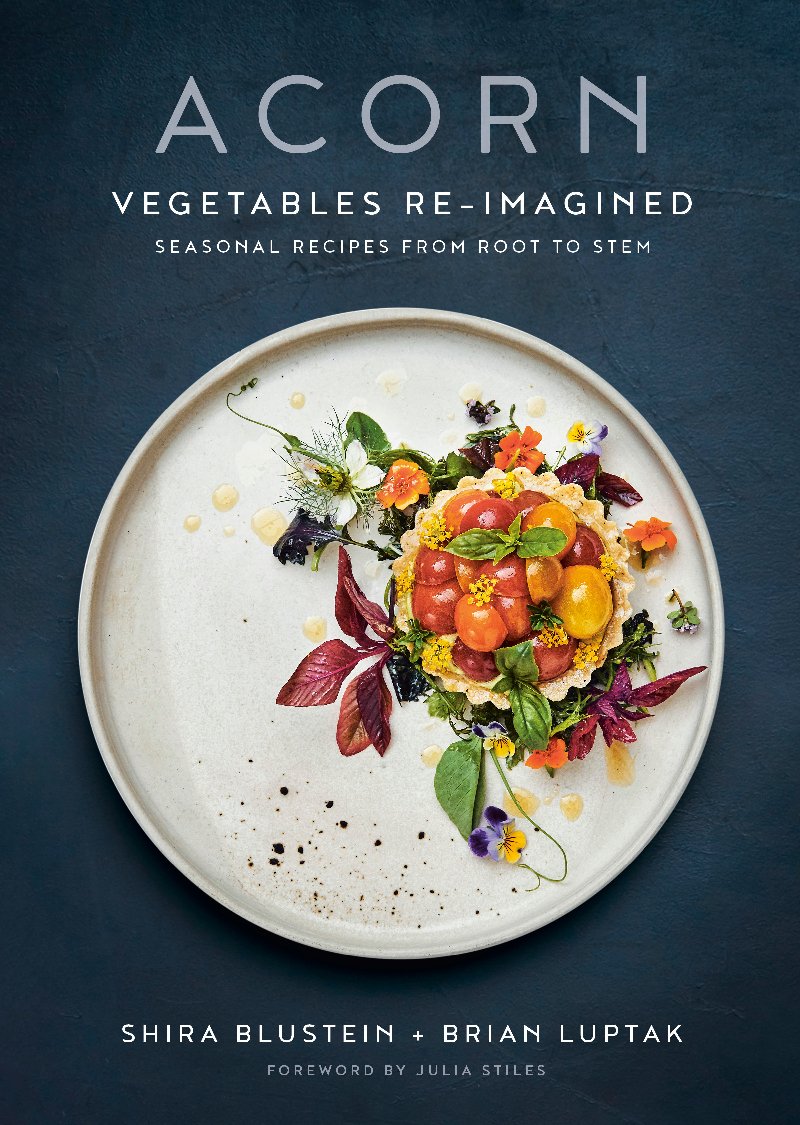 "This dish is all about the friendship between cabbage and mustard," the authors state in the recipe introduction. "We char and roast sweet cabbage in mustard, then add a beautiful mustard cream sauce and finish it off with a drizzle of super herbaceous oil and a little extra mustard to serve. It's a stunner."
Bavarian mustard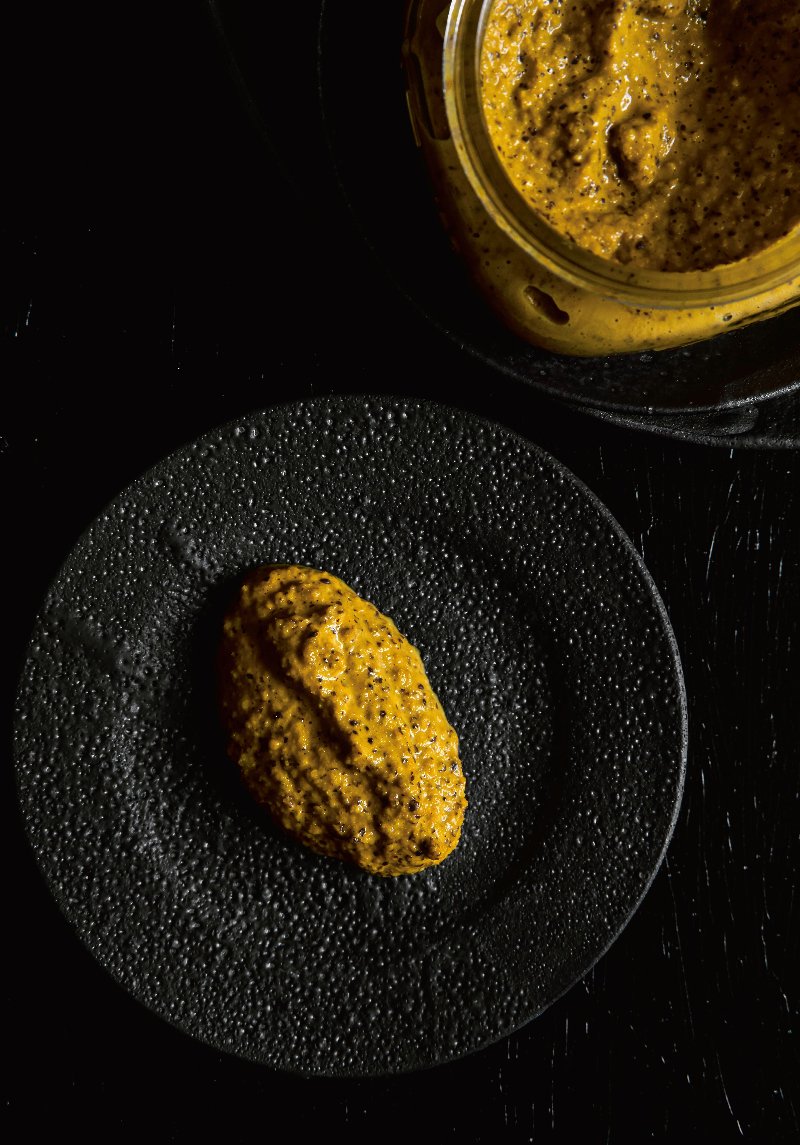 2 cups cider vinegar
1 medium onion, diced
½ cup brown sugar
1½ tbsp salt
1 cinnamon stick
6 allspice berries
6 cloves
2 tsp turmeric
½ cup yellow mustard seeds
¼ cup brown mustard seeds
Place 1½ cups water plus all the ingredients, except the mustard seeds, in a pot and bring to a simmer.
Turn the heat down to low—so that the liquid is not reducing in volume but the flavor is infusing—and cook for 10 minutes.
Strain out the liquid, using a spatula to press the onions, getting them to release all their juices through the strainer.
Place both mustard seeds in a sterilized 32 oz mason jar and pour the liquid over the mustard seeds. Give the seeds a stir, then seal the jar and store in the fridge for 24 hours.
After 24 hours, transfer the contents of the jar to a Vitamix and blend until you reach a creamy but still slightly coarse consistency, with some mustard seeds intact.
In order to mature the mustard and remove some of the sharp and bitter flavors, place the mustard back into the same jar and refrigerate for 1 to 2 weeks to taste; over time, the spice level of the mustard will lessen.
Store it in an airtight container in the fridge for up to 3 months.
Bavarian mustard cream
1 medium onion, diced
2 garlic cloves, sliced
1 tbsp olive oil
¼ cup dry white wine
2 cups heavy cream or milk alternative
2 tsp salt
½ tsp pepper
1 tsp Bavarian mustard (above)
In a medium saucepot, sweat the onions and garlic in the olive oil until soft and translucent. Add the white wine and cook until the liquid reduces by half.
Add the cream and season with the salt and pepper. Continue cooking until the liquid has reduced by one-third, then remove from the heat.
Strain the liquid through a fine-mesh sieve into a bowl, using a spatula or wooden spoon to press out as much liquid as possible from the vegetables.
Stir the Bavarian mustard into the strained cream. Keep warm until you are ready to serve, or, if making ahead of time, place the bowl in a larger pan filled with ice water to cool the cream completely.
Once cooled, transfer to an airtight container and store it in the fridge for up to 3 days.
Charred and roasted cabbage
3 heads caraflex cabbage (or any white cabbage if caraflex isn't available), approximately 5 inches long
½ cup olive oil
2 tbsp Licorice Fern Root Vinegar (or white balsamic or floral vinegar)
2 tsp salt
1 tsp pepper
2 tbsp Bavarian mustard (above)
Preheat the oven to 400°F. Remove the outer leaves of the cabbage and cut in half lengthwise. Brush the cut side of each cabbage half with a thin layer of olive oil.
Heat a large skillet on high heat, then sear and char the cabbage, cut side down, for approximately 1 minute. Do not move or flip the cabbage, as you want only the one side to be charred. Place the cabbage, charred side up, on a baking sheet lined with parchment paper.
In a small bowl, mix together the remaining olive oil and the Licorice Fern Root Vinegar, salt, pepper, and Bavarian mustard.
Brush the charred side of the cabbage evenly with this mixture, making sure to use all of it.
Roast the cabbage in the oven for 30 to 40 minutes, until you can easily slide a paring knife through the core of it. Keep warm in a 200°F oven until you are ready to serve.
Sauteed kalettes
24 kalettes
2 tbsp olive oil
1 tsp minced garlic
salt and pepper, to taste
4 tbsp sherry vinegar
3 tbsp maple syrup
Remove any bad outer leaves from the kalettes and cut off the very bottoms of the stems. In a large frying pan on medium-high heat, heat the olive oil.
Add the kalettes and sauté for 30 seconds. Add the minced garlic, season with salt and pepper, and sauté for another 30 seconds.
Add the sherry vinegar and maple syrup and cook on high heat, stirring often, until the kalettes are nicely glazed. Serve immediately.
Plating
Reheat the Bavarian mustard cream in a saucepot if needed, stirring often.
Lay out six shallow bowls and place a wedge of charred and roasted cabbage at the center of each, then evenly spoon the Bavarian mustard cream around the cabbage and place four sautéed kalettes on top of each cabbage.
Add four quarters of pickled turnips to each dish, along with six to eight pickled knotroots. Garnish each dish with 1tsp Bavarian mustard and a generous drizzle of black currant leaf oil.
Yield: