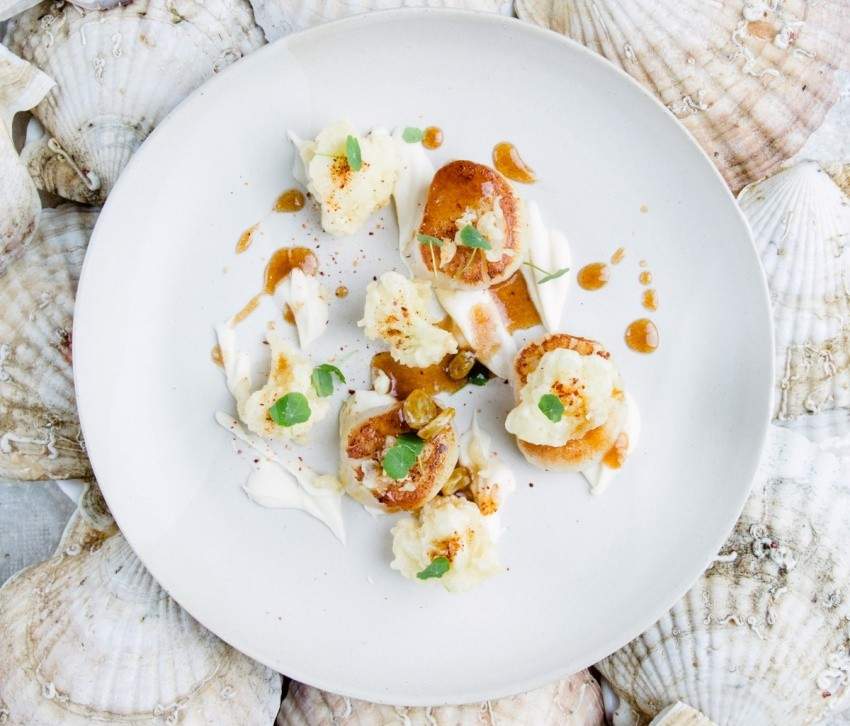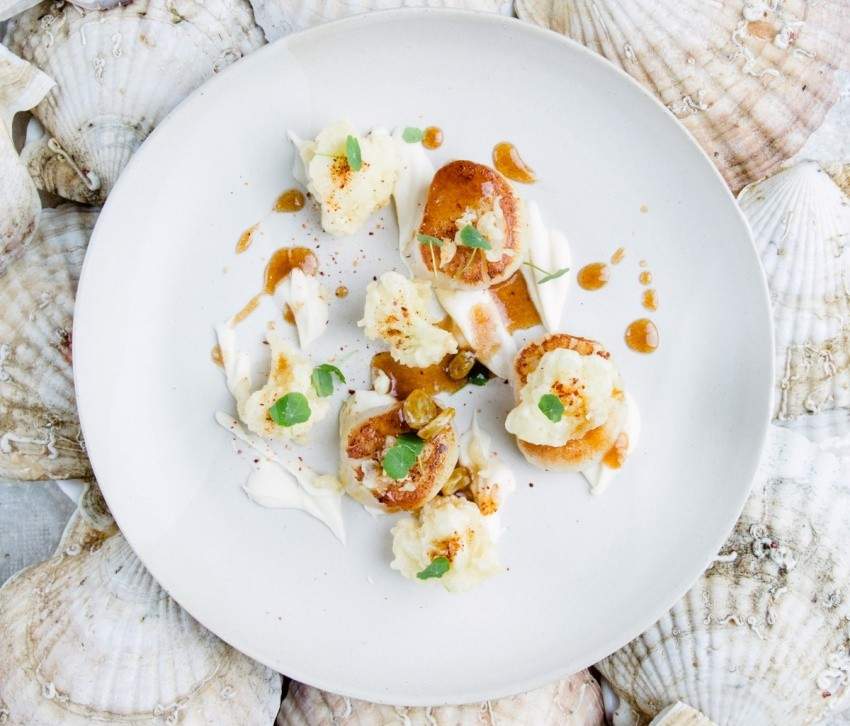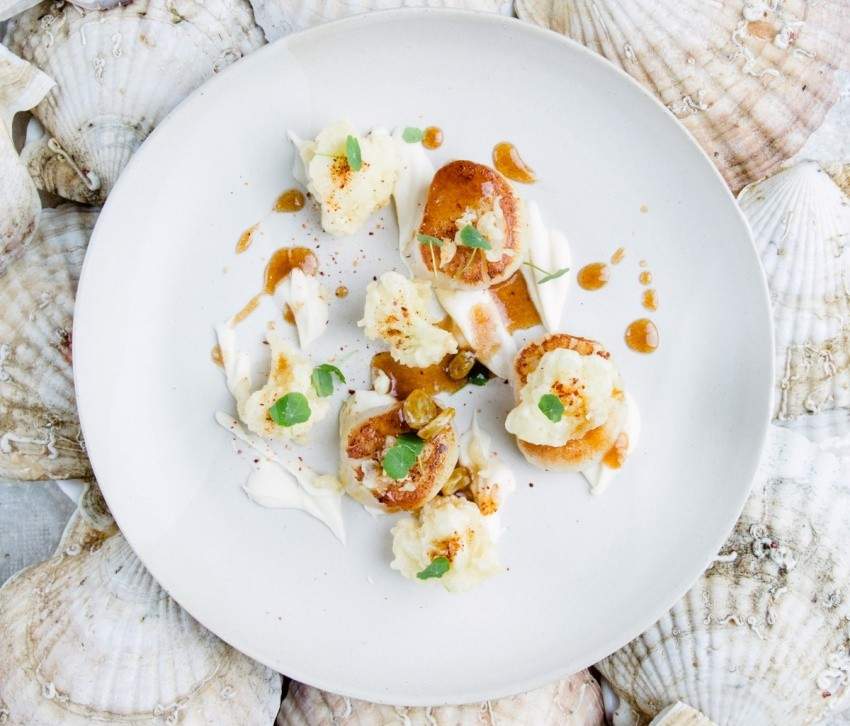 Savvy diners know to expect only the best in food and hospitality at Whistler's Araxi, where chef James Walt prepares upscale regional cuisine with the best of British Columbia's ingredients. Being close to the ocean, that means a lot of seafood, especially scallops. With this recipe from Walt's new cookbook, Araxi: Roots to Shoots, you can prepare this beautiful and tasty scallop dish, with subtle sweetness from golden raisin, crunch of cauliflower tempura and a kick from Espelette pepper.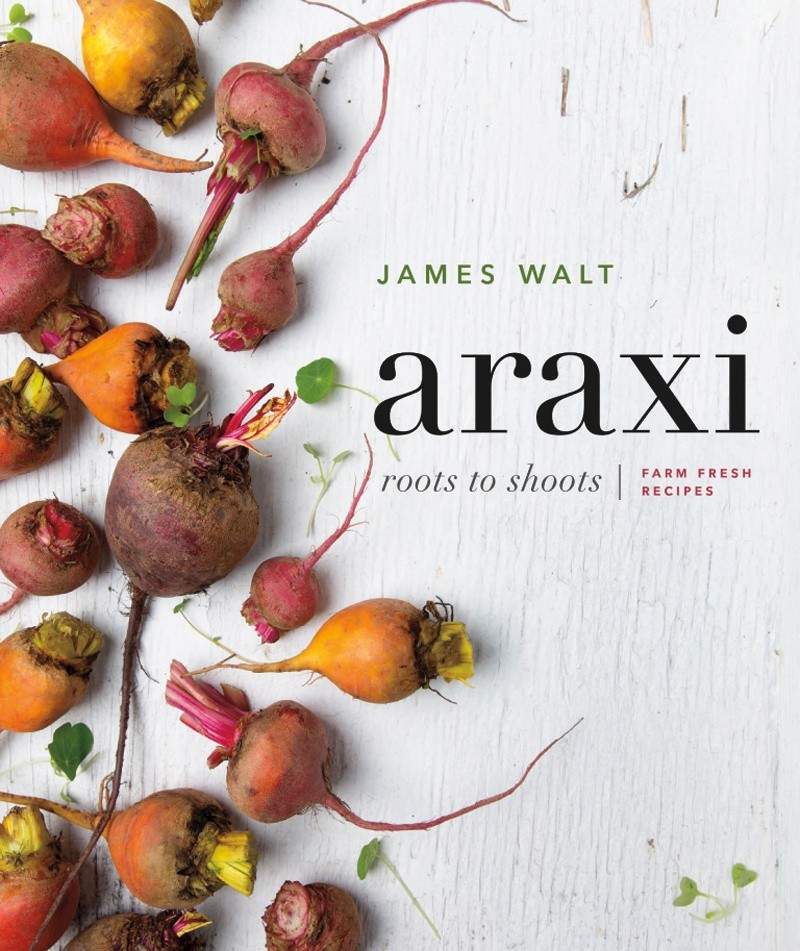 Raisin vinaigrette
3/4 cup grapeseed oil
1/4 cup sherry vinegar
2 tbsp maple syrup
2 tsp grainy dijon mustard
1/2 tsp ground cumin
1 pinch sea salt
1/2 cup golden raisins, soaked in warm water until softened and then drained
In a small bowl, whisk together all of the ingredients except the raisins and salt. Add a pinch of sea salt and adjust the seasoning if needed. Add the raisins. This will keep refrigerated in an airtight container for up to 5 days.
Cauliflower tempura
2 cups cauliflower florets
2 egg yolks
2 cups sparkling water
5 cups vegetable oil, for frying
2 cups all-purpose flour, sifted
1/2 tsp Espelette chili powder
1/2 tsp salt
Have ready a large bowl of ice water. Fill a medium saucepan with lightly salted water and bring to a boil on high heat. Add the cauliflower and cook for 3 minutes. Using a slotted spoon, transfer the cauliflower to the bowl of ice water to stop the cooking. Allow it to cool completely, drain and set aside.
Combine the egg yolks and sparkling water in a stainless steel bowl and mix lightly. Gently stir in the flour with a fork until just combined (do not overmix or the coating will become heavy). Refrigerate this tempura batter.

In a deep fryer, wok or deep saucepan, heat the vegetable oil to 340°F while you sear the scallops.
As soon as you have set the scallops in a warm place, remove the tempura batter from the fridge and add the cauliflower to it, stirring the florets gently until they are well coated.
Line a plate with paper towels. Check the temperature of the oil using a deep-fat thermometer. Once the oil is hot enough, cook the cauliflower in 3 batches. Using tongs, place one third of the battered cauliflower florets in the deep fryer (or wok or saucepan) and cook until light golden and crispy, about 2 minutes per batch. Transfer the cooked cauliflower to the paper towels to drain. Cook the remaining cauliflower in 2 batches. Lightly season the tempura with the Espelette pepper and salt.
Seared scallops
2 tbsp extra-virgin olive oil
1 tbsp sea salt
1/4 tsp curry powder, like mild Madras
12 fresh scallops, cleaned and abductor muscle removed
Heat the olive oil in a sauté pan on medium heat (the oil should not be heated for too long or it will burn).
In a small bowl, combine the salt and curry powder until well mixed. Working quickly, lightly sprinkle this mixture over both sides of the scallops. Place the scallops in the sauté pan and cook until golden brown on both sides, 1 to 2 minutes per side depending upon the thickness of the scallops. Transfer to a plate and set in a warm place.

Assembly
To serve, arrange 3 scallops on each plate and drizzle them with the raisin vinaigrette. Top the scallops with several pieces of cauliflower tempura and serve immediately.