Just how many ways can you use a lemon, orange or grapefruit? Cookbook author Gwendolyn Richards came up with 92 recipes but in her new beautiful book, Pucker, covering drinks, salads, sides, breakfasts, mains and desserts. Even if you think you bake and cook with citrus all the time, we're sure you'll find some surprises in there.
"It may be cheeky to call this a risotto since the traditional version uses rice, but the cooking technique is the same. The barley gets just as creamy as it cooks slowly with broth, but still stays a bit chewy for a much heartier dish. I like this with a lot of lemon zip, so I add the full tablespoon of lemon juice. Sprinkle some roughly chopped basil overtop just before serving for a bit more green and a herbal hit. This dish is excellent with roasted or pan-seared chicken." -- Gwendolyn Richards.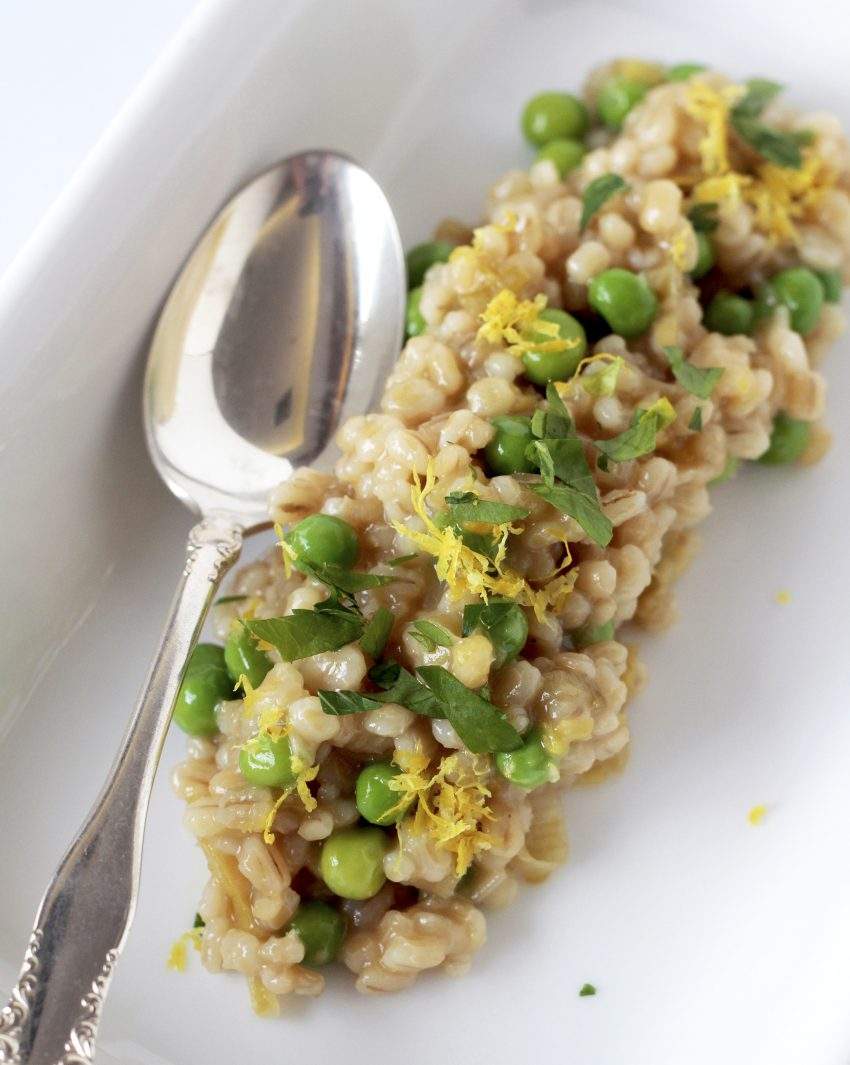 3 cups chicken stock
2 tbsp extra-virgin olive oil
1 tbsp butter
3 medium leeks, white and pale green parts thinly sliced, rinsed and drained
1/2 tsp salt
3 cloves garlic, minced
1 cup pearl barley
1/2 cup dry white wine
3/4 cup fresh or frozen peas
2 tbsp whipping cream
1 lemon, zested and juiced
1/2 cup grated parmesan, plus more for sprinkling
In a small saucepan set over medium heat, bring the chicken stock to a low simmer. Keep it barely simmering as you prepare the risotto.
In a large saucepan set over medium heat, warm the oil and butter until the butter starts to foam slightly. Add the leeks and salt and sauté, stirring occasionally, until the leeks are softened, 2 to 3 minutes, then add the garlic and cook until it's fragrant, about a minute more. Stir in the pearl barley, mixing it with the leeks and garlic until each grain is coated and shimmering with the oil and butter and is slightly toasted, about 2 to 3 minutes. Pour in the white wine and stir until most of it is absorbed.
Begin adding the simmering stock, about half a cup (125 mL) at a time, stirring often and waiting until most of the liquid has been absorbed before adding more. It should take 4 to 5 minutes for the barley to soak up the liquid between additions. If it's taking a lot less time than that, reduce the heat. If it's taking more, turn up the heat.
Just after the last bit of stock has been added, stir in the peas. Add the cream, lemon zest, 1/2 a tablespoon (7.5 mL) of lemon juice and the Parmesan, then stir gently until everything is mixed together. Taste for seasonings, and add the rest of the lemon juice if desired. Sprinkle with additional Parmesan just before serving.
Yield: