Adding a bit of lemon zest and grainy mustard to a basic white sauce can take your pasta dinner from zero to hero in no time flat (subtle ode to Disney's Hercules here). You can catch Dan Clapson making this simple dish along with five other tasty things, on Cityline on October 7. Bucatini is a fairly underused pasta, but easy to find at most grocery stores. Thicker spaghetti, and hollow in the middle throughout the strand, its texture is fantastic. Try using it instead of other standard long pasta for a pleasant surprise this week. You won't be disappointed!
Mustard lemon cream sauce
2 tbsp unsalted butter
2 tbsp all-purpose flour
2 cups half and half cream
1/2 cup chicken stock
2 cloves garlic, leave whole
1 tbsp grainy dijon mustard
2 tsp freshly grated lemon zest
salt and pepper, to taste
Melt butter in a medium pot over medium-high heat. Once melted, add flour, stirring well to incorporate and let cook for 1 minute to form a roux.
Slowly pour cream into the pot, stirring regularly to break up any lumps. Once completely added, reduce to medium heat and add in chicken stock and garlic cloves. Let simmer for 10 minutes, stirring occasionally (note: if sauce becomes too thick, add more cream or stock to thin it out). Remove garlic cloves and discard.
Add mustard and zest to the sauce and stir well to incorporate. Season to taste with salt and pepper and keep warm on stove until ready to serve with pasta.
Pasta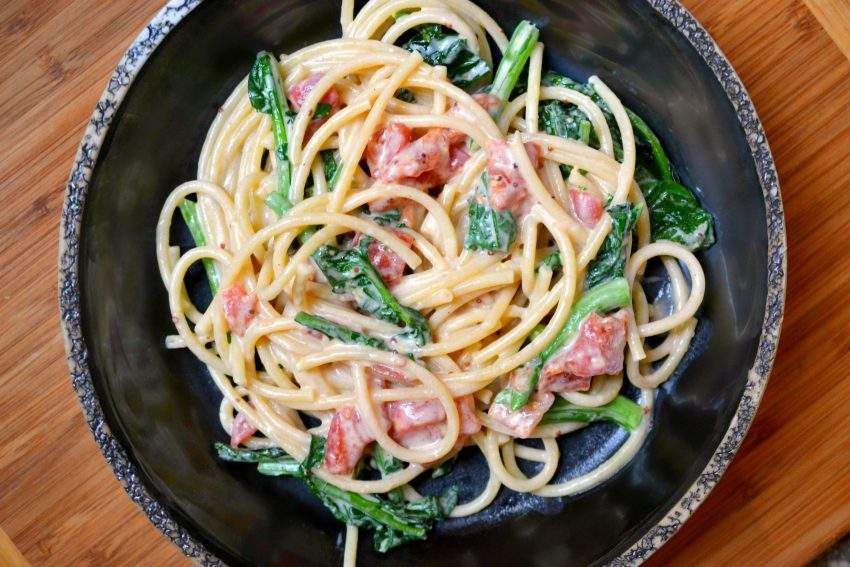 1 bunch rapini, washed and ends trimmed
3 tbsp extra virgin olive oil
salt and pepper
1 1/2 cups cherry tomatoes, halved
6 cups bucatini, or any longer pasta like spaghetti or fettuccine
Preheat oven to 425 F.
Place rapini onto large baking dish or sheet, drizzle with oil, season with salt and pepper and let roast in the oven for 15 minutes.
Remove from oven and let cool slightly, then roughly chop.
Place in a large bowl with tomatoes, pasta and pour desired amount of sauce overtop. Toss gently with tongs until all components are well-coated.
Portion out into bowls and serve immediately.
Yield:

Prep Time: