Throughout her time providing aspiring home cooks with classes and workshops focused around the art of food preservation, acclaimed pastry chef and Master Preserver Camilla Wynne was constantly asked by her students to recommend interesting and delicious ways to put their preserves to use.
Her newest cookbook, Jam Bake, is packed with Wynne's signature jams, marmalades, fruit butters, and jelly concoctions. It offers more than 80 versatile recipes on how to use them in a multitude of ways.
Wynne's angel food cake recipe is a light and fluffy dessert that makes delectable use of her strawberry and passion fruit jam and offers home bakers the option to deviate with both her summer pudding jam and her black raspberry jam.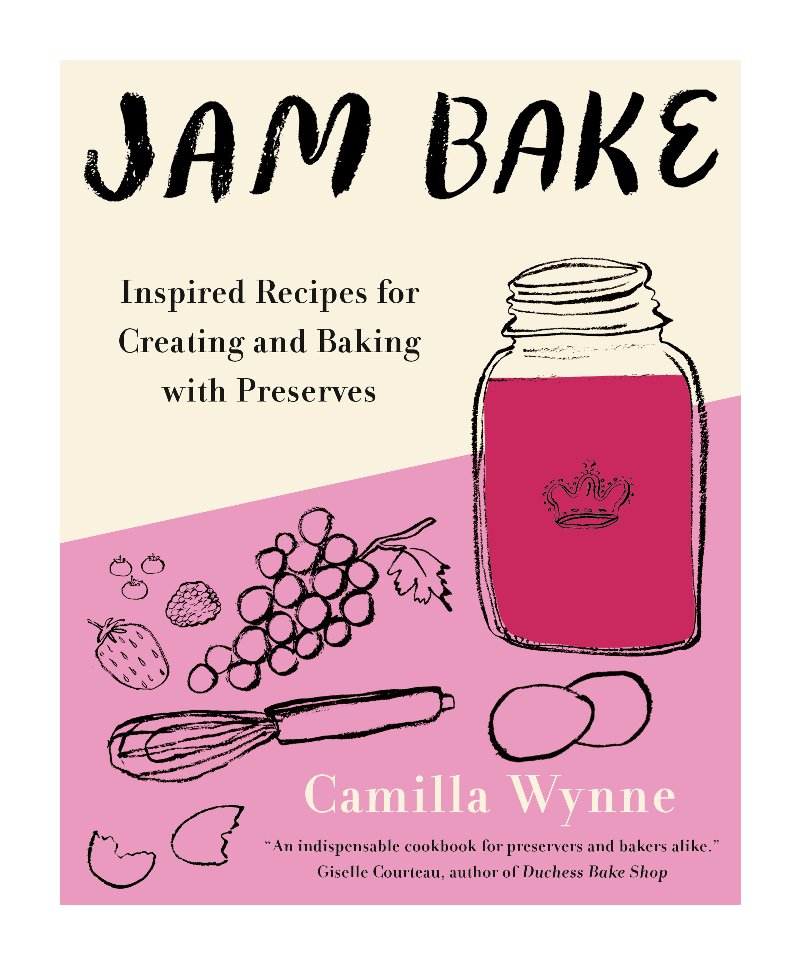 "When I was growing up, my favorite birthday cake was confetti angel food cake made from the boxed mix, particularly the crusty top (or bottom, once unmolded), which I would sneakily tear chunks off. I didn't make angel food cake from scratch until I was in my early 20s, but I immediately fell in love with the textural experience of making it," Wynne explains in the introduction to this recipe. "One cookbook I had suggested mixing it by hand (as in, with your whole bare arm as it's a voluminous mix), and it's such a tactile treat, the feeling of airy egg whites mixing with fine cake flour. Make this for that reason, but also to delight children and adults alike. The jam brings a little acidity that takes it out of the realm of the ordinary angel food cake."
Angel food cake
130 grams (1 cup + 1 Tbsp + 1 tsp) cake flour
300 grams (1½ cups) sugar, divided
330 grams egg whites, at room temperature
2 tbsp lemon juice
1 tsp vanilla extract
¼ tsp salt
½ jar Strawberry & Passion Fruit Jam (page 84)
Preheat the oven to 350°F (175°C). Do not grease the tube pan for this cake, or prepare it in any other way. In fact, it's even better if your pan isn't nonstick, as this cake wants to be able to hold onto the sides of the pan to climb up.
Sift the cake flour with 100 grams (½ cup) of the sugar.
In a stand mixer fitted with the whisk attachment, whip the egg whites on medium speed until white and foamy. With the machine running, add the lemon juice, vanilla, and salt. Increase the speed to medium- high, beat until soft peaks form, and then gradually add the remaining 200 grams (1 cup) of sugar.
Continue to beat until firm peaks form and the tip of the peak just falls over—we don't want stiff peaks, because they'll make it hard to fold in the flour.
Remove the whisk and the bowl from the mixer.
Finishing touches
250 ml (1 cup) heavy cream
2 tbsp icing sugar, for dusting
flesh and seeds from 1 passion fruit
2-3 fresh strawberries, sliced
NOTE: Can sub Summer Pudding Jam (page 154) (decorate with summer berries), Black Raspberry Jam (page 52) (decorate with multicolored raspberries), or good-quality store-bought strawberry jam.
Sprinkle one-third of the sifted flour and sugar mixture over the whites and, using a clean hand, gently fold it in—I know, using a bare hand may seem freaky, but it's the best way to find any hidden pockets of unmixed flour. You could also use a spatula or balloon whisk if the thought of using your hand is really too much. Repeat twice, for a total of three mixes. Using a spatula, gently fold in the jam. Do not overmix. You want streaks throughout.
Transfer the batter to the pan, smoothing out the top with a small offset spatula or butter knife. Run a butter knife through the batter to remove any large air bubbles.
Bake for 40 to 45 minutes, or until golden and firm and an instant read thermometer inserted in the center of the cake reads 208°F (97°C). Immediately invert the pan and let the cake cool completely. If your pan has little legs for inversion, that's perfect. Otherwise, put the hole over the neck of a wine bottle.
Once the cake has cooled, use a metal spatula to loosen it from the pan before unmolding onto a serving platter.
You could serve it just like that, dusted with a little icing sugar. Or, for a special touch, in a stand mixer fitted with the whisk attachment, whip the cream with the icing sugar on high speed until stiff peaks form. Pile on top of the cake and decorate with the passion fruit and strawberries.
If you're not serving immediately, refrigerate until needed (if it's garnished with cream). This is best the day it is made, but it will keep, covered (in the refrigerator, if it's garnished with cream), for up to 3 days.
Yield:

Cook Time: