When it comes to seafood-based comfort foods, few things hit the spot like a well executed fish cake. Tender and juicy on the inside, delightfully crispy on the outside, fish cakes provide the perfect finger food that can be enjoyed as an appetizer, canape, or a light midday meal.
In the Maenam cookbook, chef Angus An offers a modern twist on the classic recipe through the use of vibrant flavours from ingredients such as coriander, lime, and sweet chili sauce.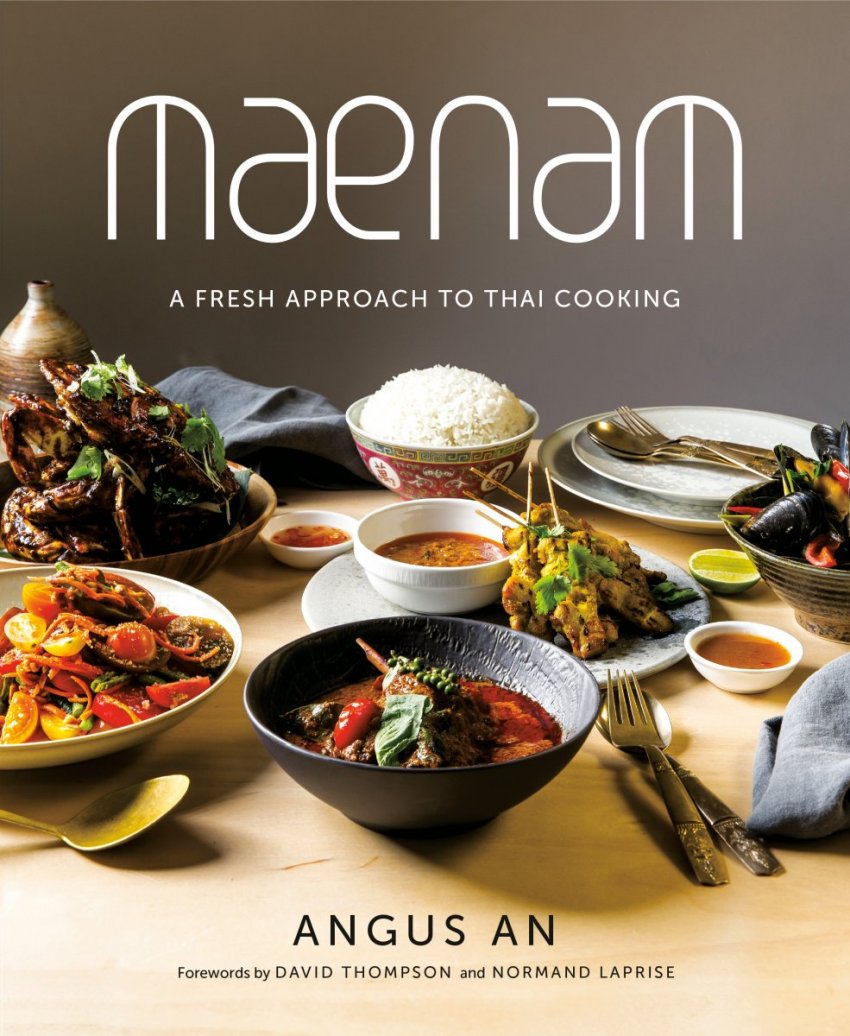 "Freshly cooked Thai fish cakes are one of my favorite snacks. In Thailand, they're typically made with catfish and red curry paste. I wanted to use prawns instead here because their silky, bouncy texture eliminates the fibrous quality that I find some fish cakes have," explains chef An. "To enhance rather than overwhelm the delicate prawn flavor, I use a simple paste of garlic and chili rather than a curry paste. This recipe is delicious and easy to execute—great as a canapé or light appetizer."
Prawn cakes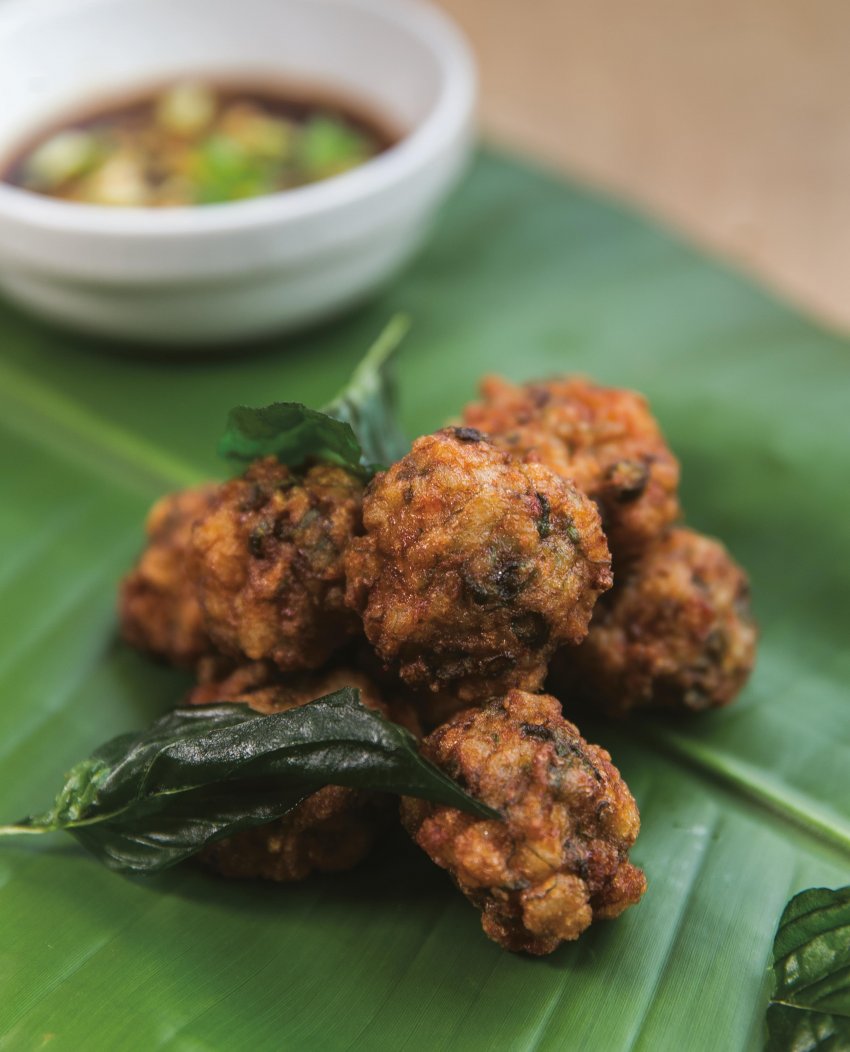 4 quarts canola oil
1 garlic clove
1 red Thai bird's eye chili
1 pinch course sea salt
1 pound prawn meat, hand-minced
½ cup long beans, diced
1 tbsp Makrut lime leaves, julienned
2 tbsp fish sauce
½ tsp white pepper
½ tsp granulated sugar
¼ cup sweet chili sauce, for serving
In a deep fryer or large heavy pot over medium-high heat, preheat the canola oil to 350°F.
Using a mortar and pestle, pound the garlic, chili, and salt into a fine paste. Transfer the paste to a medium-size bowl together with the rest of the ingredients (excluding the sweet chili sauce). Using your hands, combine the ingredients thoroughly, then slap the mixture against
the bowl until firm and sticky. Form the mixture into 16 to 20 balls, 1 to 1½ inches in diameter, or into 10 to 12 patties up to 2 inches wide and no more than 1 inch thick.
Test-fry one prawn cake in the fryer or pot, cooking it for about 2 minutes, until golden brown. The texture should be bouncy and lightly toothy. Depending on the size of your pot, fry them in one or two batches, then transfer to a plate lined with paper towel to drain any excess oil.
Serve with sweet chili sauce.
"Proteins firm up while they're being worked with. Slapping the minced prawn mixture against the inside of the bowl by hand is just like kneading dough. Do this for 5 to 10 minutes, until you feel a firm bounce-back on the prawn meat."
Sweet chili sauce
½ cup coriander roots or stems, roughly chopped
½ cup garlic cloves
1 pinch kosher salt
1 cup chili peppers, deseeded and chopped
4 cups white vinegar
3 cups granulated sugar
1 Generous pinch kosher salt
4 cups water
Using a mortar and pestle, pound the coriander roots, garlic, and salt into a coarse paste. Grind the chilies in a meat grinder, or pulse them in a food processor until the chili pepper bits are evenly sized to about 1/8 inch. Combine with the paste.
In a large pot over medium-high heat, stir together the chili paste, vinegar, sugar, salt, and water. Bring to a simmer. When the sauce reaches a temperature of 220°F, continue simmering for 5 more minutes. Remove from heat and let cool.
Transfer to a lidded container and store in the fridge for up to 2 months.
Yield:

Prep Time:

Cook Time: