Being married to a diplomat who works overseas, Canadian chef Cameron Stauch has had the opportunity to explore Asia since 2000. In 2012, his wife, Ayesha, began a new position with the Canadian embassy in Hà Nội, Vietnam and that's when Stauch's love of Vietnamese cuisine truly blossomed. In his new book, Vegetarian Viet Nam, the chef chronicles his experiences living, travelling and, of course, cooking in the vibrant country. The result is a book that is both earnest in its delivery and inspiring to read.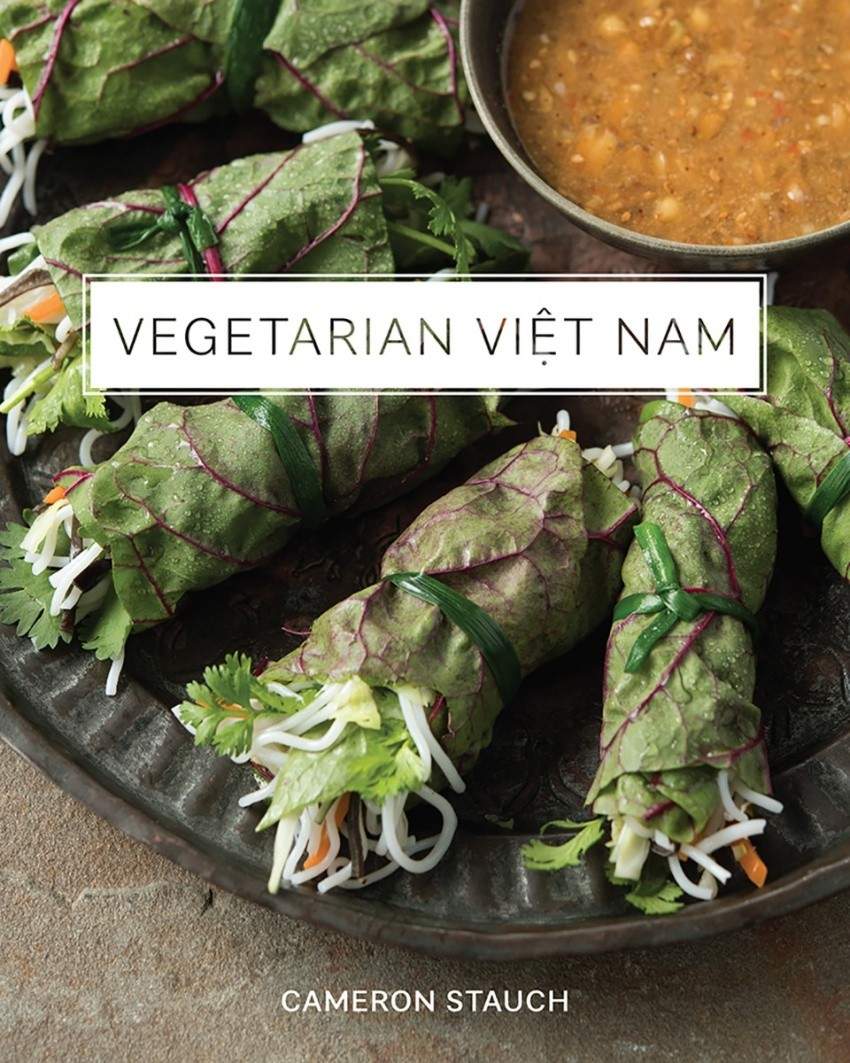 "Tofu with fresh tomato sauce is common in homes and casual restaurants throughout Việt Nam. Think of it as the country's spaghetti marinara," writes Stauch in his new cookbook Vegetarian Viet Nam. "With tofu cubes that are crispy on the outside and meltingly tender within, paired with a deeply flavorful tomato sauce, this comfort food creates a simple yet satisfying meal, especially when plated alongside some vegetables."
The chef also notes that when ripe tomatoes are not in season, you can look to any quality greenhouse-grown varieties at your local farmers' market or substitute a small (14.5-ounce) can of plum tomatoes with their juices, roughly chopped. Just reduce the cook time by a few minutes and adjust seasoning as needed.
Mushroom powder
1 ounce (30 grams) dried shiitake mushrooms
Mushroom powder is magical: it's meaty, smoky, and filled with intense umami flavor. I prefer the natural glutamates found in dried mushrooms, although Vietnamese vegetarian cooks often turn to a manufactured vegan mushroom seasoning called hạt nêm nấm to impart added savouriness. I add it habitually in small amounts, like salt and pepper, to soups, stir-fries, and braises.
Due to their intensity, shiitakes are the ideal mushrooms for this powder. You could substitute sliced Italian porcini, although its flavour is more pronounced, and it's more expensive, as is the shiitake or porcini powder you'll find in some specialty grocery stores.
Break the mushrooms into smaller pieces with your hands, scissors, or a knife. (Break off the hard stems of large shiitakes and store in the freezer to use when making vegetable stock.) Put them into a spice or coffee grinder (or a blender with a narrow bowl) and grind for a couple of minutes. Stop occasionally to use a spoon or spatula to loosen any large pieces that may get stuck under the blades. (Note: When stopping the grinder, leave the top on for a minute or two to allow the mushroom dust to settle.)
Tip the powder into a small bowl. Gently tap the grinder cover over the bowl or use a spatula or a clean, dry brush to collect any powder that has stuck to it.
Transfer to a clean, dry jar and store indefinitely in a cool, dry place.
Yields approximately 1/2 cup.
1 tbsp vegetable oil
1 lb firm tofu, cut into 1/2 inch cubes
1 tbsp finely chopped garlic
3/4 lb ripe plum tomatoes, finely chopped
1 tbsp soy sauce
1/2 tsp sugar
1/4 tsp salt
1 recipe mushroom powder
1/3 cup water or mushroom-soaking liquid, or vegetable stock
1/4 cup thinly sliced scallions
1/4 tsp freshly ground black pepper
1 tbsp roughly chopped cilantro
Shallow-fry or deep-fry the tofu cubes in oil. Reserve.
Heat the oil in a wok or skillet over medium heat. Add the garlic and stir-fry until fragrant, about 20 seconds.
Toss in the tomatoes, soy sauce, sugar, salt, and mushroom powder. Simmer for about 5 minutes, stirring occasionally, until the tomato breaks down. Add the water and simmer gently for about 10 minutes, until the sauce thickens.
Stir in the tofu, scallions, and black pepper and cook for another minute to coat the tofu lightly with the sauce.
Transfer to a serving dish and sprinkle the cilantro over the top.
Yield:

Prep Time:

Cook Time: