Korean barbecue sauce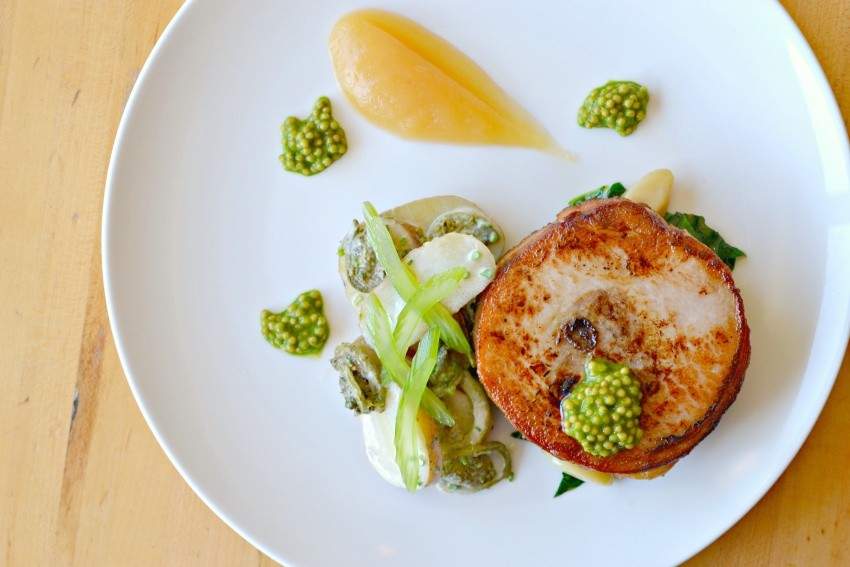 8 cloves garlic, sliced
3/4 cup gochujang
1/3 cup rice vinegar
1 1/2 cups red wine
2 tbsp sesame oil
3 green onions, sliced into 2" segments
1 8 ginger, chopped
1 2/3 cups brown sugar
1 1/2 cups apple juice
1 1/2 cups soy sauce
1 lemon, zest only
2 tsp cornstarch
2 tsp water
In sauce pan over medium low heat, combine all ingredients, except cornstarch and water, to a simmer and cook for 15 minutes.
Place in container and let cool overnight. The next day, strain through a fine mesh strainer and bring back to simmer.
Mix together the cornstarch and water in a small bowl and add to pan to help thicken sauce.
Transfer to a container and let cool.
Walnut-crusted pork tenderloin
1 2 to 3 lb pork tenderloin
salt and pepper, to taste
1 tbsp canola oil
Korean barbecue sauce
1/4 cup walnuts, toasted and chopped into pea-sized chunks
1 tbsp thinly sliced chives
Preheat oven to 350 F.
Remove silverskin from pork tenderloin and season with salt and pepper.
In medium, heat-safe pan, heat canola oil to medium-high heat (until just smoking) and add pork tenderloin.
Sear on all sides, and finish in the pan in oven until internal temperature comes to 60 C.
Let rest at room temperature for 10 minutes and baste in prepared Korean barbecue sauce, then sprinkle on walnuts and chives.
Yield: