Hopefully by now, you've had a chance to look at the nominated restaurants for enRoute magazine Canada's Best New Restaurants 2015 list and vote for your favourite. Among the nominees is Vancouver's Sai Woo, a modern Asian restaurant in Chinatown where chef Keev Mah prepares dishes using traditional ingredients and a range of techniques, drawing inspiration from his Malaysian roots and classic French training.
In case you're not able to make it to the restaurant, you can get an idea of his food with this recipe for pastrami.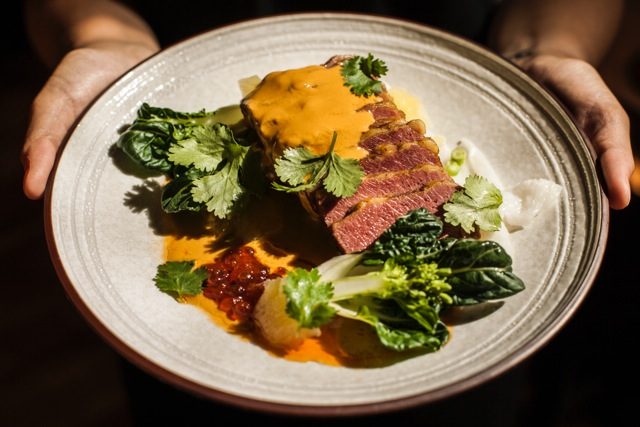 1/2 cup Thai salt, or 1½ cup kosher salt
1 cup white sugar
1/4 cup brown sugar
1 L hot water
5 cloves garlic, crushed
3 tbsp pickling spice
4 bay leaves
2 pieces star anise
2 tbsp red Szechuan peppercorns
2 tbsp green Szechuan peppercorns
1 tsp ground cloves
1 tsp tumeric powder
1/2 stick cinnamon
2 tsp Super Cure nitrate
1 L cold water
1 side beef brisket
Combine all ingredients except cold water and brisket in a large pot over high heat. Bring to boil.
Combine with cold water.
Brine brisket for 5 days.
Pat dry and let air dry for 24 hrs.
Dry rub and final preparation
1 cup toasted coriander
1/4 cup toasted Szechuan peppercorns
1/4 cup toasted black peppercorn
Toast and crush spices.
Preheat oven to 225 F.
Rub onto brined brisket.
Cold smoke brisket (optonal).
Roast brisket till internal temp of 135 F. Remove, cool and vac pac. Sous vide at 64 C for min 24 hours (ideally 48 hours).
Cool in ice bath if not using immediately. Will keep for 2 weeks in the refrigerator.