Although the harvest season for cranberries has passed, the easy-to-store ingredient has long been synonymous with the winter season. And while the use of the tart red berry is often reserved for desserts and beverages, cranberries can also be a versatile accompaniment to an array of sweet and savoury dishes.
For this scallop recipe, Naramata Inn chef Ned Bell uses the tartness of dried and frozen cranberries to bridge the gap between the saltiness of pan seared scallops, kelp, and bacon, the sweetness of maple syrup and the acidity of whiskey vinaigrette. It's a unique dish that will impress anyone around your dinner table.
Naramata Inn will reopen for in-house dining on March 17. Advanced reservations can be made online.
Bacon and kelp
½ cup smoked bacon, diced
1 shallot, finely chopped
3 tbsp canola oil
5 tbsp dried kelp, chopped
5 tbsp Talisker 10 year old single malt scotch whiskey
In a medium size fry pay, fry the bacon in the canola oil until crispy, add the shallots and the kelp, cook for 2 minutes, remove from heat and add the whiskey.
Cranberry and whiskey vinaigrette
½ cup dried cranberries
1 cup frozen cranberries
½ cup maple syrup
½ cup apple cider vinegar
2 tbsp kosher salt
In a small pot, simmer everything together for 15 minutes over medium heat until the dried and frozen cranberries are tender and soft and the liquid is reduced by half.
Add the bacon mixture to the cranberry mixture in a medium size pot.
Simmer for 5 minutes.
Seared scallops and assembly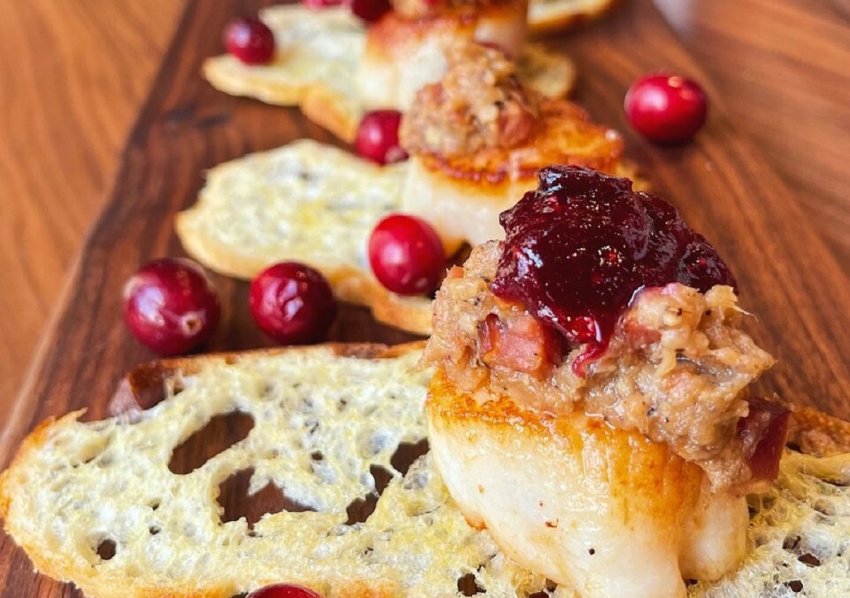 Pat dry the scallops on paper towel and season with Vancouver Island sea salt.
In a stainless-steel frying pan, over medium heat, add 3 tbsp Canadian canola oil, lay the scallops in the pan and sear for 3-4 minutes until they are golden brown.
Flip the scallops over, add a tbsp of butter and a dash of Talisker 10 year old Single Malt scotch whiskey. Baste the scallops with the butter and whiskey.
Remove the scallops from the pan.
Serve on top of the seared scallops as a hors d'oeuvres with some toasted baguette or a small appetizer.