If you're looking for a delicious snack or appetizer this weekend, look no further than this recipe for striking marbled eggs by chef Trevor Lui. This easy-to-prep recipe is one of many feel-good, Asian-inspired recipes from the new The Double Happiness Cookbook by Lui.
Full of traditional Chinese recipes with subtle spins, the chef pays homage to his heritage from cover to cover in his first cookbook.
"My fondness for eggs coupled with pride for my heritage inspired this special tapas-style dish, with its unique modern twist," says Lui in the introduction to this recipe.
Tea eggs are an important part of Chinese culture and are often served as snacks at home or in restaurants and also readily sold by street vendors in China and Taiwan.
Marble tea eggs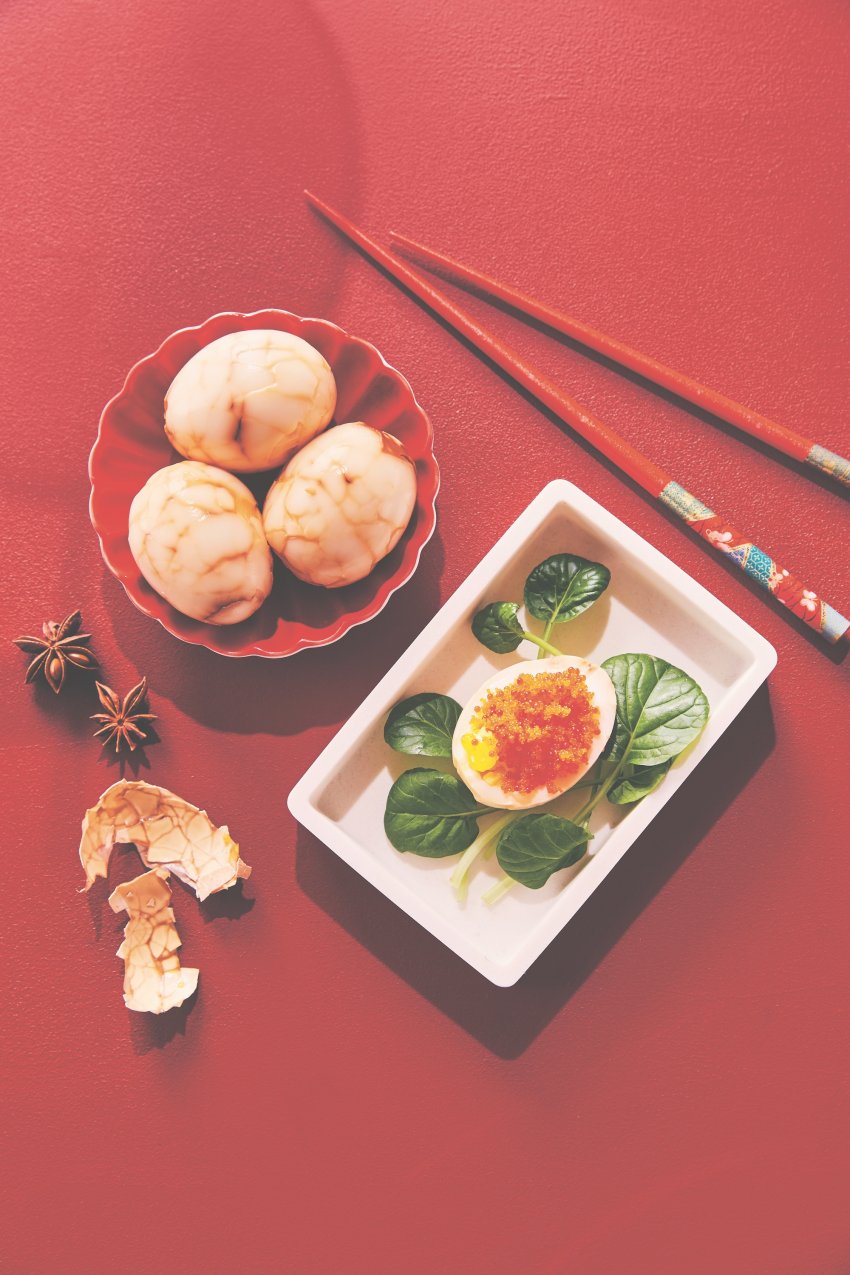 8 eggs
2 cups soy sauce or tamari
4 black tea bags
2 cinnamon sticks
1 star anise
2 tbsp sugar
1/2 cup micro greens of choice (pea shoots or tatsoy is what I use), to serve
1/4 cup orange or black flying fish caviar (tobiko), for garnish
Bring a medium saucepan of water to a boil. Gently lower in eggs and cook for 8 minutes. Using a slotted spoon, transfer eggs to a colander. Soak eggs in a cold water bath until they have completely cooled.
Using the back of a teaspoon, gently crack the entire surface of an egg. Do not peel. Repeat with the remaining eggs.
In a medium saucepan, bring soy sauce (or tamari) and 4 cups of water to a boil. Reduce heat to medium-low and simmer. Add tea bags, cinnamon sticks, star anise, and sugar. Bring to a simmer, then reduce heat to the low and steep mixture for 20–25 minutes. Turn off heat, add eggs, and let cool. Cover and let marinate in the refrigerator for at least 8 hours.
Drain eggs. Carefully remove shells. Spread pea shoots on a large plate, arrange the whole eggs on top, and garnish with flying fish caviar.
(Note: this dish can be made gluten-free by using tamari instead of soy sauce.)
Yield:

Prep Time:

Cook Time: