Having a focaccia recipe in one's arsenal is a must for any self-respecting home cook. When properly prepared–don't worry, it's not hard–the fluffy sheet pan is delicious on its own, but becomes especially tasty when sliced, toasted and topped with tomato brushetta. This recipe comes courtesy of Vancouver-based culinary instructor and newly-minted author Marzia Bellotti Molatore.
Cooking with Mamma Marzia: Authentic Italian Recipes for the Whole Family is a collection of Marzia Bellotti Molatore's familiy recipes, many of which passed down through generations of her family. The Vancouverite calls her recently-released cookbook is a "love story" between her, her family, and the Italian food they have shared together throughout the decades.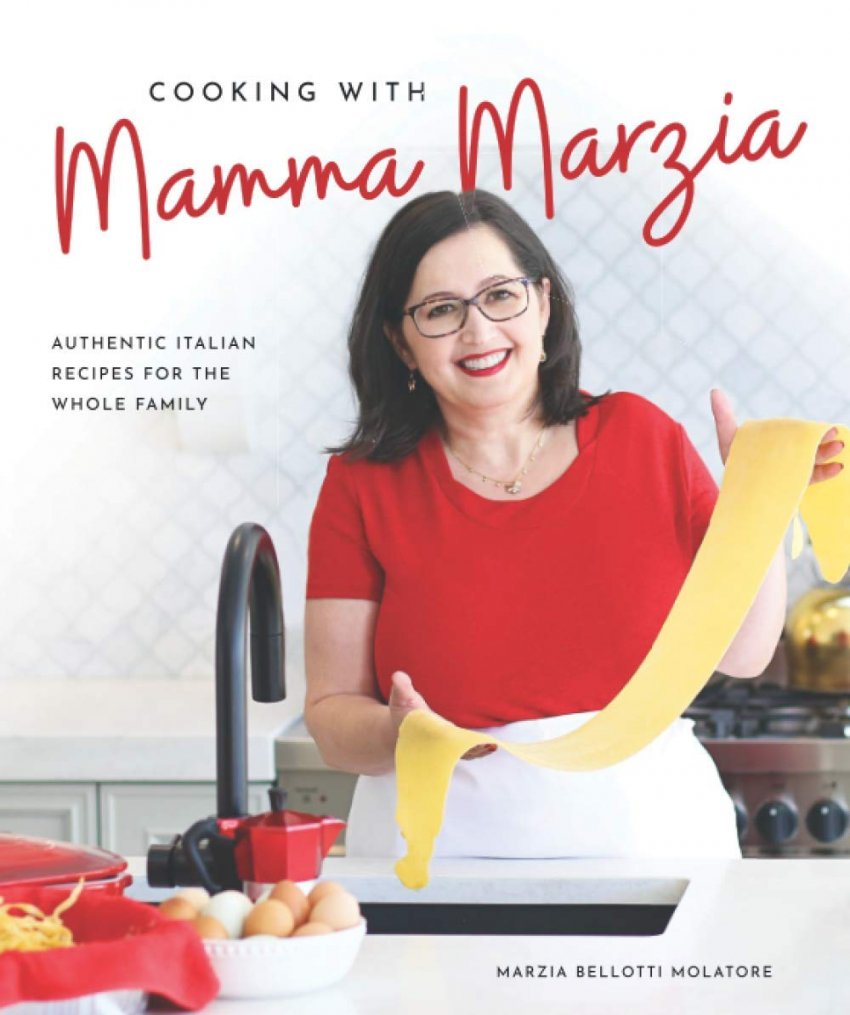 "There is nothing better than homemade bread with very few ingredients and guaranteed results. I am not from Puglia and am certainly not an expert in baking, but one thing I have learned after repeated failures is the importance of the water temperature, which should generally be between 77 and 82 °F–or 25-27 °C. For this recipe, I like to use 0 flour. If you can't find it, use 00 flour, bread flour or all-purpose flour," says Marzia Bellotti Molatore in the introduction to this simple recipe.
Cherry tomato focaccia
500 g (4 cups) 0 or 00 flour (or all-purpose flour)
400 mL warm water
10 g dry active yeast (half a sachet)
2 tsp sugar
1 tbsp honey
16 g (1 tbsp) salt
2 tbsp water, for the emulsion
3 tbsp extra-virgin olive oil, for the emulsion
1 handful cherry tomatoes, cut in half
1 handful pitted black olives
A few pinches oregano
Sprinkle of salt
Place the flour in a large bowl.
Pour the warm water into a cup then add the yeast and a pinch of sugar. Let this sit for 10 minutes.
Add the water and yeast to the flour and then add the honey and the two tsp of sugar. Mix with a spoon.
When the ingredients are well incorporated, add the salt (the salt should be kept separate from the yeast until the very end).
The dough should be very hydrated and sticky. Cover it with plastic wrap and let it rest for 2-3 hours (an unheated oven is a good spot).
Cover a baking tray (40x30 cm) with parchment paper (if you use a smaller pan, you'll end up with thicker focaccia, which you can cut in half and fill with cold cuts). Spread out a little oil over the parchment paper with the help of a spatula and pour the dough into the tray (the dough will be quite wet). Let this rest for 30 minutes.
Prepare the emulsion by mixing together the water, oil and salt.
Pour over the focaccia and, gently, with the help of your hand, distribute it evenly. Again with the help of your fingertips, make some small dimples.
Top with the cherry tomatoes, olives, oregano and salt.
Bake in the oven at 395 °F/201 °C for 20-25 minutes. Once ready, you'll be in for a real treat!
Mamma Marzia's tip: Your focaccia is ready when it is golden in colour. Buon appetito!
Yield:

Prep Time:

Cook Time: