We are firm believers here at Eat North that having a fun breakfast is an activity that should be enjoyed by all ages, so when we came across this whimsical churro waffle cookie recipe from the recently-released Cake and Loaf cookbook, we wasted no time adding it to our home cooking catalogues.
Described by Cake and Loaf Bakery co-owners Josie Rudderham and Nickey Miller as an amazing combination of pound cake-meets-cookie-meets-waffle, the churro waffle cookies feature a dense texture that melts in your mouth, along with just enough spice to balance out the sweet vanilla interior.
"When we used to make these at our downtown Hamilton Farmers' Market location, people came from across the market to chase the smell. We make quite a few variations on this waffle cookie at the bakery, but this one remains our favourite," the authors explain in the recipe introduction.
"It's best enjoyed with a cup of black coffee, but you can dress up this unassuming beauty with some dulce de leche and vanilla ice cream as a fancy dessert, too. Once you have mastered the original, try some variations like lemon poppy seed, toffee chocolate, or birthday party sprinkle."
Churro waffle cookies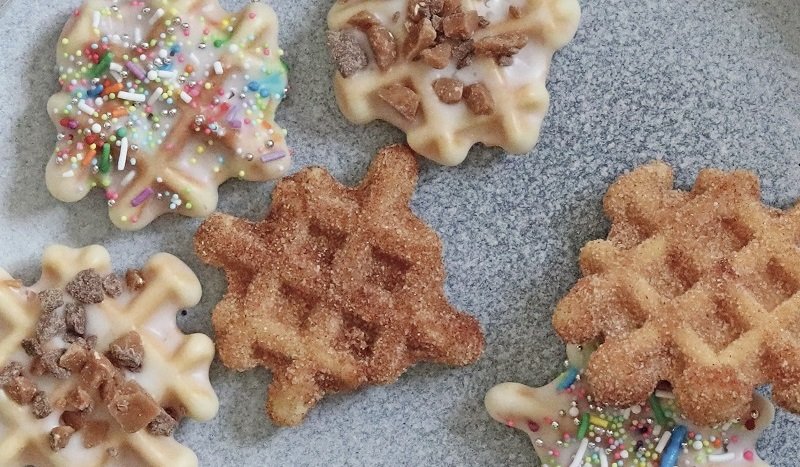 1¾ cups all-purpose flour
⅔ cup granulated sugar
¼ tsp baking powder
¼ tsp salt
1 cup unsalted butter, melted and warm
1 tsp pure vanilla extract
3 large eggs
In the bowl of a stand mixer fitted with the paddle attachment, add the flour, sugar, baking powder, and salt. With the mixer on low speed, slowly pour in the melted butter and mix for 2 to 3 minutes, or until fully incorporated.
With the mixer on medium-high speed, add the vanilla and then the eggs, one at a time, mixing well between each addition. Scrape down the sides and bottom of the bowl. The batter should be smooth and similar in texture to a cake batter.
Increase the speed to high and beat the batter for 7 to 10 minutes, or until you see the colour lighten and the batter start to form stretchy ribbons as it beats. The texture should resemble a thick cake batter. Scrape down the sides and bottom of the bowl and cover with plastic wrap or a wax wrap. Refrigerate for at least an hour or up to 24 hours. The batter will firm up as the butter cools until similar in texture to soft cookie dough.
Grease the waffle iron lightly with some canola oil (or other low smoke point oil) and preheat to medium-high. Every waffle maker is different, so try making just one small cookie at a time until you get the heat level right.
Using two spoons or a small scoop, drop 1 to 2 tablespoons of the batter into the waffle maker, leaving lots of room between cookies. You should be able to make 3 to 4 cookies at a time. Close the waffle maker and cook for 3 to 4 minutes, adjusting the temperature as needed, until light golden brown. As long as the cookies are cooked through, lighter is better than darker. You could end up with some bitter notes or an overly dry cookie if the exterior is too dark. Transfer the cookies to a wire rack to cool. Repeat with the remaining batter.
Finishing touches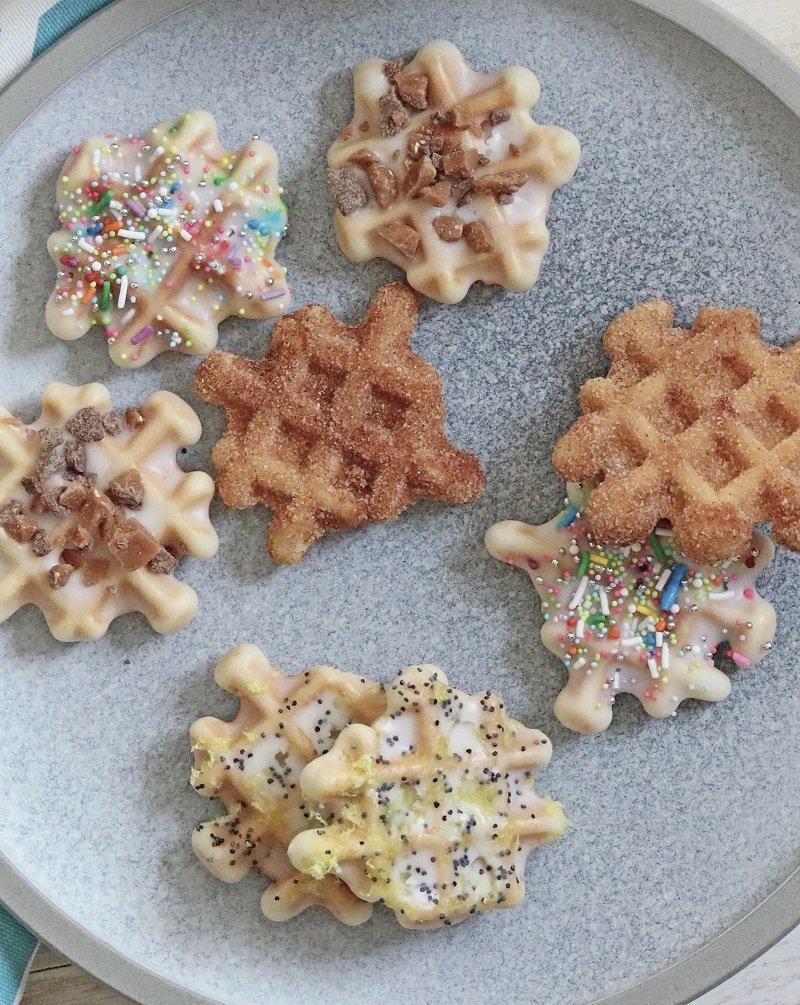 1 cup unsalted butter, melted and warm
3 cups granulated sugar
⅓ cup cinnamon
Pour the melted butter into a small bowl big enough to submerge a cookie. In a medium bowl, stir together the sugar and cinnamon.
Working quickly, one cookie at a time, dip the baked waffle cookies in the melted butter and then toss them in the cinnamon sugar. The key is to dip the cookies in the butter quickly so that they are fully coated but do not absorb much butter.
Once coated in cinnamon sugar, return the cookies to the wire rack to set for 5 to 10 minutes. Store in an airtight container at room temperature for up to 5 days.
Leftover cinnamon sugar can be sifted and stored in an airtight container in the refrigerator for up to 3 weeks.
Yield:

Makes thirty 2-inch cookies