With summer comes many of the best things: patios, warm weather and of course, fruit. Blueberries are currently ripe for the picking, with their peak season landing between June and September. Although you can enjoy them just as well by the handful, they can do so much more.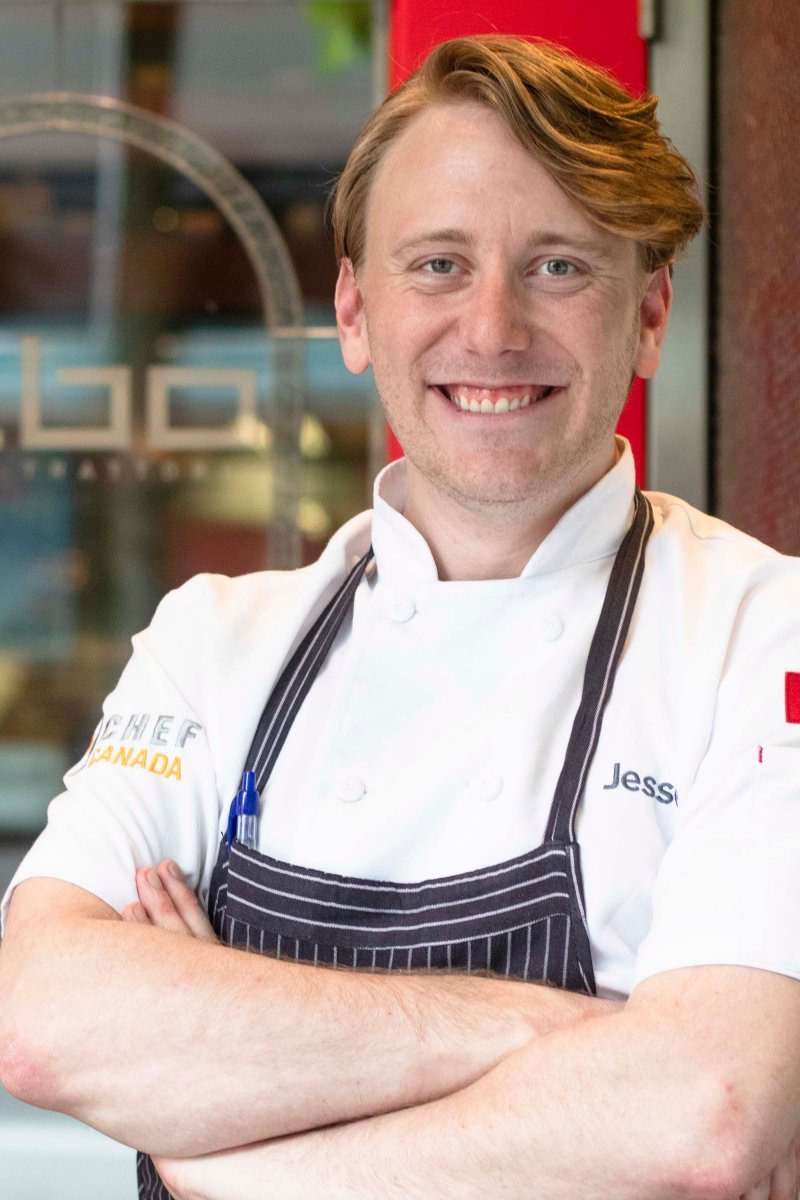 Chef Jesse Zuber, Top Chef competitor and executive chef of Cibo Trattoria created a recipe that allows these blue gems to be incorporated into a savoury dish. By using a pint of fresh B.C. blueberries, Zuber creates a fruity vinegar that complements salmon perfectly.
Give this one a go the next time you want to switch up your fresh fruit game.
Blueberry-infused vinegar
750 grams red wine vinegar
1 pint B.C. blueberries
1 sprig thyme
1 shallot, quartered
500 grams sugar
In a medium saucepan over medium-high heat, bring the red wine vinegar to a boil with the blueberries, thyme and shallot.
Reduce to a simmer and continue cooking until reduced by about a cup, leaving roughly 500 ml of liquid.
Strain the solids through a fine mesh sieve. Reserve about 4 tbsp of the liquid for finishing the plate. Set aside.
With a large saucepot set over medium-high heat, caramelize the sugar until it's deep amber in colour.
Remove from the heat and all at once, add the remaining vinegar infusion, being very careful as it will bubble up and spit.
Return the pot to a low simmer and gently stir with a wooden spoon. Reduce the liquid by a quarter. Set aside
Chive crema
1 bunch chives
1 cup cream
2 tsp salt
1 cup milk
Prepare the froth by combining the chives, cream and salt in a medium saucepot. Simmer gently until lightly reduced. Strain the solids and discard.
Transfer the liquid to a blender and add the milk.
Froth the foam in the blender by running it on high speed for a few seconds.
Garnish
3 tbsp sunflower seeds
1/4 cup Sicilian pistachios
salt, to taste
1/4 cup cooked white beans, preferably coco or cannellini, drained and rin
1/4 cup cooked farro verde
1/4 cup quinoa, cooked
1 tbsp finely chopped sea asparagus
1 tbsp finely chopped parsley
1 tbsp finely chopped chives
3 tbsp butter
1 dash fresh lemon juice
1/2 cup fresh B.C. blueberries, whole and halved (halved simply for aesthetics)
Separately in 2 small sauce pots, add the sunflower seeds and pistachios and top with 1" with water. Bring to a bare simmer over low heat.
Lightly season with salt and continue cooking until the seeds and nuts are softened but not mushy.
Drain any excess water. Set the seeds aside.
Remove the brown outer membrane of the pistachio by gently rubbing them between your fingers. Discard the membrane and set the nuts aside.
In a medium sized sauce pot, combine the nuts, seeds, and all remaining ingredients except blueberries. Add a quarter cup of water and set aside until ready to bring it all together.
While the salmon cooks, warm the garnish over medium heat, reducing all the water until the grains are lightly glazed. Season to taste with salt and a dash of lemon. Fold through the fresh berries.
Salmon
4 5-oz. portions Salmon filets, pin boned and trimmed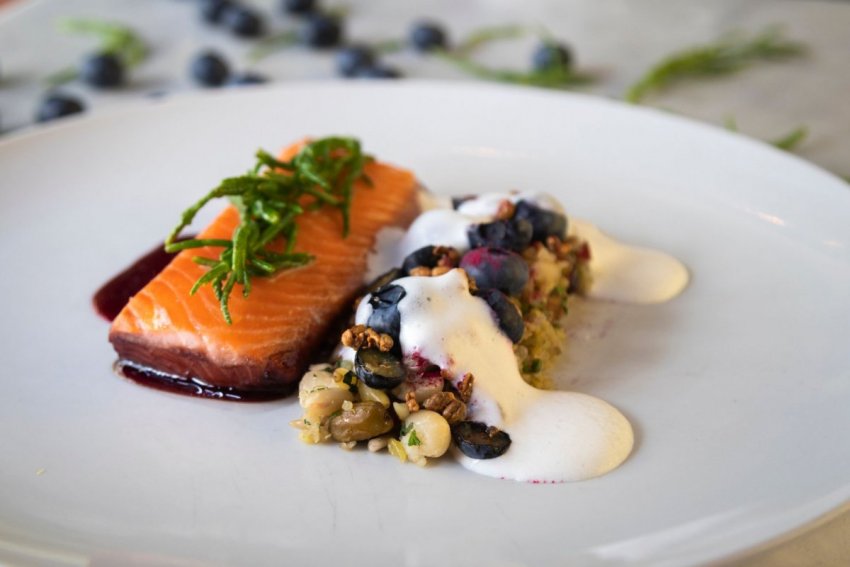 Fill the base of a large sautee pan with the blueberry infused vingear.
Add the salmon to the pan. Gently cook the salmon unilaterally over low heat until just medium rare on top and cooked on the bottom. Remove from the pan immediately and transfer to a holding tray.
To serve
1/2 cup B.C. blueberries, whole and halved (halved simply for aesthetics)
1/2 cup sea asparagus, trimmed of any dense woody bits
Artfully arrange the garnish on the plate. Gently transfer the salmon to the plate and then top with 1/2 cup sea asparagus, a few dollops of the froth, and a spoonful of the vinegar reduction.
Serve immediately.
Yield: