Over the years, we have come to appreciate Canadian turkey in many applications regardless of the season. Yes, it may find peak popularlity during most holidays, but there is no reason why something like a bone-in turkey breast can't be a delicious (and uncomplicated) dinner any week of the year.
One technique that really helps Canadin turkey pop is brining. While brine as its base is a salt and water solution, adding in different aromatics and liquids can help add a new depth of flavour to turkey meat in addition to keeping it perfectly juicy.
This brine calls for a good quality apple cider and plenty of citrus for brightness, but if you want to eliminate alcohol from this recipe, equal parts apple juice and apple cider vinegar (i.e. one cup of each) would be a good substitute.
Cider-and-citrus-brine
4 cups water
2 cups Sea Cider Wild English Cider, or comparable good quality dry cider
1/3 cup kosher salt
4 peeled garlic cloves
2 medium to large shallots, peeled and halved
1/2 Orange, 1/4" sliced
1/2 lemon, 1/4" sliced
2 tbsp good quality hot sauce
1/2 tsp chili flakes
2 dried bay leaves
8 ice cubes
2 approximately 1.5-2 kg bone-in turkey breasts
Place all ingredients except ice cubes and turkey breasts in a medium pot and bring to a simmer on medium-high heat. Once simmering, remove from heat and let sit for 5 minutes to allow ingredients to steep and flavours to infuse.
Next, place in refrigerator if room allows and let cool to slightly above room temperature. When the brine is still slightly warm, add ice cubes for a final cooling.
Place turkey breasts in a large ziploc bag and pour brine overtop. Seal bag with as little air trapped inside as possible and let sit in the fridge for at least 6-8 hours.
Roast turkey breasts with leeks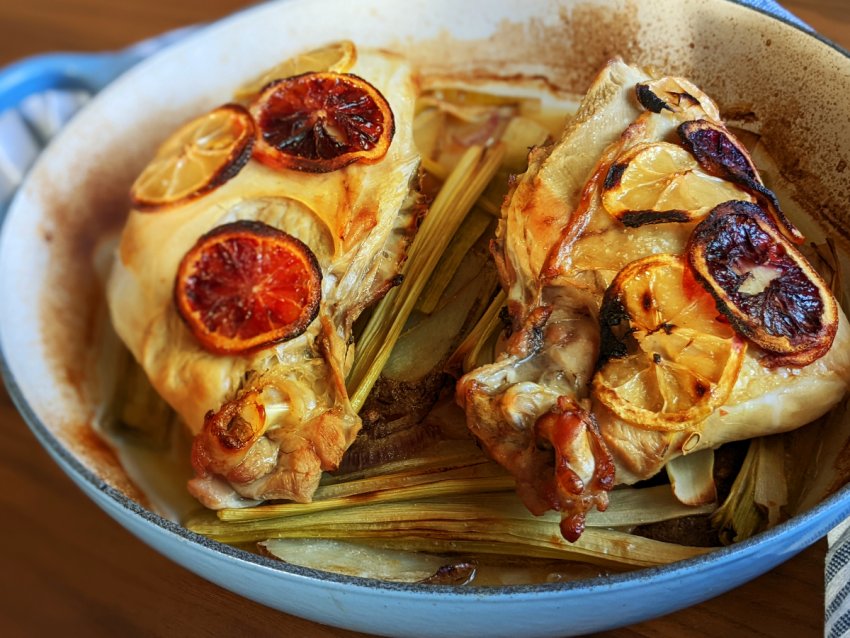 2 tbsp canola oil
2 medium russet potatoes, 1/4" sliced
1 small red onion, halved and thinly sliced
2 medium leeks, trimmed and quartered lengthwise
1 cup reserved turkey brine
2 brined bone-in turkey breasts
4 thin lemon slices
4 thin blood orange slices
2 tbsp unsalted butter
sea salt, to season
Preheat oven to 375 degrees.
Remove turkey breasts from brine and pat dry. Reserve 1 cup of brine, but discard the remainder as well as all aromatics.
Place oil, potatoes, onion and leeks into a large baking dish or braiser and toss gently to combine. Add reserved brine and season liberally with salt.
Nestle turkey breasts on top of vegetables and top with alterating citrus slices.
Roast in oven for 45 minutes, basting a couple times while cooking.
At the 45 minute mark, turn oven to 400 degrees and add butter to the dish, baste again and continue to cook for 15 minutes.
Baste one more time and turn oven to low broil (450 degrees). Allow turkey to cook until citrus is starting to char, approximately 5 minutes.
Remove from oven and transfer turkey breasts to cutting board. Cover and let rest for 15 minutes before slicing and serving.
To serve, either transfer sliced turkey meat back into baking dish (less dishes!) or place vegetables and pan drippings onto a serving dish and top with turkey meat.
Yield:

Prep Time:

Cook Time: