The Bear, the Fish, the Root & the Berry is an Osoyoos resort restaurant on the traditional land of the Syilx people of the Okanagan Nation. The restaurant's menu is inspired by Indigenous roots and named after a Chaptik story about the Four Food Chiefs who represent the key elements of Indigenous cuisine: Black Bear, Chinook Salmon, Bitterroot, and Saskatoon Berry.
This recipe by the restaurant's sous pastry chef Carl Sanchez features wojape, a traditional Indigenous berry sauce that's also a delicious pairing with fresh cornbread.
"Both dishes have a simplicity about them, a few well-placed ingredients, tying back to traditional North American food ways, working with what the land provides and making the best you can with it," says Murray McDonald, executive chef at The Bear, the Fish, the Root & the Berry.
Cornbread
2 whole eggs
1/2 cup granulated sugar
1 cup all-purpose flour
1 cup cornmeal
1 tsp salt
1/2 tbsp baking soda
1 tsp baking powder
1 cup buttermilk
1/2 cup unsalted butter, melted
1/2 cup corn kernels, (fresh, frozen, or canned)
Preheat an oven to 325F or 165 C. Prepare a 12-muffin tin lined with baking cups (or an 8-inch baking tin lined with parchment or greased with butter and floured).
Using a mixer with a wire whisk attachment, whip the eggs and sugar on high speed until light and airy (about 7 minutes).
In a separate bowl sift together the flour, salt, baking powder and baking soda; measure in the cornmeal and mix until well combined.
Add in the dry ingredients over the egg mixture with the buttermilk alternately in 2-3 increments and continue to mix until well incorporated.
With the mixer running on low, stream in the melted butter and continue to mix until well incorporated.
Lastly fold in the corn kernels carefully as to not overmix the batter.
Bake for 20 minutes then turn and continue baking for another 5-7 minutes or until a cake tester turns out dry.
Best enjoyed with butter and wojape.
Wojape jam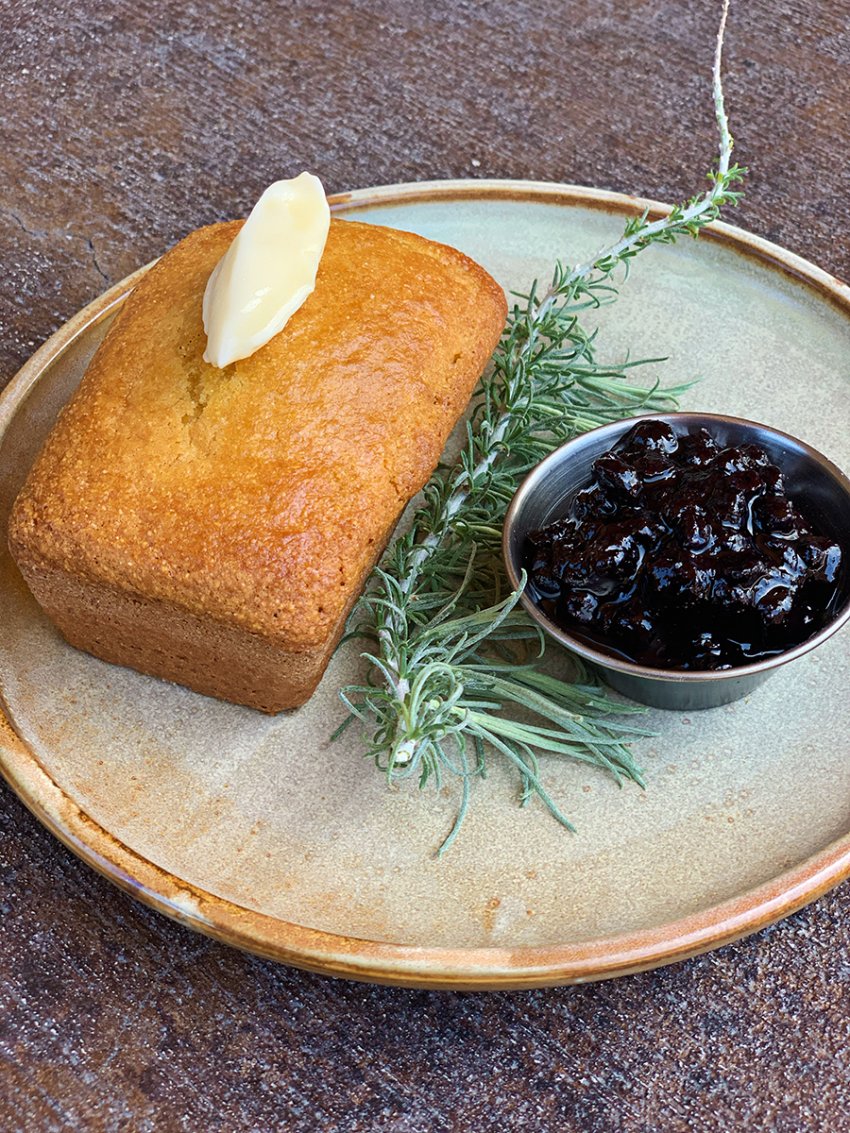 3 cups fresh berries, (mix of blueberries, raspberries, strawberries, cranberries, blackberries or elderberries)
1/2 cup water
1 tbsp lemon or orange juice
honey or maple syrup, to taste
Place the berries, water and juice into a saucepan and set over low heat. Bring to a simmer and cook, stirring occasionally, until the mixture is thick.
Taste and season with honey or maple syrup as desired.
Yield:

Prep Time:

Cook Time: