Cream-based soups really hit the spot during the winter season. As rich and rewarding as this cream of turkey soup recipe is, you might be surprised that it is actually dairy-free. Recipe creator Ashley Fehr of The Recipe Rebel achieves quality creaminess here by way of raw cashews pureed into a silky smooth texture. In other words: Lactose intolerant folks, rejoice!
If you have a nut allergy then raw, unsalted sunflower seeds are a great substitute for cashews in this soup recipe.
Creamy turkey, mushroom & rice soup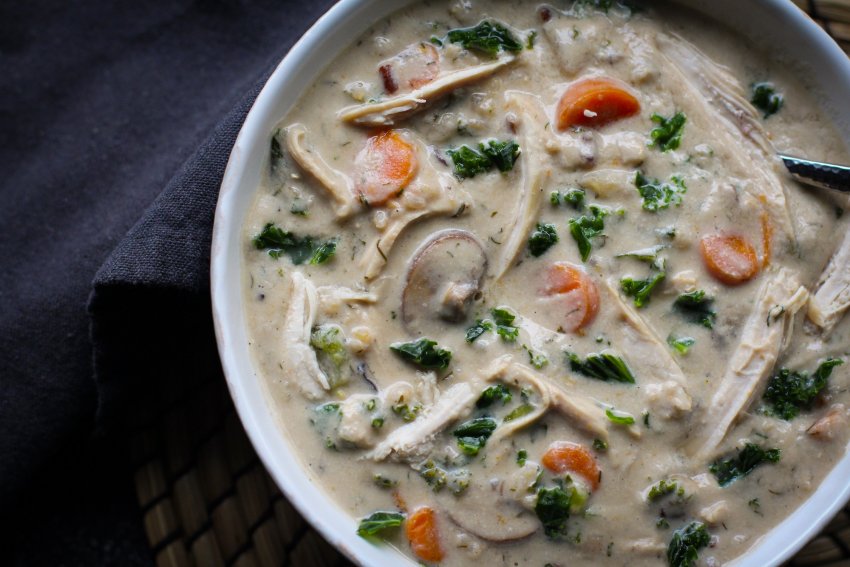 3/4 cup raw cashews, plus water for soaking
2 tbsp olive oil
1 yellow onion, chopped
1/2 cup sliced carrots
1 cup sliced cremini mushrooms
3 garlic cloves, minced
6 cups turkey stock
2 bay leaves
2 cups shredded turkey breast
1/4 cup brown rice
1 cup water
1/2 tsp sea salt
1/4 tsp black pepper
2 tbsp dill
1 cup finely chopped kale
Place cashews into a bowl and cover with hot water. Let soak for a minimum of 4 hours, or overnight in the fridge (If you're short on time, you can cover them with boiling water for one hour).
Heat a large pot over medium heat, add the avocado oil and the onion to the pot and cook, stirring frequently, for 4-5 minutes, or until translucent.
Add the carrots, mushrooms and garlic to the pot with the onions and stir well to combine. Add the turkey stock to the pot, along with the bay leaves, salt and pepper; stir and cover the pot. Turn the heat up to medium high and bring to a boil; once boiling, turn the heat down to medium low and simmer for 10 minutes.
Once the veggies have softened, add the brown rice to the pot and stir well. Cover the pot and cook for and additional 20 minutes, stirring halfway through.
While the soup simmers, make the cashew cream. Drain the cashews and rinse well. Add to a blender, along with 1 cup of water and a pinch of sea salt. Blend on high until smooth and set aside. You can add additional water to the blender if necessary, until it reaches a cream sauce consistency.
After 20 minutes, use a spoon to try the wild rice and check if it is cooked. Continue simmering for a few additional minutes, if necessary. Once the rice is soft, add the shredded turkey, kale and dill to the pot; stir well to combine. Pour in the cashew cream and stir. Bring the soup up to a boil for 2-3 minutes, until warmed through. Taste and add any additional salt, pepper or dill to taste. Serve and enjoy!
This soup will thicken up as it cools, use additional turkey stock or water when reheating it for the best consistency!
Tip
No leftover turkey? No problem! You can easily poach a turkey breast by placing it in a pot and covering it with water or turkey stock. Add half of an onion, a few cloves of garlic and a bay leaf; cover the pot and bring to a boil. Turn the heat down once the water boils, and simmer for about 20-23 minutes, or until the turkey breast is fully cooked and a meat thermometer reads 165F. Remove the cooked turkey breast from the liquid and set aside. Use two forks to shred the turkey when you're ready to add it to the soup.
Yield:

Prep Time:

Cook Time: