The Crispy Thai omelette is a simple, tasty and quite unconventional-looking dish from chef Nuit Regular's new cookbook kiin - Recipes and Stories from Northern Thailand. Even though the Crispy Thai omelette is considered to be an appetizer in Thai cuisine, this dish is ideal to enjoy at any time of the day. You can serve it with steamed jasmine rice on the side, which adds additional texture and fullness to the dish.
You might know Chef Nuit Regular from Food Network Canada's popular cooking show, Wall of Chefs, where she stars as a judge. In kiin, chef Regular married her culinary skills with her passion for making people happy with delicious food. What does the chef and restaurateur have to say about this recipe?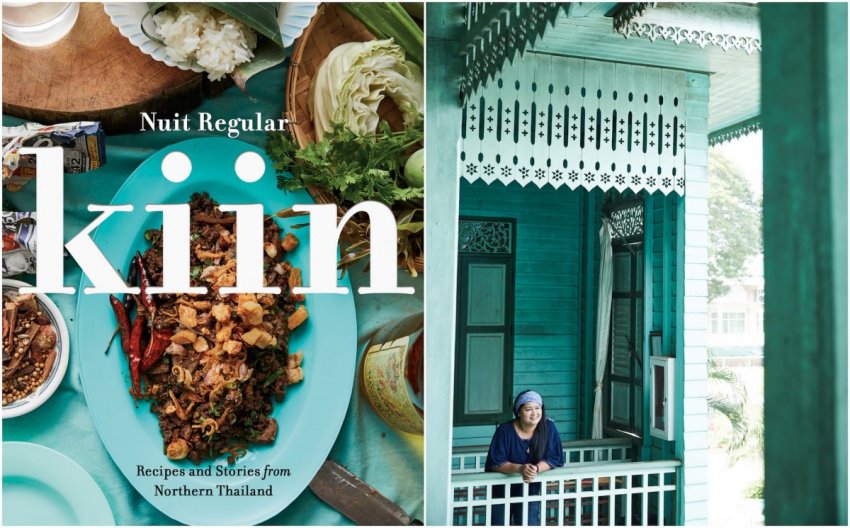 "Unlike a classic Western omelette, a Thai-style omelette is much crispier and is eaten with rice. The crispy texture is a perfect complement to the meat and vegetables in the omelette. I like to add some edible flowers for a tart taste. This appetizer is usually paired with spicy and sour soup with shrimp and tom yum paste," explains the cookbook author and chef Nuit Regular.
Crispy Thai omelette (Khai Jeaw Grob)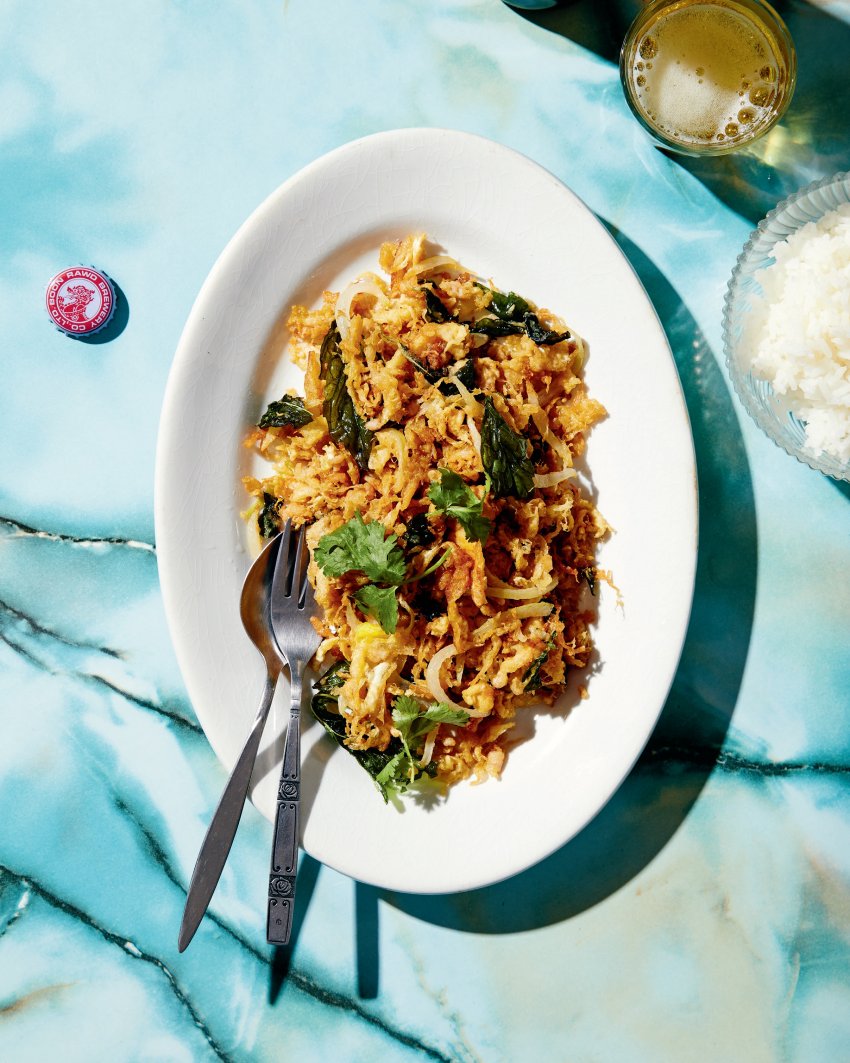 2 tbsp water
1 tbsp tempura batter mix
4 eggs
2 ounces ground chicken, (optional)
1/4 cup fresh cilantro leaves and stems, packed coarsely chopped
1/4 white onion, thickly sliced
1/4 cup Thai basil leaves, packed fresh
1 tbsp Maggi seasoning sauce
1 tbsp Thai oyster sauce
2 cups sunflower oil
Steamed Jasmine Rice, for serving
In a small bowl, stir together the water and tempura batter mix.
In a large bowl, combine the eggs, chicken (if using), cilantro, onion, basil, Maggi seasoning sauce, and oyster sauce. Add the tempura mixture and stir until everything is well mixed.
In a large wok over high heat, heat the sunflower oil. You can tell when the oil is ready when smoke starts to rise from it. Once this happens, quickly pour the egg mixture into the wok and stir in a clockwise motion. Cook for 1 minute until the omelette is puffed and crispy. Flip and cook for another minute. Serve with steamed jasmine rice.
Steamed Jasmine Rice (Khao Seuw)
1 1/2 cups jasmine rice
2 cups water, (at room temperature)
Place the rice in a medium strainer or fine-mesh sieve over the sink. Rinse the rice well under cold running water for 1 minute. Drain well.
Transfer the rice to a medium saucepan, cover with the water, and bring to a boil over high heat, stirring occasionally with a metal spoon. Once the water reaches a rolling boil, cook, uncovered, for 6 to 8 minutes, stirring constantly with the wooden spoon and making sure to scrape the sides and bottom of the pot to prevent sticking. The water should be evaporated to the level of the rice. If not, continue to cook for 2 to 3 minutes more.
Reduce the heat to low, cover, and cook for another 10 minutes. Remove from the heat, stir, and let sit, covered, for 2 to 3 minutes. If the rice is too soft, cover and let sit for 5 minutes.
Note from Chef Nuit Regular
Almost any dish I cook goes great with steamed jasmine rice. This type of rice is not as sweet as sticky rice but has enough flavour on its own to complement any meat dish or stir-fry. For a Thai meal to be complete, a large bowl of this jasmine rice should be in the middle of the table for everyone to share. As my mother taught me, it is important to always very gently wash (do not rub or squeeze) the rice first, being careful not to over-wash it and remove the nutrients found in the rice germ. Also, do not rinse with hot water as it will start to cook the rice.
Yield:

Prep Time:

Cook Time: