Thanks to being studded with pan-roasted walnuts and perfectly caramelized brussels sprouts, there is much deliciousness to be found in this hearty pasta recipe from Lauren Toyota's recently released cookbook Hot For Food All Day.
As one of Canada's most influential vegan personalities and food experts, Toyota does not disappoint with her latest offering of more than 100 recipes that hit the spot regardless of if you are a vegan or omnivore.
"This pasta has always been a tried-and-true go-to. I usually just eyeball the whole thing, so I'm glad it's finally documented and can become part of your regular rotation, too! The sauce is light and simple, using shallots, garlic, white wine, lemon juice and zest, nutritional yeast, and pasta water," says Toyota in the introduction to this recipe in her new cookbook. "Don't overcook your brussels, because you want them bright and bursting with color. A cast-iron pan is best for preparing this dish to get that beautiful char on the brussels that other pans just won't accomplish."
Brussels sprouts pasta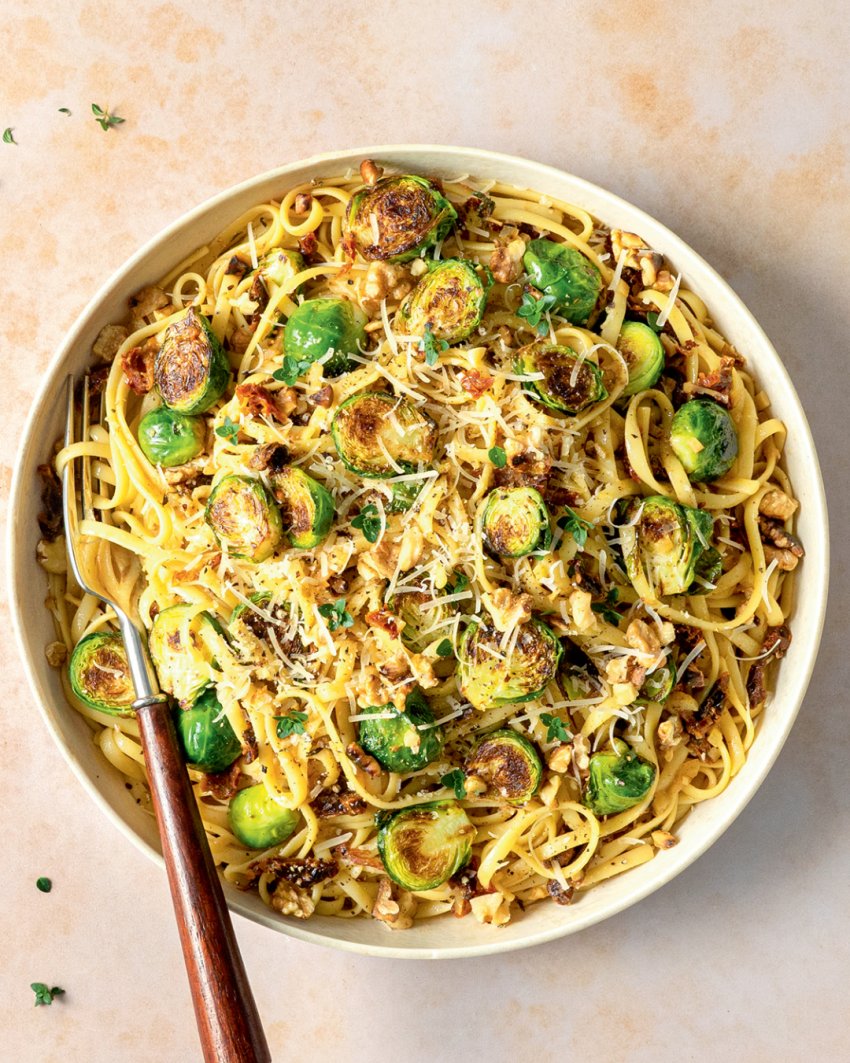 1 400 grams package dry linguine noodles
1/2 cup raw walnuts
3-4 tbsp olive oil, divided
1 pound (454 grams) Brussels sprouts, trimmed and halved
1/2 cup sun-dried tomatoes, not oil-packed and thinly sliced
1/4 cup finely diced shallot, approximately 1 shallot
2 tbsp freshly minced garlic
2 tsp fresh thyme leaves
1/3 cup dry white wine
2 tbsp nutritional yeast
1 lemon, juiced and zested (divided)
fine sea salt and ground black pepper, to taste
1/2 cup shredded vegan parmesan, for garnish
Bring a large pot of salted water to a boil. Cook the linguine to al dente. Reserve 1⁄4 cup of the pasta cooking water and set aside. Drain the pasta, but do not rinse.
While the pasta is cooking, heat a large cast-iron pan over medium- high heat and toast the walnuts for 4 to 5 minutes, until fragrant. Remove the walnuts from the pan and remove the pan from the heat to cool. Coarsely chop the walnuts and set aside.
Heat the same pan over medium heat with 2 tablespoons of the olive oil. Add the brussels sprouts cut-side-down and spread out into an even layer. Cook for 3 to 4 minutes without touching to allow them to get nicely browned. Toss once so the other side gets colour, and cook for another 2 to 3 minutes. Transfer the brussels to a dish and set aside.
Lower the heat to medium-low and ensure the skillet isn't too hot from browning the brussels. If the pan is very dry, you can add another drizzle of olive oil or a bit of stock or water to the pan. Sauté the sun-dried tomatoes, shallot, garlic, and thyme. Stir to combine well and cook for another 3 to 4 minutes, tossing occasionally and adjusting the heat as necessary so the garlic doesn't burn.
Add the wine and simmer for another 3 to 4 minutes, tossing occasionally. Add the nutritional yeast, lemon juice, lemon zest, and remaining 1 tablespoon olive oil. Toss to combine and cook for another 2 to 3 minutes.
Add the linguine and toss everything until well combined. If the mixture looks dry, you can add the reserved pasta water and toss to combine. Toss the walnuts and brussels back in along with the sea salt and black pepper, to taste. Serve immediately, garnished with the vegan parmesan.
Lauren Toyota on what else to expect from Hot For Food All Day
Yield:

Prep Time:

Cook Time: