Not unlike the catchy 90s song, from July through August, Canada is home to millions of peaches. But these peaches, however, do not come from a can. Instead, fresh peaches can be found in orchards, farms, and backyards throughout the country.
Since Ontario is particularly well-known for its flavourful summer peaches, the Ontario Tender Fruit Growers have shared this simple, yet highly satisfying recipe from Toronto's Montgomery's Inn.
"This recipe is living proof that not much has changed in over 150 years when it comes to great tasting food. Toronto's historic Montgomery's Inn shares this Ontario Peach Fritters recipe, adapted from Mrs. Beeton's Book of Household Management, published in 1859," the author explains in the recipe introduction. "Adding Ontario peaches ensures that these are the freshest fritters available."
Peach fritters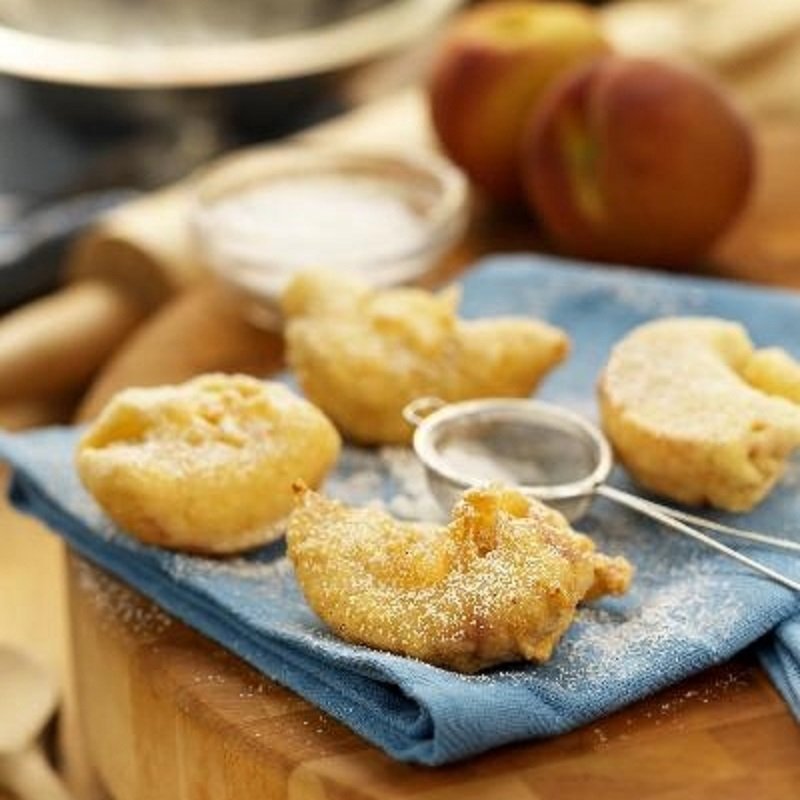 1 ½ cups all-purpose flour
½ tsp salt and pepper, to taste
1 cup milk
1 tbsp butter
2 eggs, separated
4 large ripe peaches, each peeled, pitted and sliced into 6 slices and patted dry
vegetable oil
powdered sugar, for garnish
In a medium sized bowl, combine flour and salt.
In a separate medium-sized bowl, whisk egg whites until stiff peaks form.
In a small sauce pot over medium heat, warm the milk with the butter until butter is just melted, remove from heat and cool for 10 minutes.
Gradually whisk the milk into the flour and stir well to remove any lumps. Mix in yolks then gently fold in whisked egg whites.
Pour oil in medium-sized sauce pan to a height of 3 to 4 inches. Heat to 350°F to 365°F (180°C to 185°C).
Dip the peaches in batter until covered and fry in heated oil. Rotate in batches (do not over crowd) and cook until golden brown, about three to five minutes.
Drain on paper towel and dust with powdered sugar. Serve warm.
Yield: