Renowned chef Christine Flynn and Greenhouse beverage company co-founder Emma Knight began working on the How To Eat With One Hand cookbook when motherhood took them by surprise within a few months of one another as a way to to provide a collection of delicious recipes for every stage of new motherhood.
Whether you're looking for a last-minute Mother's Day gift idea or you simply want to create a delicious and memorable food experience with mom, there are few ways to express your love and gratitude more profoundly than with a hearty, home cooked meal, and this Fairy Godmother minestrone delivers that in spades.
"On the day I was born, my parents' next-door neighbour, Gail White, was making minestrone. When my parents arrived home from the hospital, she greeted them with her warming, hearty vegetable soup," explains Knight. "Nearly thirty years later, on the night after Ezzie was born, she brought over a pot of her minestrone with some crusty sourdough and a big hunk of Parmesan. We dimmed the lights, opened some red wine and had a picnic.
"The way the recipe is written, it's more stew than soup, which is how I like it, but feel free to add more stock or go a bit lighter on the vegetables if you prefer more liquid. If you're making it to freeze, leave out the pasta, green beans and peas and add them when you're ready to serve."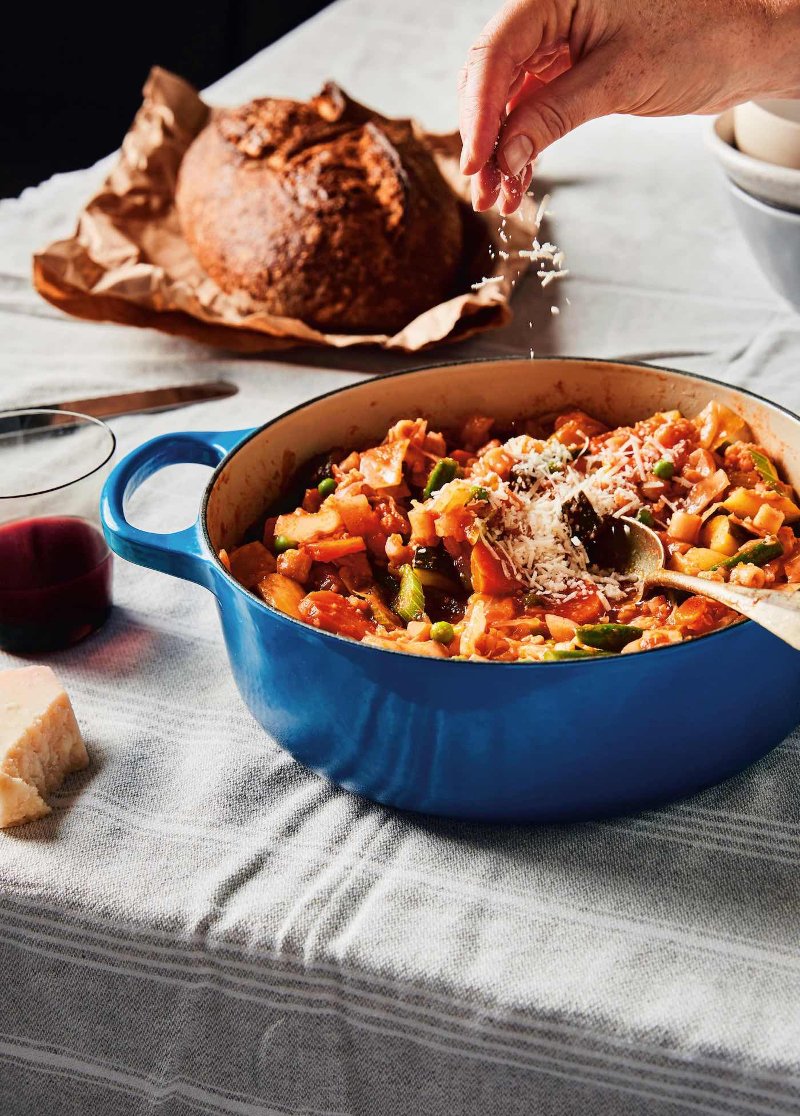 Fairy Godmother minestrone
3 tbsp olive oil
3 garlic cloves, minced
1 large yellow onion, chopped
3 celery stalks, chopped
3 medium carrots, chopped
½ small head green cabbage, chopped
½ head cauliflower, cut into small florets
1 head endive or escarole, chopped
1 sprig fresh rosemary
Large handful fresh basil leaves, chopped
Large handful fresh parsley leaves, chopped
680 mL Italian tomatoes, strained
2-3 rinds Parmesean or Pecorino Romano cheese (optional)
400 mL navy means, drained and rinced (optional)
2 cups vegetable stock or water
salt and pepper
In a large stockpot, heat the olive oil over medium heat until it begins to shimmer. Add the garlic, onion, celery and carrots. Cook, stirring regularly with a wooden spoon, until fragrant but not browned, about 3 minutes. Add the cabbage, cauliflower, endive, rosemary, basil and parsley.
Cook, stirring occasionally, for 5 to 10 minutes, or until the vegetables begin to soften. Cover and cook for another 10 to 15 minutes, until tender.
Add the strained tomatoes, cheese rinds (if using), navy beans (if using) and stock. Stir to combine, bring to a boil and then reduce to a simmer and cook with the lid askew for another 20 minutes. Season with salt and pepper, to taste.
If you're making the minestrone to freeze, remove the pot from the heat, let cool to room temperature, fish out and discard the rosemary sprig and cheese rinds (if using) and freeze in a 1-gallon (4L) zip-top bag for up to 3 months.
When ready to serve, cook the pasta in a large pot of salted, boiling water according to package instructions, less 2 minutes. Drain the pasta and add it with the green beans and peas to the simmering pot of minestrone. Once the beans and peas are tender, remove the pot from the heat.
To serve, divide the minestrone among soup bowls and toss 2 to 3 torn-up basil leaves into each bowl. Stir a spoonful of pesto into each bowl, top with grated Parmesan and serve with crusty bread. Store leftovers in an airtight container in the fridge for up to 5 days.
Yield:

Serves 4 to 6, with leftovers