A sustainable lifestyle starts in the kitchen. Anne-Marie Bonneau's brand new cookbook The Zero-Waste Chef hits bookstore shelves on April 13 and it promises to motivate you to get creative with your cooking and make your ingredients go further than you've ever thought possible.
The Canadian-born, San Francisco-dwelling food blogger and authour shows us how reducing our waste not only benefits the planet, but will also satisfy our taste buds, improve our well-being, and boost our bank accounts. With flavourful recipes and a few simple tips, Bonneau's new book can help us all become responsible home cooks.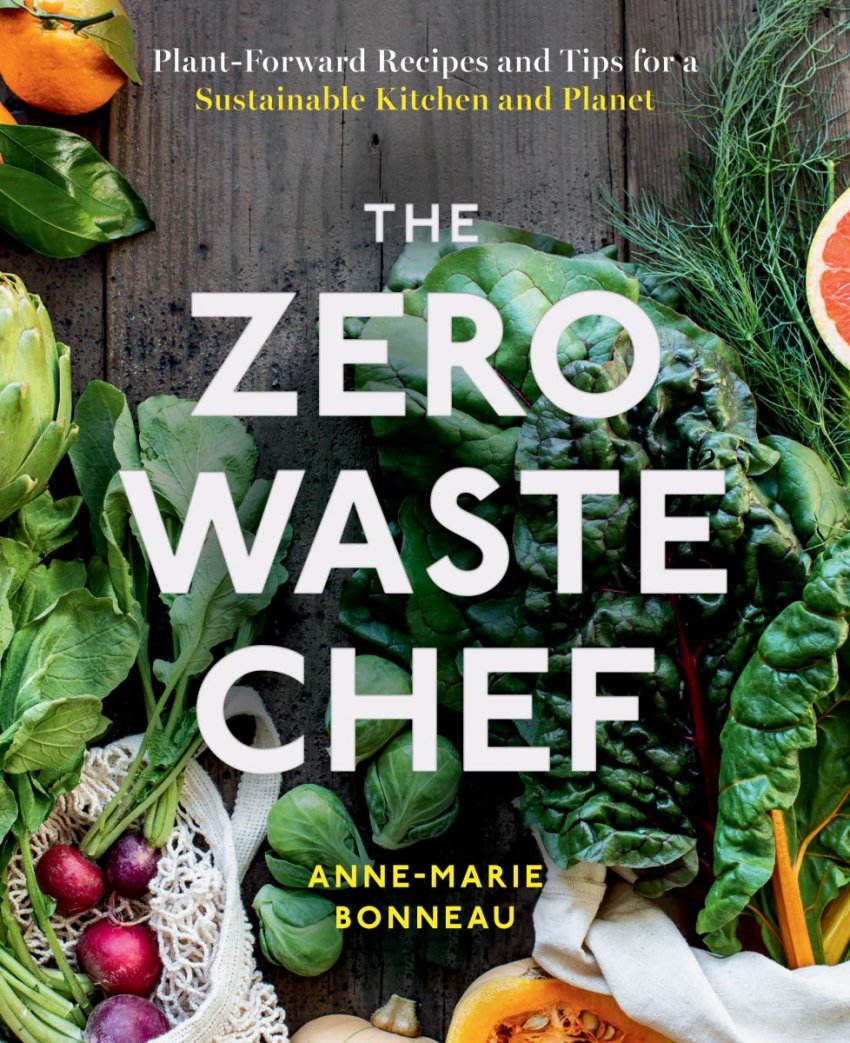 "At my farmers' market, a couple of vendors give away fennel stalks and fronds. Most fennel buyers want the stalks and fronds lopped off, nipping what-on-earth-do-I-do-with-this-stuff guilt in the bulb. So, I get one of the main parts of this pesto for free—the wispy fronds. However, if this cookbook sells so well that it drives up the price of fennel fronds, I apologize," says Bonneau in the introduction to this recipe for homemade pasta and pesto.
"Although I have no tips on how or where to find flour for free, I can save you a lot of money on expensive tools to make pasta. Homemade pasta does turn out beautifully when you run the dough through a pasta machine, but if you don't have one, then a work surface, a knife, and a rolling pin will suffice. And if you have a clean wine bottle, the rolling pin becomes optional, Chef MacGyver."
Fennel frond pesto
1/4 cup raw nuts, such as walnuts, pecans, almonds, or hazelnuts
2 garlic cloves, smashed
1 cup packed fennel fronds
1/2 cup packed fresh parsley leaves
1/2 tsp salt
1/4 cup olive oil
Toast the raw nuts in the oven at 350°F for 5 minutes and stir. Toast for another 3 to 5 minutes, until fragrant but not dark.
Place the toasted nuts, garlic, fennel fronds, parsley, and salt in a food processor. Pulse to make a paste. Scrape down the sides of the food processor if necessary.
With the processor running, stream in the oil in a slow trickle, until the pesto is well blended. Transfer to a large serving bowl. (If not using immediately, refrigerate or freeze in a wide-mouth jar).
(Author's note: The pesto recipe works well with kale stems also. Replace the fennel fronds with 1 cup of 1⁄2-inch pieces of kale stems.)
Simple homemade pasta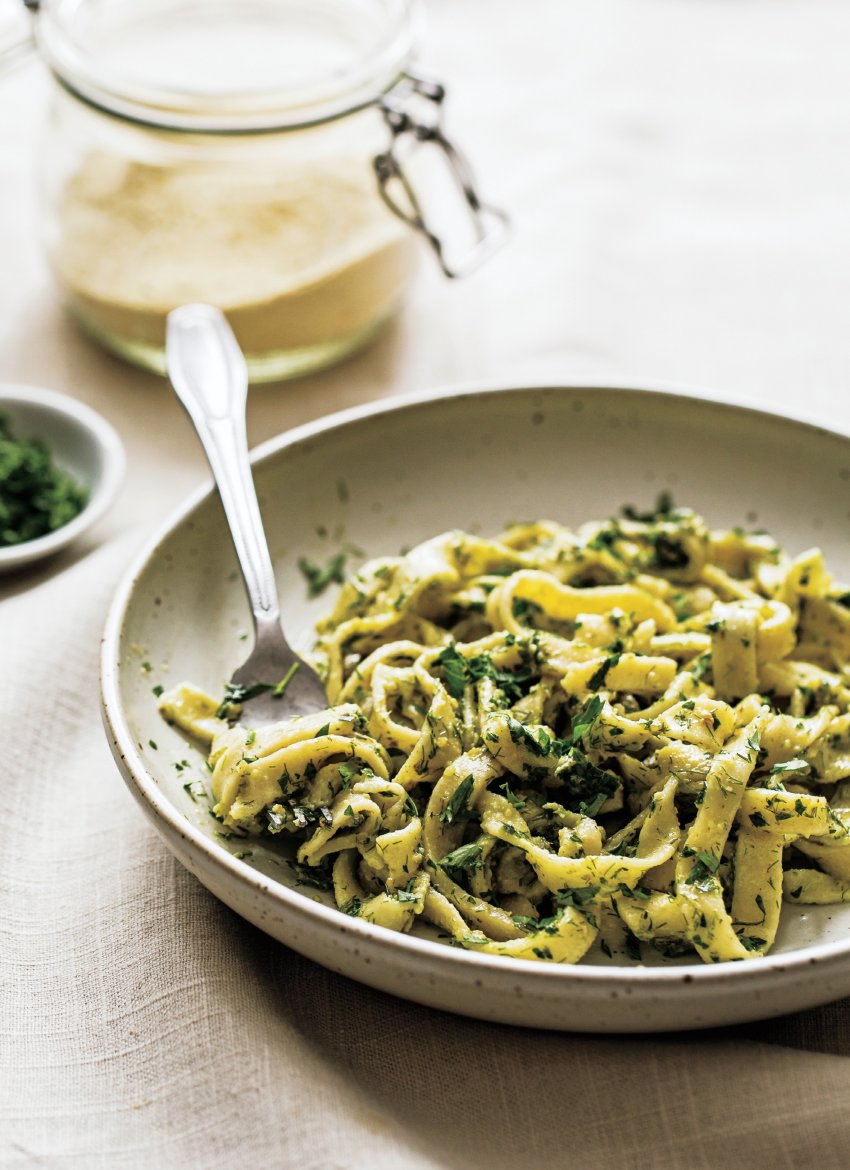 2 1⁄2 cups (250 grams) durum semolina
3/4 cup (125 ml) hot water, not boiling
1 tsp salt
Place the semolina in a large bowl and make a well in the center. Pour in the hot water. (Alternatively, you can make this directly on your work surface. For a beginner, you may prefer to use a bowl).
With a fork, incorporate the flour from the edges of the well into the water. Continue until you've combined all the flour and water and have formed a crumbly dough.
Turn the dough out onto a floured surface. The bowl will likely contain enough unincorporated flour that you won't need more on your work surface. Knead the dough until it is smooth and elastic. It should spring back after you make an indentation in it with your thumb. If it doesn't spring back, keep kneading it. This can take about 10 minutes. Cover with a clean dish towel and let rest for 20 to 30 minutes.
Divide the dough into 2 equal portions; smaller portions are easier to work with. Lightly dust the work surface with semolina, if necessary, as you roll out each piece of the dough to about 1/8 inch thick.
Dust the dough with semolina. Roll each piece of the dough up into a very loose tube. You will be slicing noodles from these tubes, so you don't want it too tightly wound and stuck together. Cut 1/4-inch-wide noodles from each roll.
Add the salt to a large pot of water and bring to a boil. Add the noodles and cook until tender, about 2 minutes. Reserve at least 1/3 cup of the pasta cooking water. Drain the pasta in a colander.
Whisk the saved pasta cooking water into the bowl with the pesto. Blend and toss the pasta in the pesto and serve.
For your next recipe...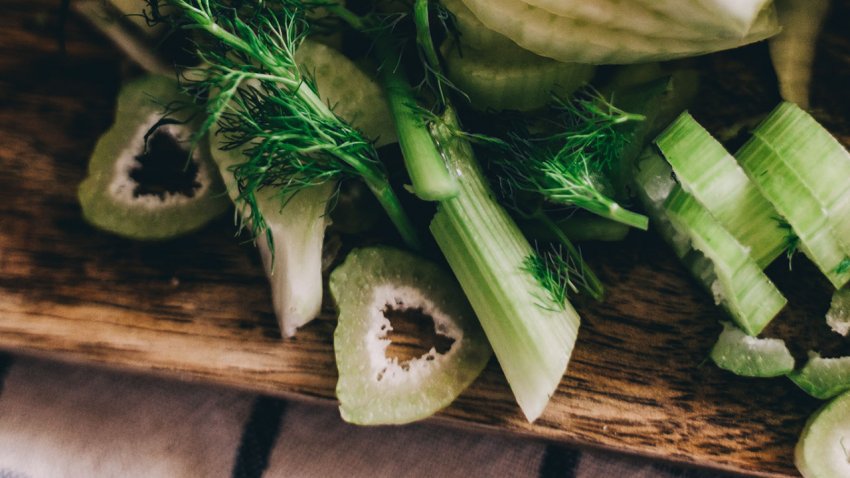 You now have leftover fennel stalks. Shave them with a vegetable peeler and add them to a salad!
Yield:

Prep Time:

Cook Time: