Now that it's August, everyone's gardens (farmers and us city slickers alike) are brimming with ripe vegetables like tomatoes and cucumbers, and we all probably have more fresh herbs on our hands than we know what to do with. Here's a thirst-quenching and savoury cocktail that you can whip up on a hot day, right in the sanctuary of your own backyard, with the help of Bonne O Home Carbonation System.
This one is for the Caesar and Bloody Mary fans out there.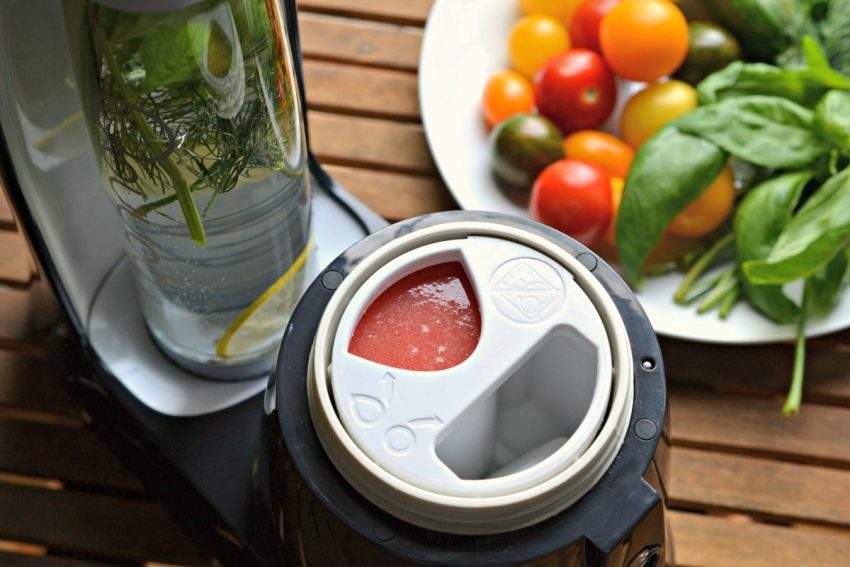 Of the garden variety cocktail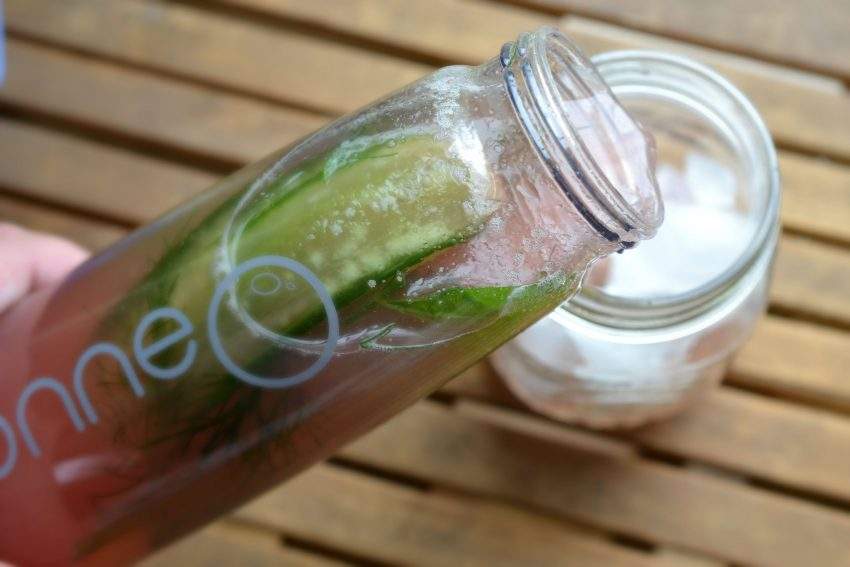 4 large tomatoes, quartered
1/2 cup water
1 tbsp lemon juice
2 tsp salt
4 cucumber slices
2 lemon slices
4 large basil leaves
4 large celery leaves
1 sprig fresh dill
ice cold water, enough to fill Bonne O carafe
4 ounces good quality vodka
tomato and cucumber slices, for garnish, optional
To make tomato water:
Place first 4 ingredients in a blender and puree on high for at least 1 minute.
Strain through fine mesh strainer into a clean bowl or pitcher and keep cool in the fridge until ready to use.
Cocktail assembly:
Fill Bonne O flavour chamber to the rim with chilled tomato water, reserving remaining tomato water.
Place the next 5 ingredients into the Bonne O carafe, fill completely with ice cold water and screw lid on tightly.
Secure the carafe into the Bonne O and start the cycle.
While that's carbonating (it will take 3 to 4 minutes), fill 4 glasses with ice and 1 ounce vodka in each.
Distribute carbonated tomato and herb beverage evenly between the glasses and finish by topping up each with reserved tomato water.
Garnish with a cucumber and tomato slice and serve.
Tips:
Use only ice cold, unsweetened liquid in the bottle
For the first use, prime the unit by filling it with very cold water, filling bottle to the rim and untapping the bottle and re-attaching the bottle and starting the cycle a few times
Ensure the unit is completely secure, with the carbonator capsule completely closed
Bonne O Home Carbonation System can be purchased at Hudson's Bay Company (locations across Canada and online), Home Outfitters (locations across Canada and online), Williams-Sonoma (locations across US, Canada and online), Bed Bath & Beyond (locations across US and online) and Bloomingdales (locations across US and online)
Yield:

Prep Time: