We hate to be the bearers of bad news, but since we're living in Canada, you shouldn't be too surprised to hear that we may be getting some more snow before summer arrives. Thankfully, there's no need to fret about any forthcoming frost because Canada is also home to some seriously resilient produce that can be found almost any time of the year.
To combat the next cold spell in Calgary, you can be sure that our Eat North HQ chefs (aka Dan and Daniel) will be warming up with this gorgeous golden vegetable soup from the Langdon Hall cookbook.
The stunning soup from chef Jason Bangerter combines quintessential Canadian ingredients like golden beets, golden tomatoes, yellow pattypan squash and golden potatoes with an herbaceous broth that can be served chilled on hot summer day, or in our case, piping hot on a cold Calgary afternoon.
If you should find yourself in need of some quick edible comfort before any of the aforementioned vegetables have come into season, you can always swap an ingredient out for another that is more readily available at the grocery store, such as cellared potatoes and greenhouse-grown vegetables.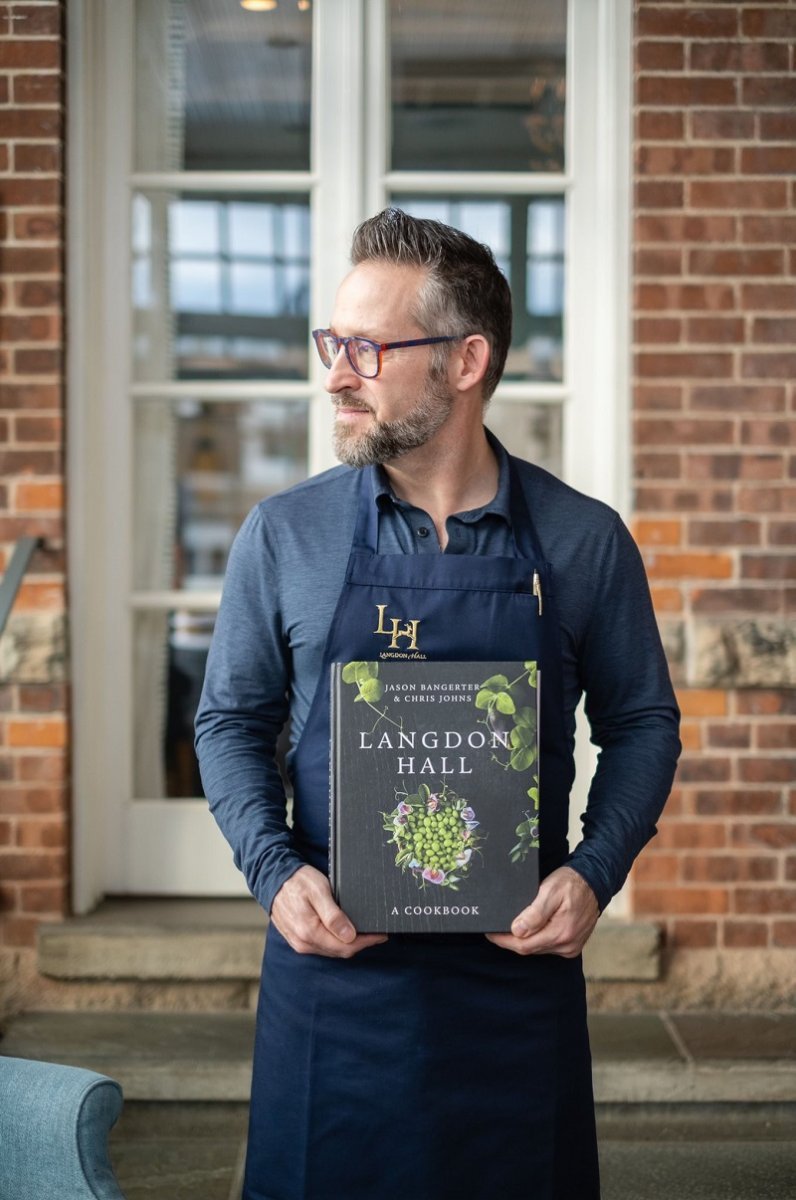 Golden vegetable soup
½ cup olive oil
1 cup roughly sliced shallots
1 tbsp roughly sliced garlic
½ tsp fresh ginger, peeled and minced
1 cup roughly chopped orange bell pepper
1 tsp kosher salt
1 tsp freshly ground white pepper
½ cup fresh basil leaves, lightly packed
½ cup fresh flat-leaf parsley, lightly packed
½ cup dry white wine
4 cups roughly chopped orange tomatoes
2 cups roughly chopped and peeled English cucumber
Green jalapeño Tabasco sauce
In a medium saucepan, heat the olive oil over medium-low heat. Add the shallots, garlic, ginger and bell pepper and gently cook without browning, stirring often, until tender, about 5 minutes. Season with the salt and pepper.
Tie the basil and parsley into a sachet using cheesecloth and butcher's twine.
Add the white wine and herb sachet to the saucepan and reduce the wine by two-thirds. Stir in the tomatoes and cucumber and cook for another 5 minutes.
Remove from the heat and allow to cool. Remove the herb sachet and squeeze as much liquid as possible back into the saucepan.
Discard the herb sachet. Strain the liquid into another container, reserving it for adjusting the consistency of the soup.
In a high-speed blender, purée the vegetables, adding enough of the liquid in a slow, steady stream while blending to achieve a smooth, velvety consistency.
When processed, adjust the seasoning with a splash of jalapeño Tabasco sauce and more salt, if required. Strain through a fine-mesh sieve into a medium bowl and chill over ice.
The soup can be stored, covered, in the refrigerator for up to 4 days.
Garnishes and final steps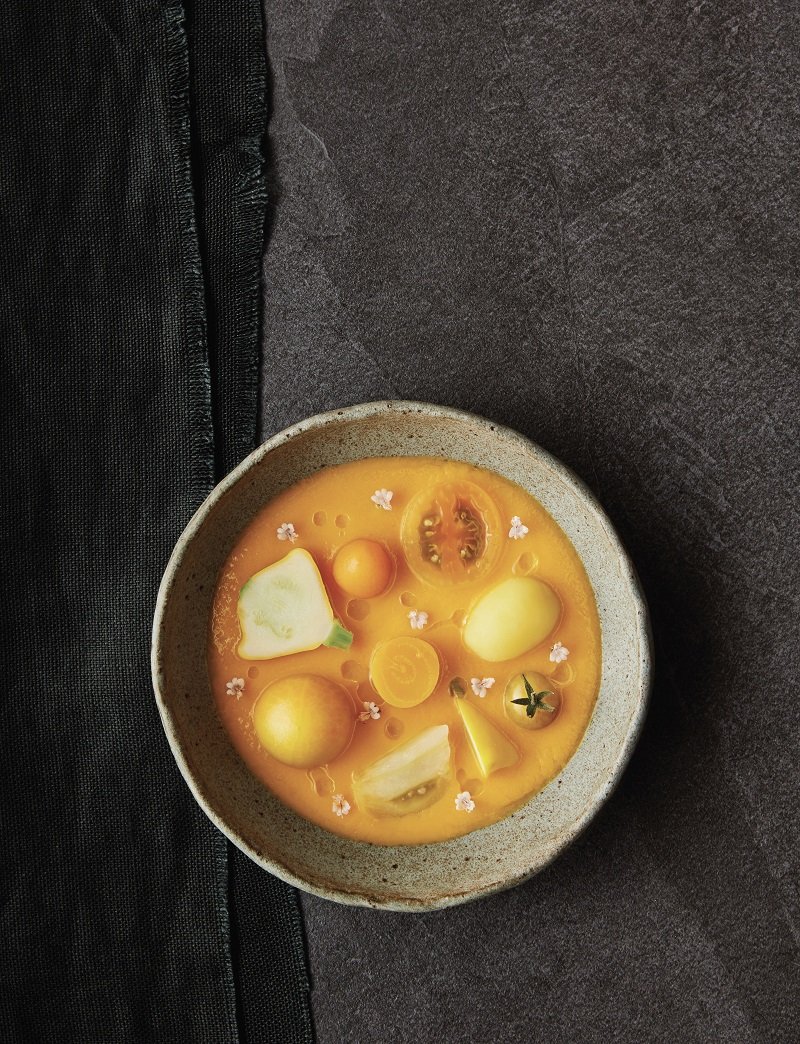 6 boiled and peeled potatoes, cut into bite-size pieces
3 boiled and peeled golden beets, cut into bite-size pieces
6 blanched pattypan squash, cut into bite-size pieces
12 blanched and peeled cherry tomatoes
Basil flowers or leaves
extra virgin olive oil, to drizzle
sea salt, to taste
Pour the soup into chilled soup bowls (or heated bowls if serving hot).
Gently place the prepared potatoes, beets, squash, ground cherries and golden cherry tomatoes into the soup.
Finish with basil flowers or leaves, a drizzle of olive oil and a sprinkle of sea salt.
Yield: