A late fall or winter meal always calls for a comforting side dish and this easy-to-make creation fits the fill perfectly. Canned white kidney beans are seasoned with fragrant curry powder and simmered before being served over garlic mashed potatoes. Even on its own, it can make for a hearty meal.
With food costs ever rising, it's a relief to know that Canadian beans are a nutrient-dense protein source that is always easy to find on grocery shelves.
This recipe was created by food stylist, photographer and nutritionist Ify Ogbueis. Make sure to visit her site to discover some stunning photography as well as her recipe blog.
Curried white kidney beans and mashed potatoes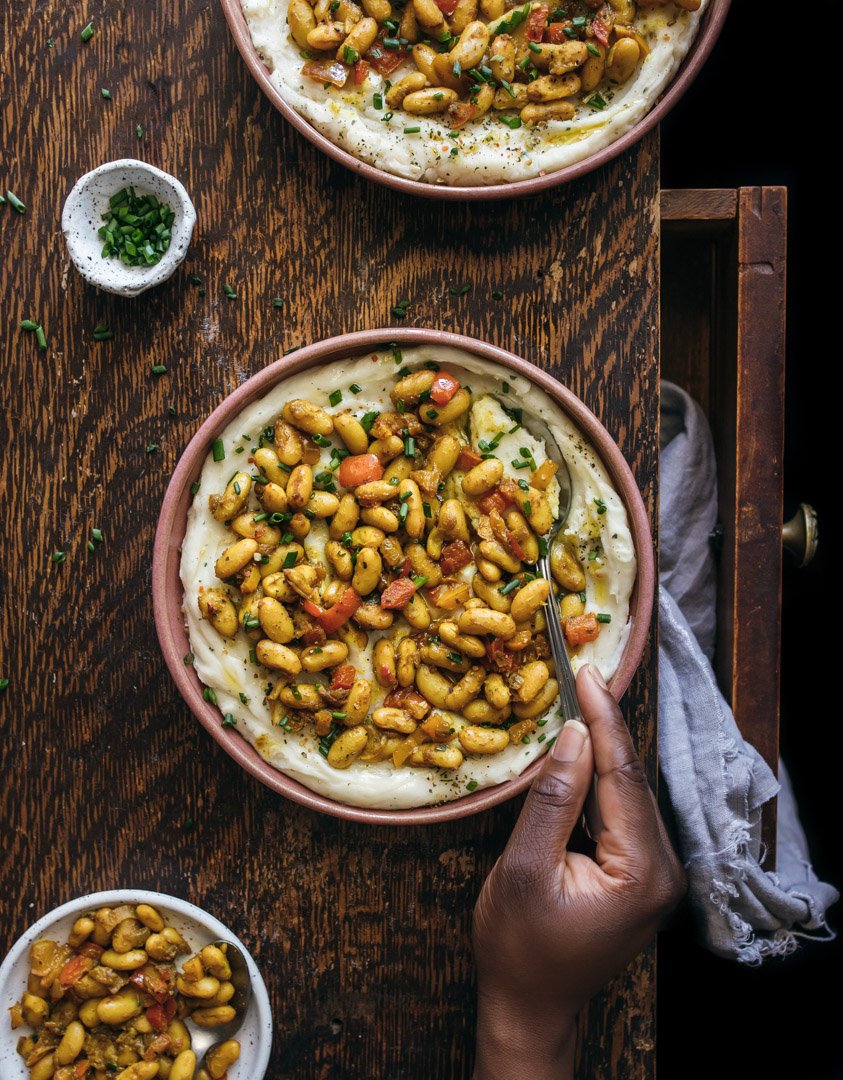 1 15 oz can white kidney beans, drained
6-8 medium russet potatoes, peeled and cut into quarters
1/4 cup homogenized milk
1 1/2 tbsp canola or olive oil
1/2 cup vegetable broth, or no sodium vegetable broth if preferred
1 white onion, diced
1/4 cup diced red bell peppers
1/4 cup diced yellow bell peppers
1/4 cup finely chopped fresh chives
2 1/2 tsp herb and garlic seasoning
1 1/2 tbsp yellow curry powder
1 tbsp garlic powder
salt and pepper, to taste
Using a medium sized pot, bring potatoes to a boil in salted water. Reduce heat to medium to low and cook until potatoes are soft. Remove from heat and drain.
Mash potatoes with potato masher over low heat. Add butter and herb and garlic seasoning. Slowly add milk until smooth consistency is reached. Remove from heat.
At medium to low heat, add olive oil to a saucepan and cook onions until fragrant. Add bell peppers, salt and garlic powder. Allow to cook for 5 - 6 minutes, stirring to prevent burning.
Add white kidney beans, curry powder, salt, black pepper and vegetable broth then stir. Allow to simmer for 6 - 8 minutes, stirring occasionally until liquid is slightly reduced.
Place mashed potatoes in a serving dish and top with the beans. Garnish with chives and serve.
Yield:

Prep Time:

Cook Time: