If you've been looking for creative ways to impress your family and friends over the holidays, taking cues from Home Block Restaurant at CedarCreek Estate Winery in Kelowna is a great place to start.
With an ever-evolving menu that changes daily, executive chef Neil Taylor employs a wine-first philosophy and works closely with some of the most dedicated farmers, ranchers, fishers, and foragers the Okanagan has to offer to ensure every diner feels like his personal guest.
This decadent baked pears recipe is a perfect example of the Home Block chef's terroir to table approach, utilizing the sweet flavour profile of in-season ingredients and the bitterness of dark cocoa to compliment the spice and complexity of CedarCreek's 2017 Platinum Riesling Ice Wine.
Baked pears with almonds, pomegranates, malted whipped cream and bitter chocolate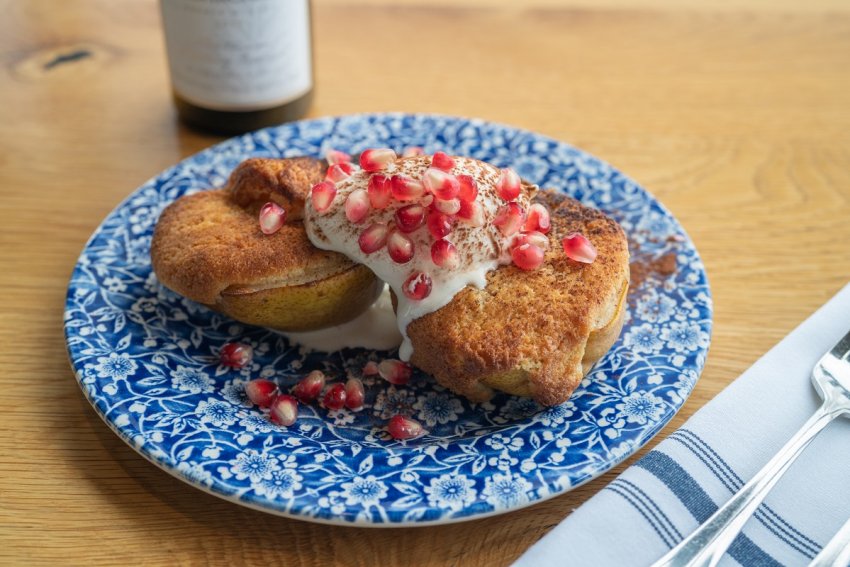 2 large pears, cut in half lengthwise, core scooped out
⅔ cup unsalted butter
1 cup ground almonds
¾ cup granulated sugar
2 whole eggs
1 tbsp AP flour (optional)
zest of 1 orange
pinch of salt
100 mL whipping cream
⅓ cup muscovado sugar (or soft brown sugar)
3 tbsp malt powder
1 pomegranate, seeds removed (for garnish)
1 tbsp good quality dark cocoa powder (for garnish)
In a mixer, on high speed, with the paddle attachment, cream the butter and sugar together until pale and creamy looking.
Add in the ground almonds, pinch of salt, and orange zest and beat until incorporated.
On medium speed, add the eggs one-by-one until fully incorporated.
Add the flour (if using), chill the mixture in the fridge for 30-minutes or so or until completely chilled and firmed up.
Preheat oven to 375c.
In a medium bowl, whisk the cream, sugar, and malt powder together to soft peaks.
Once the frangipane/pear filling has set up, take a golf ball-sized amount of it and roll it into a rough ball and then stuff it into the cavity where you scooped the core out of the pear, chill in the fridge for 15-minutes.
Place the pears onto a piece of baking parchment and put into the pre-heated oven for 15-minutes or until the frangipane turns golden brown and the pear looks like its got nice and roasted, take out of the oven and let sit at room temperature for 5-minutes or so.
To serve, place each half of the pear onto a plate, add a big spoon of the malted cream, a good sprinkle of the pomegranates, and a good dusting of the bitter cocoa powder.
Yield: