If you're like us and you've been counting down the days until Fraiche Food, Fuller Hearts arrived in stores, you're probably as excited as we are this week!
The long-awaited follow-up to Jillian Harris and Tori Wesszer's best-selling 2019 cookbook was released yesterday and is already (not surprisingly) topping book sales charts. Containing a whopping 135 recipes, the new book leans plant-based, but still hits the spot perfectly when it comes to creative comfort foods.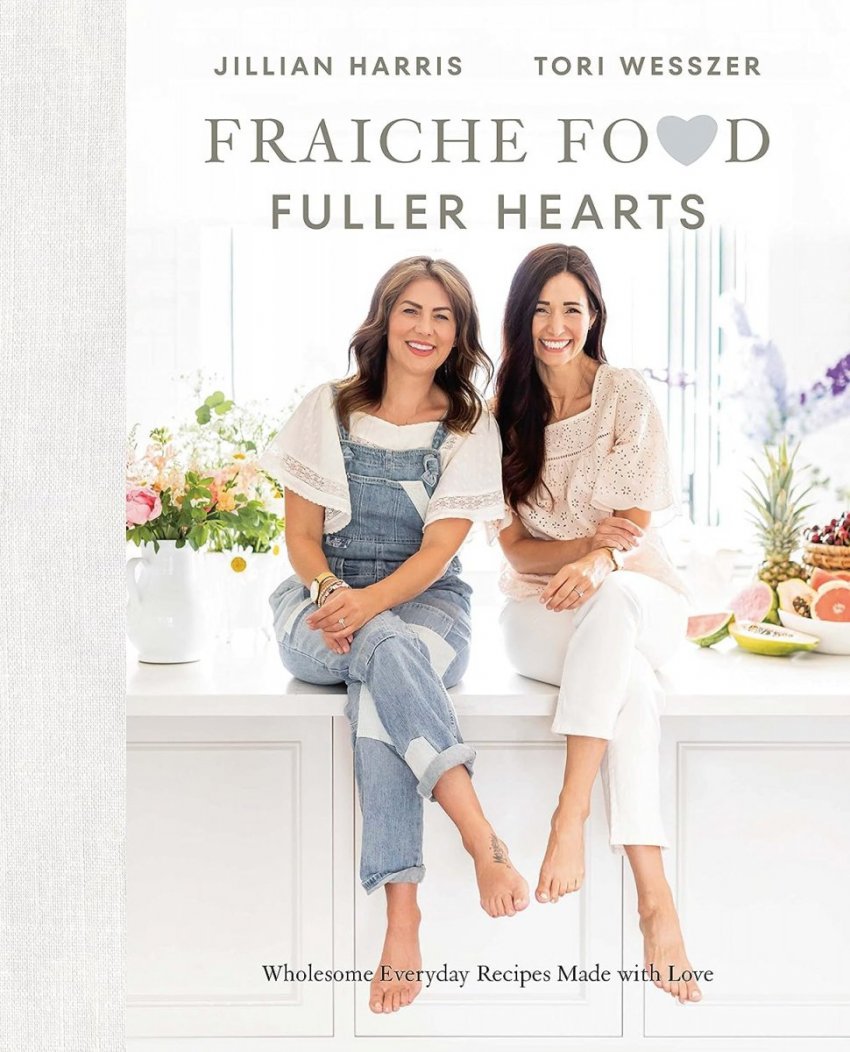 "Many years ago, we made a big family trip to Hawaii, grandparents and all. Our memory banks are still filled with giggles as we rolled with Granny in the waves, sang Ukrainian songs, strolled along the streets of Honolulu, snorkelled in Hanauma Bay, and enjoyed endless meals together, laughing so hard we would all cry the whole time. It was, and remains, our happy place," writes Jillian Harris in the introduction to this recipe in Fraiche Food, Fuller Hearts.
She continues, "one bite of these piña colada pancakes takes us back to those blissful stress-free days together where the only thing that mattered was which one of us was going to wear Grandma's epic sparkly shirt that day. You can make these as individual pancakes if you don't mind the extra work, but this easier sheet-pan version makes our busy hearts happy."
If pineapples aren't your thing, just apply this clever sheet-pan pancake technique to your favourite pancake additions.
Flax egg
1 tbsp ground flax seeds, or ground chia seeds
3 tbsp water
Stir together the ground flaxseed or chia seeds and water in a small bowl.
Let sit for 5 to 10 minutes before using.
(Authors' note: You can use this recipe to replace eggs in most baking recipes. The baked product is usually denser, but it typically works out and doesn't change the flavour. While chia seeds and ground flaxseed both work well, we prefer the flax option as we find it yields a slightly better texture. Both chia and flax seeds are a good source of plant-based protein.)
Piña Colada sheet-pan pancakes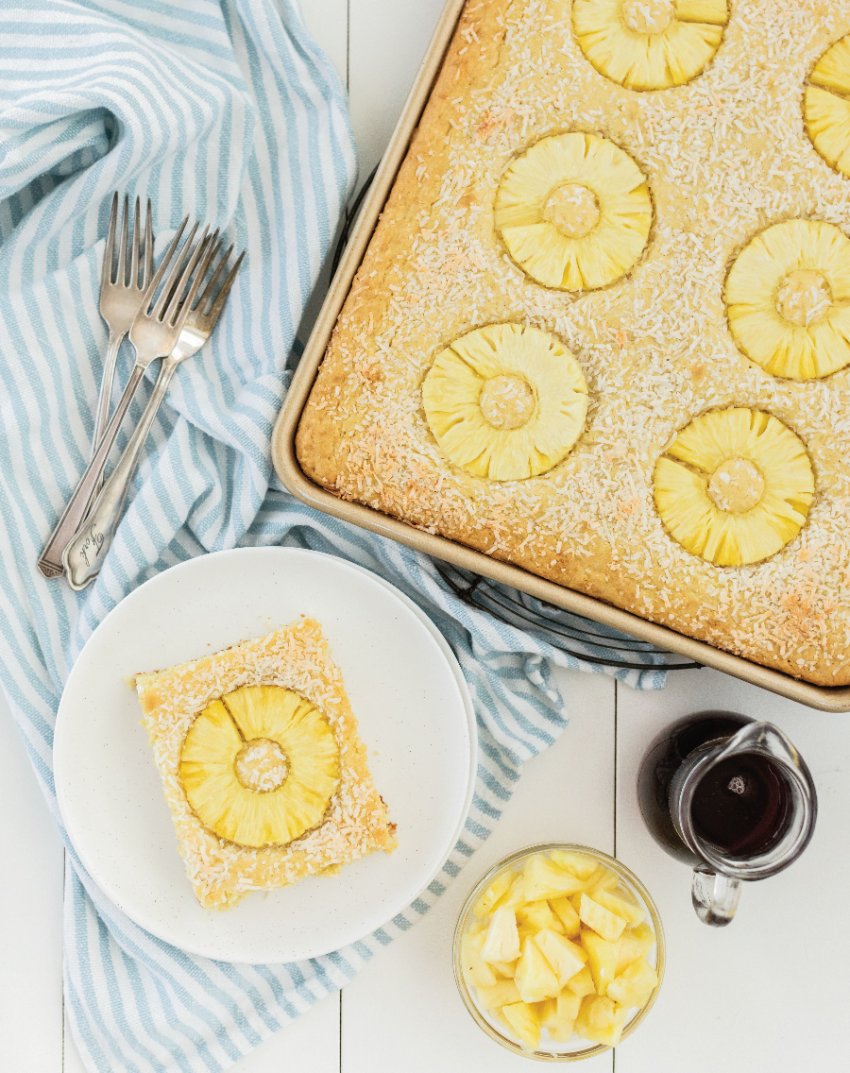 2 cups (500 mL) all-purpose flour 1½ cups (375 mL)
sweetened shredded coconut, divided
¼ cup (60 mL) sugar
2½ tsp (12 mL) baking powder
½ tsp (2 mL) baking soda
¼ tsp (1 mL) salt
2 large eggs, or flax egg substitute (see recipe above)
1 can (14 ounces/400 mL) full-fat coconut milk
¼ cup (60 mL) coconut oil, melted
1 tsp (5 mL) pure vanilla extract
1 tsp (5 mL) coconut extract (optional)
8 fresh pineapple rings, ½ inch (1 cm) thick
coconut whip and pure maple syrup, for serving
Instructions
Preheat the oven to 350°F (180°C) and grease or line with parchment paper a 13 × 9-inch (3.5 L) baking dish (the pancakes will be thicker and more cake-like) or a 17 × 11.5-inch (43 × 29 cm) baking sheet.
In a large bowl, whisk together the flour, 1 cup (250 mL) of the shredded coconut, sugar, baking powder, baking soda, and salt.
In a medium bowl, whisk together the eggs. Add the coconut milk, melted coconut oil, vanilla, and coconut extract (if using) and whisk to combine.
Add the wet ingredients to the dry ingredients and stir with a rubber spatula until just mixed. The batter will be lumpy.
Pour the batter into the prepared baking dish or baking sheet, spreading evenly with a rubber spatula. Sprinkle with the remaining ½ cup (125 mL) shredded coconut and arrange the pineapple slices on top.
Bake until light golden brown and a toothpick inserted into the centre comes out clean, about 30 minutes.
Serve with coconut whip and maple syrup if desired.
Yield: