Stew is a simple dish that is undeniably synonymous with comfort throughout the cooler months of the year. It's a great opportunity to use plenty of cellared vegetables such as parsnips, carrots and potatoes to create a dish that can feed a group or keep one person sustained for a week if you're a meal prep kind of person.
Excerpted from the pages of Jillian Harris and Tori Wesszer's best-selling cookbook Fraiche Food, Full Hearts, this vegan stew boasts a ton of flavour and tastes extra comforting thanks to the homestyle dumplings that are simmered to doughy perfection on top.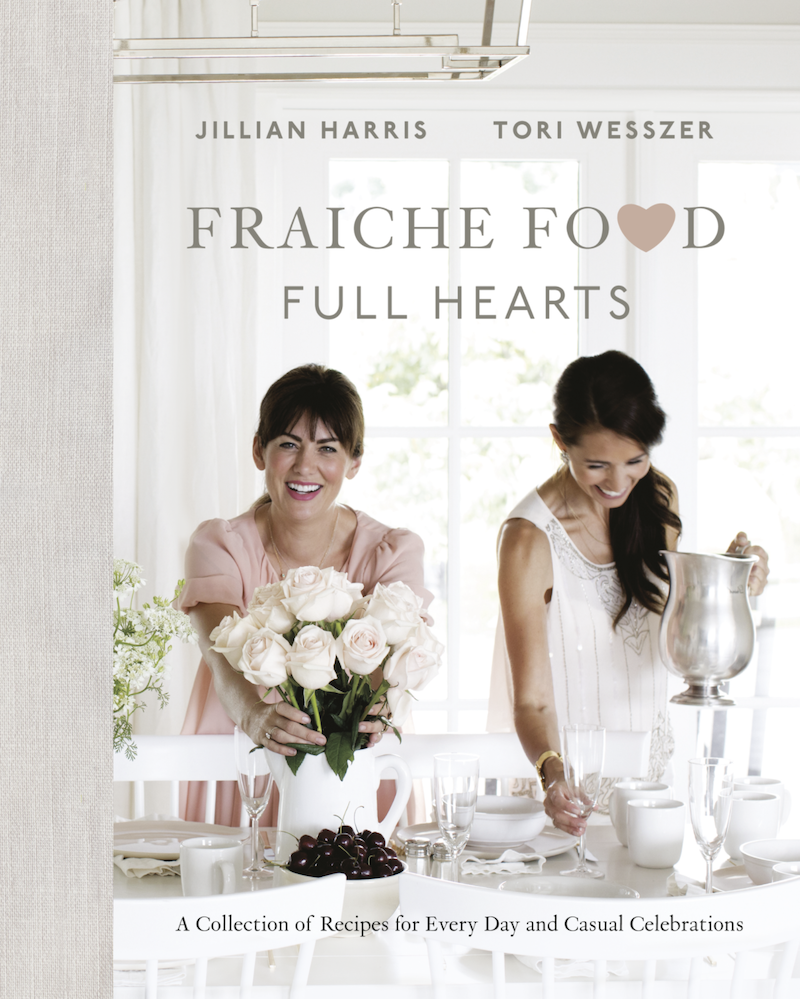 "Growing up in freezing northern Alberta winters meant coming home to lots of warm one-pot dishes, including stew with dumplings, which remains one of our Granny's favourite meals to make. Of course, our childhood version was loaded with beef," explains Harris in the introduction to this recipe in her cookbook. "We set out to create a veggie stew with all of the richness and heartiness of its meaty counterpart, and we are pretty darn happy with the result, if we say so ourselves!"
If you have a mix of omnivores and herbivores in your house, cook the stew to near-completion then split into two pots to finish off one pot with anything meaty or cheesy you might desire.
Veggie stew
2 dried bay leaves
3 fresh rosemary sprigs
6 fresh thyme sprigs
3 tbsp extra-virgin olive oil
1 1/2 cups finely chopped yellow onion
3 cloves garlic, crushed
9 ounces quartered white and/or brown mushrooms, approximately 3 cups
1 cup red wine
4 carrots, peeled and cut into 2" pieces
3 large yellow potatoes, peeled and quartered
2 parsnips, peeled and cut into 2" pieces
4-5 1/2 cups good quality vegetable stock
1 tbsp tomato paste
salt and pepper, to season
1 tbsp cold vegan butter
1 cup frozen peas
Tie the bay leaves, rosemary, and thyme sprigs together tightly with cooking twine and set aside.
Heat the olive oil in a medium, heavy-bottomed pot over medium heat. Add the onions and cook until soft and translucent, 3 to 5 minutes, stirring occasionally. Add the garlic and mushrooms and cook, stirring frequently, until the mushrooms are soft, about 5 minutes.
Add the red wine, stir well, and cook until the wine is reduced by about half.
Add the herb bundle, carrots, potatoes, parsnips, 4 cups (i.e. 1 litre) of the vegetable stock, and tomato paste. Cover and simmer over medium-low heat until the vegetables are fork-tender, 45 to 60 minutes, stirring occasionally and adding more stock if the stew gets too thick.
Remove the herb bundle and discard. Season stew with salt and pepper. Stir in the cold vegan butter.
Dumplings and assembly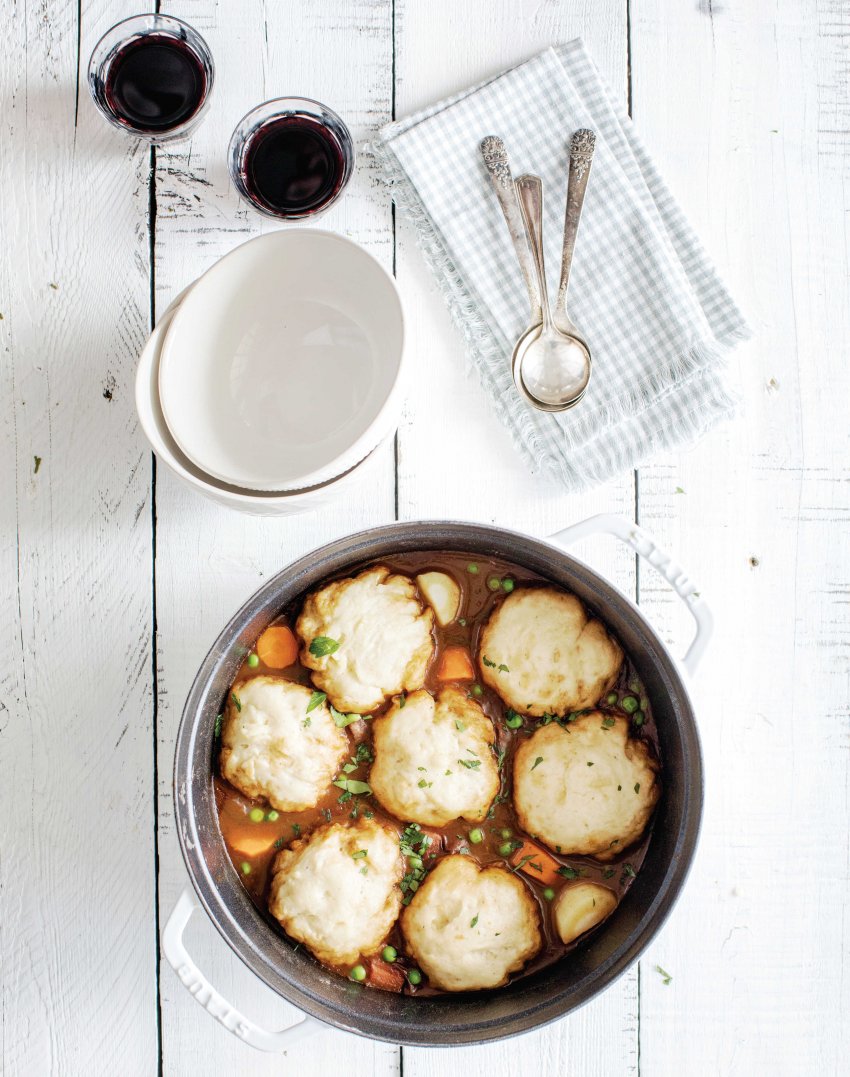 1 1/4 cups almond milk or soy milk
1/4 cup vegan butter
2 cups all-purpose flour
1 tbsp baking powder
1 tsp salt
1/3 cup finely chopped fresh Italian parsley
Combine the almond milk and vegan butter in a small saucepan and simmer over low heat until the butter is melted. Remove from the heat and cool slightly.
Meanwhile, whisk together the flour, baking powder, and salt in a medium bowl. Pour the milk mixture into the flour mixture, add the parsley (if using), and stir with a wooden spoon until just combined (it will look rough).
Stir the peas into the stew. Using floured hands, pull off golf-ball-sized balls of dough and gently drop them evenly on top of the stew. Cover and simmer until the dumplings are cooked through and have doubled in size, about 10 minutes.
Ladle the stew into bowls, top with some dumplings, and serve.
Author notes
-The dumplings really expand while cooking, so do not be tempted to make them bigger than the suggested size.
-To make gluten-free: Use gluten-free vegetable stock and skip the dumplings.
-To make nut-free: Use soy milk instead of almond milk.
Yield:

Prep Time:

Cook Time: